Spontoon Island
home - contact - credits - new - links - history - maps - art - story
* Update 2 September 2006 *
15 June 2006

Clothing & Costume before 1940
A quick sample of historical costumes from the Pacific region in our world,
for writers and artists. Photos and art from between 1910 to 1945.
This may include daily casual clothing, ceremonial clothing,
and tourist costume. Uniforms may be included.

Some images might be considered
Mature
rating.
* "Sarongs" *
Nearly every island culture would have a variation on a basic wrap-around of
cotton cloth. Men's and women's variations would often have different names.
"Sarong" is one familiar name, as is "lava-lava", "pareo", and dozens of other names
for similar everyday wraps. Women's versions could be topless. Men's
versions could go down to the ankle, or up to the armpits.
Here are some sample photos.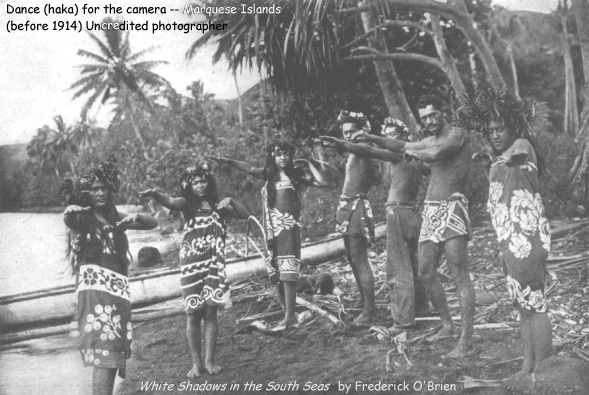 Dance poses for the camera.
The sarongs are probably cotton: white with one vivid color overprint:
Red, blue, green, purple etc. This could be everyday costume through today.
*
Men's everyday short sarongs
(photo from before 1914, but could be modern dress) *

"Oh-Noes! It's a hoo-man sacrifice!" Posed for the camera, these guys show
4 action variations on the basic men's sarong.
* Very informal men's & boy's beachware. Loincloths, sarongs, & pants. *
These guys are watching the events at some beachside French colonial celebration.
Note the colonial Euro kid in "tropical whites".
* Men's plantation work wear: Harvesting
feis
, "mountain bananas". *
Note the machete-style work knife, and a hat that was fashionable for 1910.
Hat choice would follow fashion. That looks to be a multi-colored sarong,
and I'm guessing that might be a sunflower in the design.
* Carrying bunches of

feis

on a pole. *

Two-color sarong. He wears a wreath of ferns and leaves.
Headgear fashion that never goes out of fashion.
*
Ferns for fans (& fly-swatter in Paradise)
*
Woman with a leaf wreath & sarong cloth. This must be an informal picnic.
* (Mature image)
Antoinette, a dancer, in a semi-topless sarong, *

with braided hair ribbons, and a basket as a purse.
Pascual and his friends are probably dressed up for a party.
For the women, the white dresses would be OK for church,
(and similar events) if they added a big wide-brimmed floppy white hat.
Hem lines and sleeve length might change through the years.
There are numerous references for costume & fashion available online & in books.
They do tend to be obsessed with upper-class high fashion.
For informal island costume, you may have to look into anthropology references
and historical slice-of-life photos, such as records of informal events,
work photos & family snapshots.