Spontoon Island
home - contact - credits - new - links - history - maps - art - story
comic strips - editorial - souvenirs - Yahoo forum

Art & Culture Basket
Art and articles of the Spontoon Islands & their world
archived from many skilled contributors
Some linked art & some linked text
will be for Mature viewers (because of adult situations).

* Update 22 August 2016 *
* (added "Building Sketches" section) *
** Update 26 October 2016 **
*** Updates 16 January 2017 ***
**** Updates 30 April 2017 ****
***** Update 20 June 2017 *****



A few pieces of art & some text (for adult situations)
will be for Mature viewers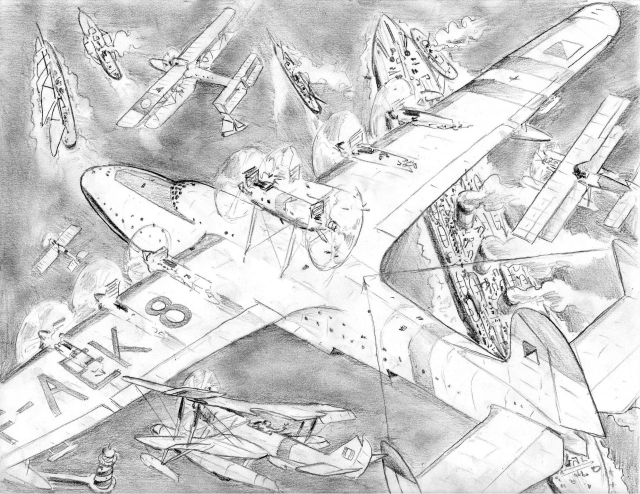 ***** "Chasing Miyazaki III" - by A. E. Karnes *****
Larger file here (1.2 MBytes) - http://paxaeternum.deviantart.com/
"A different kind of flying ship"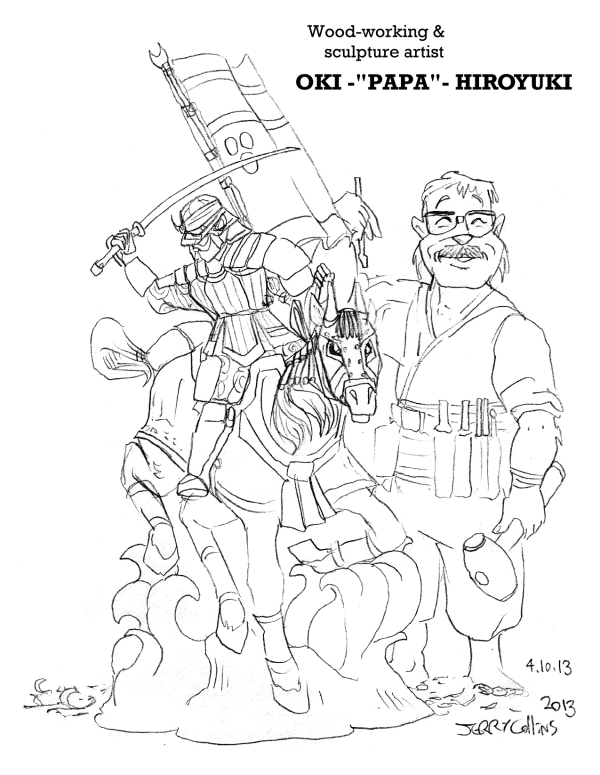 Oki - "Papa" - Hiroyuki - Wood-working & sculpture artist
A pencil sketch by Jerry Collins - Larger file here (2 MBytes)
Jerry Collins has a mailing address on the Contacts page.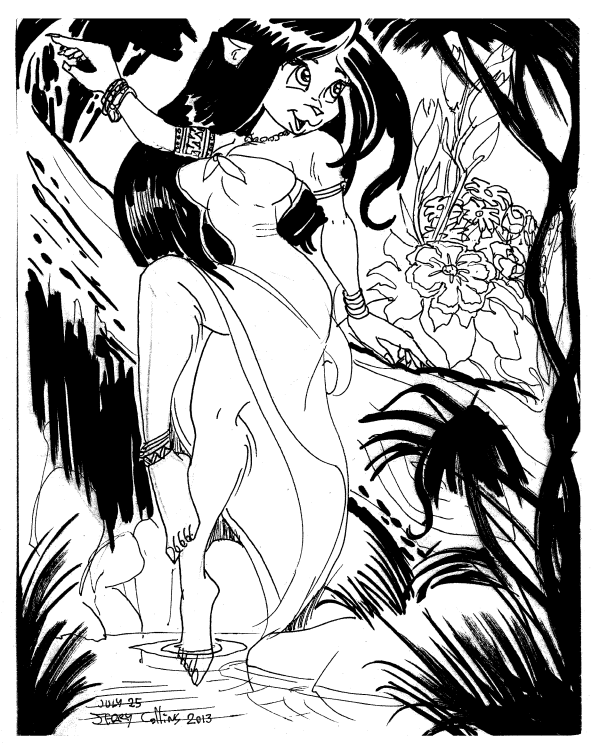 Dipping her toes in the jungle pool... - by Jerry Collins
Larger file here - (449 KBytes)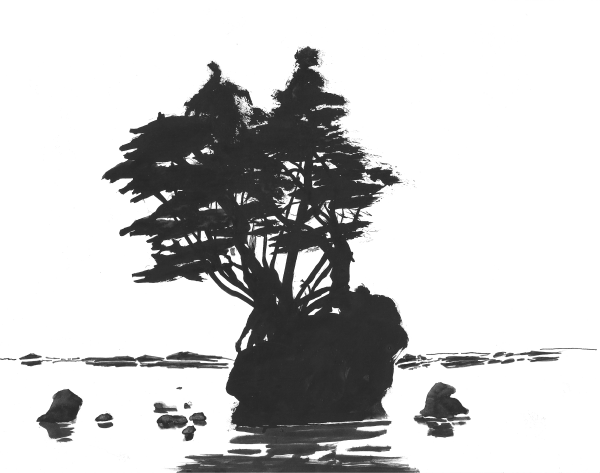 "Lagoon of Peace" by Jerry Collins
Larger files here (448 KBytes) & here (1.9 MBytes)


Mature Viewers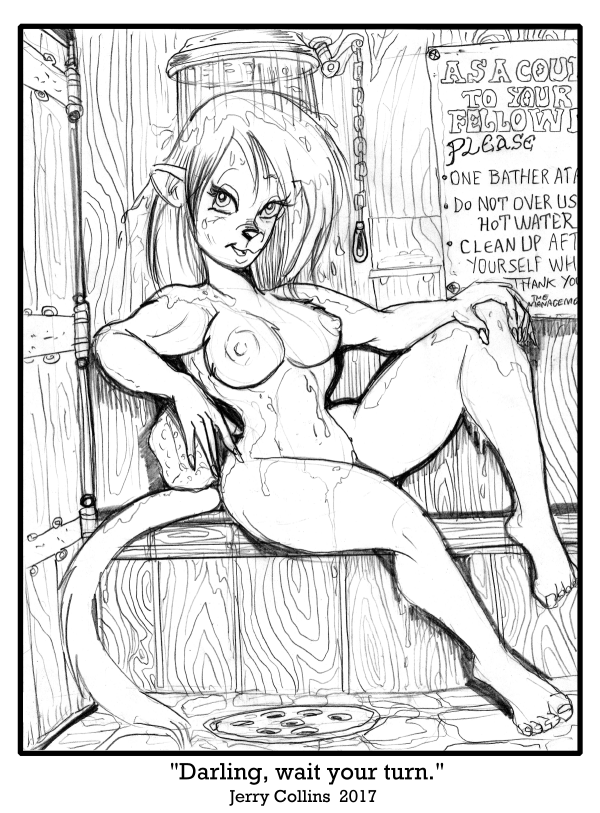 **** "Darling, wait your turn." - ink sketch by Jerry Collins ****
Larger file here (1.8 MBytes)
Editor: An unexpected meeting in a shower-room on the Spontoon Islands.
While a 'village-style' public bath-house may have common soaping & rinsing
areas & shared hot-soak pools, there are often small private rooms with tubs &
showers that may used for a reasonable amount of time. This is a private bath,
and you obviously didn't notice the 'occupied' plaque on the door. (It happens.)

While most of the 'village-style' bath-houses are on Main Island, there are some
on the other islands around the Lagoon as well, and some of those may be quite
elaborate in design and plumbing, to attract visiting travelers.


---
Contributing Artists
looking for commissions
(Update 16 December 2015)

---
Selected art from 2007
Selected Art from 2011
Selected Art from 2012
Selected Art from 2013
Selected Art from 2014
Selected Art from 2015
* Building Sketches *
(new)

***** **** 'Round the Bay & Harbour **** *****
(Art by Jerry Collins, featuring settings & characters)

***** **** Informal Spontoonies **** *****
(May contain Mature images)

* Priestesses *
(May contain Mature images)
Tiki Sketches by Jerry Collins

***** Dancers *****
(May contain Mature images)
** Tourists **

***** **** ** Hotels & Resorts ** **** *****

Visitors & Guests
Fireworks Stand
---
Rain Island Military Syndicates
***** **** * Aircraft Bases * **** *****
(reformated aircraft art archives)
(including links to reference pages)

***** **** Versions of Historical Aircraft **** *****

Aircraft art by Daniel Salgues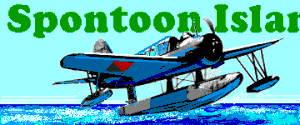 ---
Roy D. Pounds II "Engine Room" Art Archives
***** **** May Day Celebrations **** *****

***** Speed Week Races & Celebrations *****

At the World's Fair
Souvenirs from the Spontoon Archipelago

Spontoon Archipelago Business Directory

Advertising Art 1: Archipelago Businesses

"Art Studies"
(May contain Mature images)

Views from the World of Spontoon Island

*** R.J. Bartrop's "Big Red" Spontoon Island Archive ***

A Lei'Lani Art Archive
(May contain Mature images)

***** Jerry Collins's " 'Round Bay & Harbor " Art Archives *****

Warren Hutch's "The Gaze" Art Archives

L. Frank's "Tales of the Sea Bass" Art Archives
Stuart McCarthy's "Sophia Bianco" Art Archives
Simon Barber's "Masie" Art Archives
"Songmark Academy" Art Archives

"The Red Dorm" (Songmark) Art Archives

"Luck of the Dragon" Art Archives


---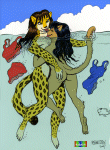 Rosie & Tali in the water (Larger file here - 806 KBytes)
Art & inks by Kjartan - color by Mitch Marmel
characters by Mitch Marmel
Mitch Marmel's Characters: Art Archives

Tali Hartoh [Mason]- Spontoon Archipelago Art Archives
(May contain Mature images)

Rosalie 'Rosie' Baumgartner Art Archives
(May contain Mature images)

Willow Fawnsworthy Art Archives
(May contain Mature images)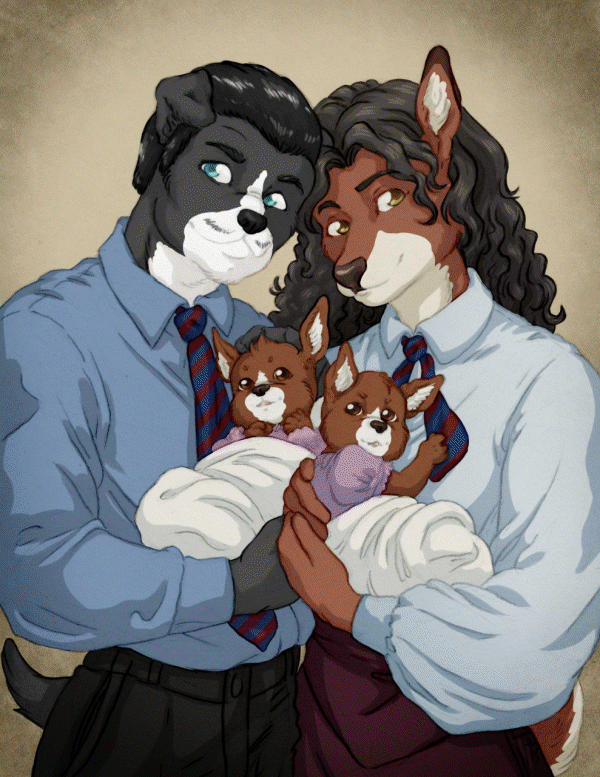 "Les and Inocenta and Fawns" (Larger file here - 3.6 MBytes)
Leslie and Inocenta duCleds,
Maria Isabella Eunice, and Rosa Luisa Antonia duCleds (the Twins)
Art by TheTiedTigress - http://www.furaffinity.net/user/thetiedtigress
Commissioned by Walter D. Reimer

"Leslie duCleds (the Boston Terrier on the left) is the heir to the duCleds chemical company,
and Inocenta (nee de Ciervos y Comamenta) is the fine figure of a Spanish doe that he met,
fell in love with, and married in early 1937."
The story of their relationship can be found in the following stories:
Inocenta Until Proven Guilty
Valentine's Dazed
The I Do's of March
and in the current story In the Family Way, by Walter Reimer
which is being serialized on FurAffinity.

Leslie and Incocenta duCleds and their twins are
characters created by E.O.Costello and M.M. Marmel.
(Upload 24 January 2016)

---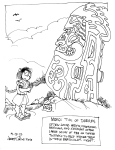 Moko: Tiki of Dreams - by Jerry Collins
(Larger file here - 1.2 MBytes)

---
Memorial Art Archives

Stuart McCarthy memorial art archives

Stu Shiffman memorial art & story archives

"Sinnesteuersymphonie" Art Archives
Art by Rusty Haller - (May contain Mature images)
Warning: large graphics files

Rusty Haller memorial art archives

"DarkWolfie" memorial art archives

J. P. Morgan memorial art archives

---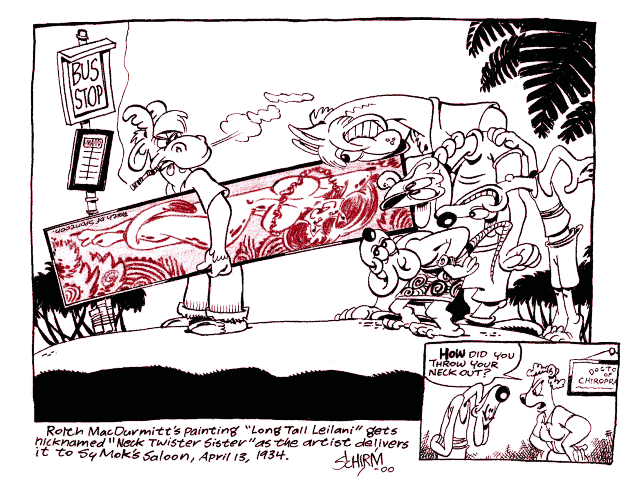 "Neck Twister Sister" by Marc Schirmeister
Photo & Image References
for the use of Artists & Writers
(moved to a new webpage)
Aircraft, ships, canoes & boats, architecture,
clothing, tourists, plants, scenery, & maps