Spontoon Island
home - contact - credits - new - links - history - maps - art - story
comic strips - editorial - souvenirs - Yahoo forum

Links
* Update 14 February 2011 *
** Update 27 March 2011 **

Most of the links are not trades and were not requested,
and are intended only to make it easier for you to browse.
A website link here does not mean that website
endorses your visit to Spontoon Island.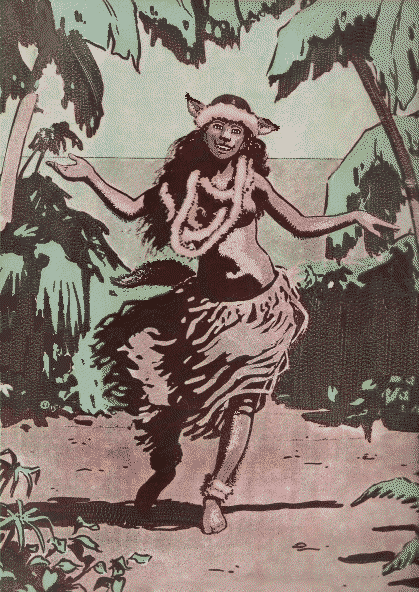 Doing the "Links Hula" is Spontoon Island's 'Hula Lu-si'
(In collaboration with an unknown artist - a link in time & culture)


[The original sheet music cover art is from 1915, and is by an unknown artist.
(This version, "Hula Lou" 1915, has been modified, cropped, & restored).
The original "Hula Lou" image is in public domain.] (Thanks to John Urie for this find!)


* "Maude" *
* A recommended off-site 1930s Air Racing story *


I would like to recommend a free text story download via the Fur Affinity (FA) web archive.
(It is a pdf file, that may be found on a Fur Affinity contribution page
and opened via the free software, "Adobe Reader".)
Link to "Maude" is here:
http://www.furaffinity.net/view/5256804

The story is a romantic adventure set in the world of early 1930s air-racing in the USA.
Written by 'Vixyyfox', well-illustrated by 'Pan Hesekiel Shiroi' (also on FA)
and also has music and sound files from members of a team of 9 creative
FA furryfans. (More credits & notes are at the linked webpage on FA.)

"Maude - a love story"
"'Maude' is the story of a vixen flier and her Gee Bee R1 aircraft.
It is also a love story like no other you will have read.

"In 1931, at the National Air Races in Cleveland, Ohio, a group of specially designed
racing aircraft took to the air to fly around a set course in an open display of tenacity and courage.
The pilots, all hailed as heroes of these 'modern' inventions, battled for space
in what was one of the most dangerous sports ever conceived - pylon racing.
Amidst the noise of seven powerful engines, belching smoke and flames
from their exhaust stacks, only one could be crowned the victor."

I believe many of you visiting the Spontoon Archipelago will find this story well worth
the reading (and listening!). I find it much like reading a good 1930s movie. 8)
Ken Fletcher ("Heywulf" on Fur Affinity)

If you like the quotes you have seen from "Savoias Over Sapporo" by Archie Whitehouse,
read the original story at http://www.ageofaces.net/2008/03/savoias-out-of-sapporo/
courtesy of "Age of Aces": http://www.ageofaces.net/ - they sell books compiled from
pulp stories on Amazon.com, but also allow free access & downloads
of public domain pdf files of pulp magazine air adventures!
Many other pulp aviation stories (in pdf format) are available for reference and research.

Those quotes from the stories were actually from my own hardcover copy of
"Wings Over the World", a collection of pulp magazine aviation stories,
edited by Leo Marguiles & published in 1943. I've discovered
this book is also listed by Google Books. There are previews of some of the contents,
which may be examined before purchase, here: "Wings Over the World".


* The Spontoon Island Writers Guide *
http://www.naorhy.com/research_and_downloads/spontoon_writers_guide.pdf
(Uploaded 9 February 2010) (Adobe pdf file size approximately 1,280 Kb)

This is a work-in-progress compiled and edited by Reese Dorrycott.
It collects, summarizes, & adds published background information
on the Spontoon Island Archipelego alternate-history setting.
This may be useful for contributors and entertaining for visitors to this website.
(This Writers Guide collects information from the informal background consensus
that the Spontoon Island contributors share, based on the currently archived material)


Some of the material is republished from this website, some parts are new essays on
the Spontoonie cultures, histories, and background stories.
Some of the material is listings of characters, social institutions, locations, & objects --
with credits to their creators. Information will be added and revised,
so additional information is welcome. A contact address for Reese is in the file.
The file may be revised at any time.


This is a link to an (Adobe) pdf file of "The Spontoon Island Writers Guide" located
at Reese and Anna Dorrycott's website -- www.naorhy.com
and linked with Reese's permission.
"Adobe Reader" may be downloaded for free,from the Adobe website.


Other "Spontoon Island" Story Archives

Simon Barber's 'Spontoon Tales' at his VCL web archive
(contained within his 'Story' sub-directory)
http://us.vclart.net/vcl/Artists/Simon-Barber/


Reese Dorrycott's stories with 'Spontoon' settings can be found
at his archive website: Check his "Stories" page under the new title:


"Tales of Spontoon

"


http://www.naorhy.com/


Exotic Adventure references

The Flying Cloud, R-505
"Airships, adventure, gallant gentlemen, and sultry island maidens"
an alternate-Earth serial by Paul Gazis, that is currently up to 43 chapters.
I am up to chapter 15, and highly recommend it. I believe that you may
also find the adventure and ironic humor to be very sympathetic to
Spontoonie sensibilities.
(Thank you for this recommendation, 'Barnacle Will' !)

http://www.talesofoldchina.com/
Comicstrips & Comicbooks
(Also check the Recommended Comics webpage)

Sample 40s comic book art: http://www.onr.com/user/doggz/jun_gal.htm
Recommended: "The Adventures of Mia" webpage by Enrico Casarosa.
This was a comic book of a few years ago, set in the seaplane-racing 1930s.
The webpage provides background, sketches, and guest art.
"Lackadaisy": Late 20s & Early 30s Bootlegger adventure in St. Louis!
http://www.lackadaisycats.com/
Definitely worth viewing!

A fantasy webcomic by Freddy Andersson: Pawn
(warning: nudity & lewdity!)
http://www.pawn.se/
1930s Exotic Air Adventure: Athena Voltaire: www.athenavoltaire.com

A Gaslamp fantasy with Adventure, Romance, Mad Science (& Zeppelins)!
"Girl Genius": http://www.girlgeniusonline.com/

"Ace & Queenie" by Rusty Haller
("Jade Death Gambit" with Spontoon setting!)
http://www.aceandqueenie.com

Setting with superhero humor (some adult): http://www.supermegatopia.com
Seaplane & Airplane References

** Flightglobal/Archive **
Flightglobal home page: http://www.flightglobal.com/home/default.aspx
Aviation history archive (Flight International magazine archive) -
http://www.flightglobal.com/pdfarchive/index.html
This is an excellent reference archive from a weekly trade magazine,
Flight International. It was (and is) published in the United Kingdom,
reporting on world aviation, with a clear, entertaining, and appropriate bias
towards the interests of the British Commonwealth.
Artists & writers & website owners please look at these generous terms for
the use of material in these on-line magazine archives from 1909 to 2005:

"...The Flightglobal Archive invites you to explore
100 years of aviation history as it appeared in the
original pages of Flight Magazine from 1909-2005.
Every issue of Flight Magazine published between 1909-2005, digitally scanned and fully searchable
Thumbnail browser interface allowing for rapid issue viewing
Save and print your favourite articles
Topic pages, plus unique archive photo and cutaway galleries
100% FREE ACCESS – forever.

In fact we're positively encouraging you to link to, copy and paste from, and contribute to the development of this unique record of aerospace and aviation history...."

For references, I recommend this link on the page: "Aviation History By Year"
that shows Flight International pages, complete with text, photos, art, editorials, & ads.
A sample year archive: 1937


NOTE:
Please distinguish between those very open archive pages and the image sales area on their website:
This same publisher also offers (at a separated location, "Images", on their home page)
high definition copyrighted copies of photographers works from their files:
Flightglobal Image Store
http://www.flightglobalimages.com/
Historical photos & graphics from the British weekly magazines "Flight" & "The Aeroplane"
While oriented towards selling rights for publication, they will also sell quality prints to individuals.


Drawn Patrol
http://drawnpatrol.blogspot.com/
Recommended for its cartooned aircraft.
With aircraft drawn by Arthur Filloy, of Brisbane, Australia
and his fellow animator, Simon O'Leary,
and other contributors. To contribute to Drawn Patrol, contact:
holler'at)hellyeahdesign.com
(substitute the usual symbol for 'at))

Excellent Flying Boat references & links:
http://www.seawings.co.uk/


Bill Barnes home page!
Affectionate and informative tribute to pulp air stories!
http://home.att.net/~dannysoar4/BillBarnes.htm

The Society of Air Racing Historians
http://www.airrace.com/


Aerofiles: an excellent source of historical information, stories and photo references
to flying, aircraft manufacturers, & aircraft models in the USA
http://www.aerofiles.com


Excellent website about the Schneider Trophy for seaplane racing
& many reference photos of vintage European seaplanes
http://www.hydroretro.net/indexen.html


More Schneider Trophy racing references and re-creations!
http://www.schneider-cup.com/
(Thanks to Bob Martin)


I wouldn't be surprised if they had more than 1000 photos! 8)
http://1000aircraftphotos.com


Card model airplanes! Fiddler's Green: A fun site with a very good links page
http://www.fiddlersgreen.net/


PanAmerican Airways "Flying Clippers" flying boats
http://www.flyingclippers.com/main.html


Seaplane Pilot's Association (note 'Training' pages): http://www.seaplanes.org/index.htm
Icelandic Floatplanes (Junkers): http://www.cl44.com/caa/1919_ENG.html
Amelia's homebuilt aircraft: http://www.flyingflea.org/
Across the Atlantic to Brazil in 1927: http://www.promotur.com/jrb/
An aircraft with an exotic cabin: http://www.aircrash.org/burnelli/chrono1.htm
Aviation references & links: http://www.aviation-heritage.com/
Dutch & German late 30s seaplane: http://www.dornier24.com/
Pan American Airlines seaplanes: http://www.airliner.net/panam.html
Grumman seaplanes: http://members.aol.com/thegneech/goose.htm
Strange airplanes: http://unrealaircraft.com/


Ships & Boats, Naval & Civilian -- References
US Navy & civilian ships -- basic public domain reference photographs --
Department of the Navy, Naval Historical Center, Photographic Section
http://www.history.navy.mil/branches/org11-2.htm


Other Exotic Adventure Locations (including Islands)
TV adventure with seaplanes!: http://www.goldmonkey.com/

1930s references
Free e-cards that look like old telegrams: see "Via e-mail" on their webpage:
http://www.retro-gram.com

** Dorothy Lamour and 'Sarong Movies' **
(link repaired)
http://www.sensesofcinema.com/2002/22/lamour/

"Popular Mechanics" magazine covers:
http://popularmechanics.com/albums/index.phtml?dispsize=640


Covers for pop "Tropical Island" sheet music, with some artist info & links. Excellent inspiration!
Please don't copy, but get inspired! www.Hulapages.com

Tiki References
http://www.tikinews.com


http://www.tikiroom.com/tikicentral/


Hawaiian & other island pop songs with English lyrics (thru 1940s):
www.squareone.org/Hapa/

Real World Pacific Islands References

White Shadows in the South Seas by Federick O'Brien.
A 1919 non-fiction book by a travel writer of his experiences living in
French-colonial Polynesia before 1914. Vivid anecdotes, descriptive writing, & analysis.
The negative changes of colonization are dramatized, and you are expected to identify with
the Polynesians. Acceptance is emphasized, but the less appealing parts of the old native
cultures are allowed to come out later in the account. A popular & influencial book,
although the romantic tiki-culture bits are probably what were remembered by the readers.
This is a link to the book's Gutenberg Project location. I would suggest HTML format
so you can see the very interesting & useful archtypical photos.
I find it even more interesting to read that this book was co-written (or ghost-written)
with Rose Wilder Lane (daughter & collaborator with Laura Ingalls Wilder)


http://www.janeresture.com/index.htm
Jane's Oceana Home Page: Highly recommended as an informal web reference!
If you are patient in your search, you will find dozens of links to her many web pages
that will display history, culture, images, current life, & music for many Pacific Islands!

A Hawaiian museum famous for its attention to Pacific Island cultures:
http://www.bishopmuseum.org

Funny Animals & Furries

Fur Affinity is a very tolerant & large furry art & story archive (many mature images)

Furry & sf news: http://www.flayrah.com/


"Unofficial" Cat's Don't Dance website: http://www.cdd4ever.com/
(Shelley Pleger's excellent site: note in "What's New": Plane Crazy for Sawyer,
WW2 Aircraft nose-art, with a Spontoon Island reference!)


Artists
Louis Frank: http://www.visi.com/~wom-bat/
Dr. Comet's Kemono Islands (adult): http://www.kurumi.sakura.ne.jp/~kemono/
Jeff Jacklin (adult themes & images): http://www.jeffsmusclestudio.com
Nina Nguyen: http://o-shan.deviantart.com


Other
Sherlock Holmes & other fun!: http://drizzle.com/~roscoe/index.html

Thanks to Stu Shiffman & Clarke Stone for recommending web links.