Aircraft Reference
Photos & Art
circa 1910 to 1945
This is only a sampling of possible references.
This page will be weighted towards aircraft in civilian service in the 30s. This information is only
intended to provide a basic visual reference, and might best be checked against other sources.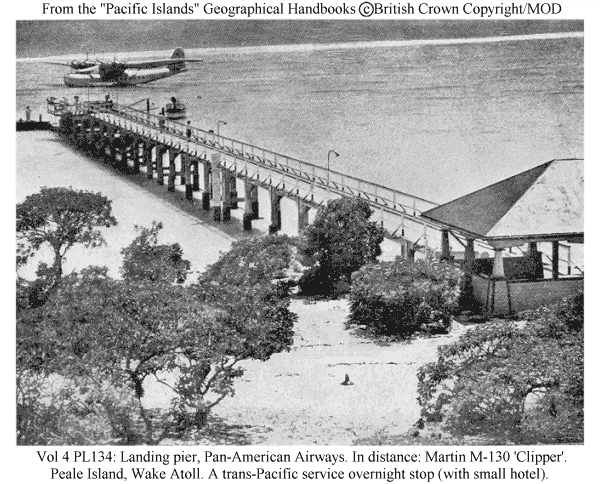 "Transport" means the aircraft's primary job is to move mail, freight, & passengers.
"Recon" or "Reconnaissance" does surveys of terrain or enemy forces, often taking photos.
"Patrol" is flying in patterned routes searching for enemy ships or forces.
"Observation" means directing the fire of guns to a target with radio or other signals.
An aircraft could be designed for multiple roles, including "Fighter" "Bomber" & "Attack".
"Circa" dates are when prototypes flew. Main production might start 1 or 2 years later.
Flying Boats
The Curtiss F-Boat (USA circa 1913-1916)
An early successful flying boat used as a civilian craft ("Aeroyacht")
and in several of the Allied navies during the early years of World War 1.
Variant designs were used by the USNavy as: AB-# (C-#) flying boats.
View from right front skimming the water at high speed.
View from right front in the water at slow speed.
"Tillie" Kawanishi H6K2-L civil transport flying boat (Japan circa 1938)
The Kawanishi Type 97 ("Mavis") was developed (circa 1936) as a long-range patrol aircraft
for the Japanese Navy. The "Tillie" was a variant developed as a civil transport,
and some of these civilian flying boats had luxurious passenger cabins for VIPs.
(Designed for 16 passengers, with 18 civil transports going to Japan Air Lines)
These planes were used on routes between Japan and among the "Japanese Mandate" islands
administered as Japanese colonies after World War I in the western Pacific Ocean.
A "Tillie" in the air from above.
A"Tillie" in silhouette on the ocean.
Dornier Do 26 (Germany circa 1938)
Designed for Trans-Atlantic airmail, it could be launched from catapults off of ships.
There were 4 crew, and 1000 pounds of mail could be carried. A passenger version
was planned. It was also designed to be adapted as a military aircraft (with gun turrets),
and several of these seaplanes were used for transport & recon in early WW2.
View left above showing military turrets.
View from front below of civilian aircraft.
Blohm & Voss Bv 138 (HA 138) (Germany circa 1937)
Designed for sea reconnaissance. The plane was redesigned several times before 1940.
It was used as military tranport in 1940, seating 10. Considered very sturdy.
Painting from above front quarter of early version.

Floatplanes
These seaplanes with one or two floats were designed for military use.
In the Spontoon Island universe, it is possible that there might be
high-performance civilian versions for moving mail & passengers.
"Dave" Nakajima 95 (Japan circa 1934)
Designed as a short-range recon aircraft, it was maneuverable & tough, it was
launched from cruiser catapults or from seaplane tenders. It was tough enough
to be used as a dive-bomber at times. After 1940 it was used for patrol & liason.
View below rear on a ship crane hoisting aboard (seaplane tender?)
View from above, on water with crewman preparing for hoist.
Front silhouette.
View below front quarter.
"Pete" Mitsubishi F1M2 (Japan circa 1936)
Designed as a short-range observation floatplane, it was very maneuverable in a fight,
and was used for fighter, patrol, recon/bomber, escort, & shipping attack roles,
often operating from seaplane-tender ships.
Painting of above front
.
"Rufe" Mitsubishi Type 0 Mk.1 (Japan circa 1942)
This is a floatplane version of the "Zero"/"Zeke". Lower performance meant that
it was used as a recon and defensive fighter.
View rear below quarter, in the air
Arado 196 (Germany circa 1938)
Catapult-launched from German warships for recon and as a fighter. It was also
used for coast-based patrols & recon, and as a shipping attack plane.
View below front quarter.
View left front quarter.
View side silhouette in air.
View below front quarter.
"Kingfisher" Vought (Chance-Vought) OS2U (USA circa 1938)
Designed as warship catapult-launched observation planes, these were used
for nearly every role, including rescue, dive-bombing, and shipping attack.
View below front quarter.
View landing on ocean, front right quarter.
View rear right quarter.
Other Airplanes
Junkers Ju 52/3m Transport (Germany circa 1932)
("Trixie"=Japanese version)
A civilian transport used by many international airlines. There were heavy bomber
versions made for the German airforce, and the military used them as transports.
There were floatplane versions with 2 large floats and many models could convert
from wheels to floats and back.
View from below with flaps out.
View leftside of civilian passenger airliner.

Blimps & Other Airships
Coming soon
Igor I. Sikorsky
Aeronautical Engineer, Test Pilot, Manufacturer
Suggested Seaplane References
Check on the
Links
page. But in addition:
An excellent source of military airplane idea references including aircraft bases:
http://warbirdpix.com
Excellent Flying Boat references & links:
http://www.seawings.co.uk/
Aerofiles: an excellent source of historical information, stories and photo references
to flying, aircraft manufacturers, & aircraft models in the USA
http://www.aerofiles.com
Excellent website about the Schneider Trophy for seaplane racing
& many reference photos of vintage European seaplanes
http://www.hydroretro.net/indexen.html

I wouldn't be surprised if they had more than 1000 photos! 8)
http://1000aircraftphotos.com

Card model airplanes! Fiddler's Green: A fun site with a very good links page
http://www.fiddlersgreen.net/

PanAmerican Airways "Flying Clippers" flying boats
http://www.flyingclippers.com/main.html


Icelandic Floatplanes (Junkers):
http://www.cl44.com/caa/1919_ENG.html
Amelia's homebuilt aircraft:
http://www.flyingflea.org/
Across the Atlantic to Brazil in 1927:
http://www.promotur.com/jrb/
An exotic style of aircraft:
http://www.aircrash.org/burnelli/chrono1.htm
Aviation references & links:
http://www.aviation-heritage.com/
Dutch & German late 30s seaplane:
http://www.dornier24.com/
Pan American Airlines seaplanes:
http://www.airliner.net/panam.html
Grumman seaplanes:
http://members.aol.com/thegneech/goose.htm
Strange airplanes:
http://unrealaircraft.com/
---
* Review & Recommendation: *
* Flightglobal/Archive *
Flightglobal home page: http://www.flightglobal.com/home/default.aspx
Aviation history archive (Flight International magazine archive) -
http://www.flightglobal.com/pdfarchive/index.html
This is an excellent reference archive from a weekly trade magazine,
Flight International. It was (and is) published in the United Kingdom,
reporting on world aviation, with a clear, entertaining, and appropriate bias
towards the interests of the British Commonwealth.
Artists & writers & website owners please look at these generous terms for
the use of material in these on-line magazine archives from 1909 to 2005:

"...The Flightglobal Archive invites you to explore
100 years of aviation history as it appeared in the
original pages of Flight Magazine from 1909-2005.
Every issue of Flight Magazine published between 1909-2005, digitally scanned and fully searchable
Thumbnail browser interface allowing for rapid issue viewing
Save and print your favourite articles
Topic pages, plus unique archive photo and cutaway galleries
100% FREE ACCESS – forever.

In fact we're positively encouraging you to link to, copy and paste from, and contribute to the development of this unique record of aerospace and aviation history...."

For references, I recommend this link on the page: "Aviation History By Year"
that shows Flight International pages, complete with text, photos, art, editorials, & ads.
A sample year archive: 1937

NOTE:
Please distinguish between those very open archive pages and the image sales area on their website:
This same publisher also offers (at a separated location, "Images", on their home page)
high definition copyrighted copies of photographers works from their files:
Flightglobal Image Store
http://www.flightglobalimages.com/
Historical photos & graphics from the British weekly magazines "Flight" & "The Aeroplane"
While oriented towards selling rights for publication, they will also sell quality prints to individuals.
---