Spontoon Island
home
-
contact
-
credits
-
new
-
links
-
history
-
maps
-
art
-
story
comic strips - editorial - souvenirs -
Yahoo forum

First posted 1 March 2009
* Update 29 May 2009 *
Comments updates 1 June 2009
** Update 22 July 2009 **
*** Update 5 November 2014 ***

Recommended Comics

Webcomics & comic strips
including links to other webpages.

---
Adventure Comics
***
"Rudek and the Bear"
***
by Peter Donahue
http://zuzelandthefox.com/comic/introduction/
I'll highly recommend this anthro webcomic. It is set in 1929 on the border
between Poland and Soviet Belarus. Polish border-guards have to deal with
life inside a military organization, smugglers, refugees, bureaucracy, and
boredom. Very well written & drawn. Intriguing characters, with appropriate wit.
(Mr. Donahue has a Kickstarter campaign to publish the first 50
pages in a hard-copy book format.)
(Posted 5 November 2014)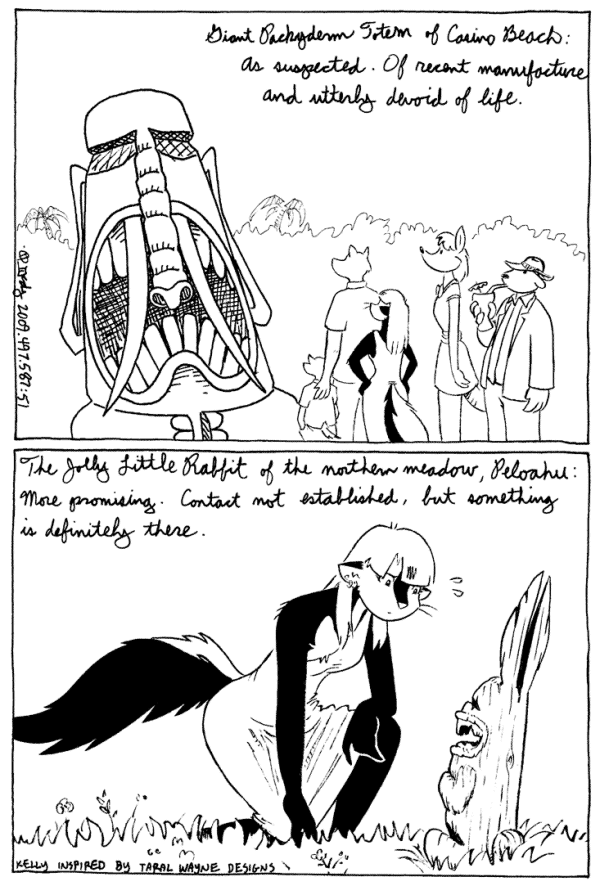 "Tiki Hunt" (Kelly O'Dor on the Spontoon Islands)
by JWKennedy -
http://docphlogiston.tripod.com/
Kelly O'Dor
by JWKennedy
Story archive ('Vault') -
http://docphlogiston.tripod.com/
"Kelly O'Dor at the Old Phelps Place"
http://user.drunkduck.com/JWKennedy
A brave young investigator of the supernatural, exploring and learning
in a pulp adventure setting.

"Lovecraft is Missing"
by Larry Latham

1926 - A librarian for Brown University of Providence, Rhode Island
& an Oklahoma writer for Weird Tales magazine are both hunting for the
elusive Mr. Lovecraft. All become entangled in the tentacles of
of eldrich conspiracies. Very atmospheric.
The
home page
shows the most recent comic page, Lovecraftian links, and a
most excellent blog that includes references to 1920s & 30s pop pulp culture.
(June 2009: new chapter is beginning, after a brief intermission)
"Frontiers"
by Adrian M. Kleinbergen
This comic book is about anthropomorphic military pilots and aircraft adventures
in a world of late 1930s-40s technology. Captain Maria Fireclaw has clashes
and adventures with Lt. William Longburrow (of a species which she despises).
This story was serialized in the independent comic
"Zu"
.
The societies shown, the technology, and the spirit
are similar to much of the Spontoonie stories.
Mr. Kleinbergen has published the 93-page black & white graphic novel
as a trade paperback, available from Lulu.com. Price is $12.95.
For more info & a series of preview pages:
http://www.lulu.com/content/4738774
"The Adventures of Mia" webpage by Enrico Casarosa.
This was a comic book of a few years ago, set in the seaplane-racing 1930s.
The webpage provides background, sketches, and sample pages.
"Lackadaisy"
Late 20s & Early 30s Bootlegger adventure in St. Louis!
http://www.lackadaisycats.com/
Highly recommended!

"Supermegatopia"
Setting with superhero (& pulp) humor (some adult): http://www.supermegatopia.com

"Skyrates" (multi-player game)
---
Fantasy Comics
A Gaslamp fantasy with Adventure, Romance, Mad Science (& Zeppelins)!
"Girl Genius"
http://www.girlgeniusonline.com/
"Pawn" by Fredrik K.T. Andersson
A fantasy webcomic (warning: nudity & lewdity!)
http://www.pawn.se/

---
Comics that are currently inactive (November 2014)

"Kitty Hawk"
by Braden D. Lamb & Vincent LaBate
Aviator, engineer, and adventurer, Charlotte Hawk in a pulp 1930s,
with Prologues, flashbacks, and air pirates.
The main page & forums have commentary on 30s pop culture.
(June 2009: new chapter is beginning, after a brief intermission)

"Ace & Queenie" by Rusty Haller
("Jade Death Gambit" with 1960s Spontoon setting!)
http://www.aceandqueenie.com

Athena Voltaire
1930s Exotic Air Adventure: www.athenavoltaire.com