"Felis Ex Machina"
by E.O. Costello



Dr. James Meffit, Charles Foster Crane, Inspector Stagg, Orrin F.X. Brush © E.O. Costello

Rosie Baumgartner © M. Mitchell Marmel

Athena Meffit originally created by J.T. Urie



"Why Do They All Take the Night Boat to Albany?"

© 1918, Joe Young, Sam Louis and Jean Schwartz




*****



The posters started to appear nearly a month before the first performance.

Charles Foster Crane, the publisher of the

Spontoon Mirror

, was of the view that the format of the posters, which consisted largely of bold capital letters and a great deal of punctuation, owed something to a level of nostalgia.

I, personally, was of the view that Mr. Crane was being generous, since minature versions of the posters were appearing daily in his newspaper.

There were slight variations among the posters, but most read something more or less like this:



COMING!!! COMING!!!

THE SENSATION OF THE NORTH PACIFIC!!!

TOASTED IN TILLAMOOK!!!

REVERED IN RAIN ISLAND!!!

OVATIONS IN THE ORPINGTONS!!!

THE INCOMPARABLE, NOT-TO-BE-MISSED

MARDER'S MINSTRELS

TEN ACTS OF ENTERTAINMENT FOR OLD AND YOUNG!

RECITATIONS FROM THE BARD!

SONGS TO MOVE THE HEART!

DROLL AND WITTY JOKES!

AND FEATURING

THE MYSTERIOUS

THE UNIQUE

THE DAZZLING SENSATION EVERYWHERE

MAM'ZELLE MECHANIQUE!

SPACIOUS ACCOMODATION AT ALL PRICES ABOARD

---

>

OUR WONDERFUL SHOW BOAT

<---

REFRESHMENTS AT REASONABLE PRICES ALSO SERVED

COME ONE!!! COME ALL!!!

DO NOT MISS!!!

POSITIVELY ONLY ONE WEEK'S PERFORMANCES!!!



Now, as many of you know, I have been here in the Spontoon Islands for nearly all of the time since the Great War – seventeen years, more or less. This means I have been here long enough to see Marder's Minstrels make a few appearances.

The troupe does a circuit of the North Pacific, hitting nearly every coastal hamlet that promises to have an audience of any size. The statement regarding "one week's performances" is a blatant lie; their last stay in the Spontoons, about four years ago, went on for nearly a month. "Held over by popular demand," said the impresario, Mr. Marder. "Held over until certain bills for food are paid," said the merchants on Eastern Island.

The casino owners were grumbling

sotto voice

at the news of a return engagement. Not too loudly, since this, after all, the off-season, and for the most part the casino shows have been scaled back quite a bit. Still, competition is competition.

I was of two minds regarding the show. I'd remembered the last performances, which contained jokes that would have given Joe Miller the dry gripes. The recitations and singing were passable, if you weren't particularly choosy about your entertainment. The last time, a group of smaller furs, led by a kitten, commandeered a balcony and began a vigorous heckling, directed in particular at Mr. Marder (and his shiny top hat), as well as the Interlocutor. It was generally believed that the young scamps livened up the performance greatly. One expected the troupe to be forewarned, this time.

Among my friends, there was a divergence of opinion. Mr. Crane and his native lady friend L'yra were certain to go, but they had received complimentary tickets. Sergeant Brush of the Constabulary was going, but in an official capacity (probably anti-heckler patrol).

Inspector Stagg had come from a native land, New Haven, where the theatre had been extremely popular. I expected that he was going to go, but there was something holding him back. Or rather, somefur.

His lady friend, Rosie Baumgartner, the proprietoress of Luchow's on Meeting Island, had a one-word response when I asked her about the show.



"Golem."



I had no idea what she was referring to, and she absolutely refused to elaborate. The Inspector, sensitive to her feelings (quite properly), did not press matters. I did not expect him there.

Athena, my mate, was eager to see the show. I suspect this is because she believes that I do not go out as often as I should and have some fun. Her point is well taken, though I find it a stretch to think that listening to jokes older than I am is "fun."

As the show boat approached, the posters increased and diversified in size, colour and number, until they liberally plastered nearly every surface that could be plastered, including a few that by all rights should have been out of bounds. How a gigantic banner got onto the side of the Grand, I'm not quite sure. In any event, it was likely that few, if any, furs in the Spontoons were not aware of the coming of the troupe.

When the great (?) day finally arrived, there was a large crowd gathered at Casino Island. They were not disappointed.

The show boat was a converted steel freighter. Vast stretches of it were covered with bright, gaudy paint, which must have been a chore to touch up, given the smoke from the stacks. On one of the upper decks, large doors had been slid to the side, and from it poured the thunderous melody produced by a large calliope playing jaunty show tunes. Assembled on deck were a large number of furs, dressed in a variety of costumes.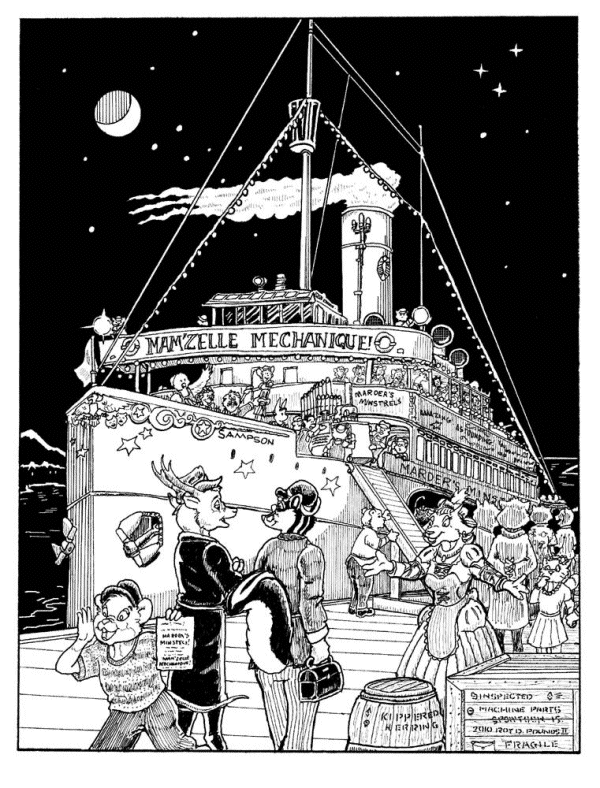 Inspector Stagg & Dr Meffit approach

the showboat

S.S. Sampson

- art by Roy D. Pounds II

http://www.furaffinity.net/user/steamfox/

- (Larger file

here

- 747 KBytes)


There was a goat in an Elizabethan-era doublet, ruff and hose. A group of stoats were doing flips and somersaults and other acrobatic stunts. A large number of furs were playing instruments in a brass band, and were doing a credible job at keeping up with calliope. A large, brown-furred bear and a much smaller, white-and-grey furred mink, dressed in matching suits with brass buttons, outlandish boutonniers and gigantic bow ties, were waving to the crowd.

Finally, leading the company down the gangplank of the show boat were two furs formally dressed, a large police dog, and a marten. The marten was looking around suspiciously, whether wary of process servers or heckling kittens, it was hard to say.

The troupe marched with well-practiced steps, and eventually formed a semi-circle on the China Dock. The dapper fish-hawk that led the band struck up a jaunty tune, and soon you could hear:



Here we are! Here we are!




Take your troubles and sorrow




Here we are!




We may be gone by tomorrow!




Here we are! Here we are!




But smile today! While you may!




You have music and laughter




Shakespeare ever after




Here we are! Here we are!




We're Marder's Merry Minstrels!




Everyone a star! Here we are!



Some in the company, in particular the aforementioned bear and mink, broke away from the troupe, and began passing out flyers for the performances. One would think this was overkill, but I accepted one, which read:



??????

WHO???

IS MAM'ZELLE MECHANIQUE?

THE PERFORMER THAT BAFFLES ALL!

THE PERFORMER THAT KNOWS ALL!

THE PERFORMER THAT TELLS ALL!

BE PREPARED TO BE

AMAZED!

ASTOUNDED!!

MYSTIFIED!!!

?????????????????

QUESTIONS FOR MAM'ZELLE MECHANIQUE COLLECTED

FIFTEEN MINUTES BEFORE EACH PERFORMANCE FOR A SMALL FEE



I did not recall this performer from the last performances, but I imagined it was some class of humbug meant to fool the easily fooled.

Athena approached the matter from a far different perspective, and I found that she had engaged a balcony box exclusively for our use. As this was the one that had been commandeered by the kitten and his small, furry gang the previous time, I think the management was delighted to accommodate her request. They even, "with the compliments of the Impresario," included a brass check good for a discount in the show boat's restaurant for dinner for two. Imagine my joy.



*****




I think it would prudent to draw a veil over the proceedings that were called, with gross exaggeration (in description and price), a "deluxe dinner." Even Athena, who has far more of a generous spirit than I do in such things, delicately did not finish the whatever-it-was that was the

entrée.

You would think that it was common knowledge that I was the chief health officer for the Spontoons, but evidently this news had not reached the galley. I resolved, at the first opportunity, to remedy this deficiency.

Most of the centre part of the freighter had been converted into a theatre, seating perhaps five hundred in the stalls, space for a dozen or so in the dress circle, and even a few in "the gods" up near the deck level. I noticed that there was a constable on guard there, who shooed away some rather enthusiastic young furs. For his part, Detective Sergeant Brush had stationed himself at a strategic point near the entrance, and had confiscated a small pile of slingshots and peashooters. I doubt even he was under the illusion that he had effected complete disarmament.

Our seats were in one of the two boxes flanking the stage – I noticed that Mr. Crane and L'yra had engaged the other box, perched at the left. I am sure that I was grossly overcharged for this, but on the other paw, it was probably better that I had the box, rather than somefur from the Althing who was likely paying for it by means that would be best not to enquire about.

I will say that the organization of the stage proper was well done. I could see the technicians moving about in the fly loft soundlessly. It would have been no joke to haul those heavy hempen ropes, and it was little wonder that the furs up there seemed to be the strongest ones. Interestingly, the lights appeared to be all electric, and modern at that, something I would not quite have expected for what was, after all, a traveling troupe. One might have expected arc lights or even, possibly, the age-old limelight. There were one or two members of the Fire Brigade walking about with clipboards, and making inspections.

Which reminded me, of course, to read the programme. After checking where the exits were (pure habit), I read through the rest of it. Some rather startling information in the biographical sketches. I can't for the life of me imagine how a lawyer and an engineer would end up as corner furs in a minstrel troupe, and it was perhaps best not to wonder too hard. These were probably the exceptions in the biographies, which appeared to be pretty straightforward, if you except a great deal of puffery in Mr. Marder's entry as to his prominence in the industry.

The programme had been printed by the

Mirror

(not by the

Elele

, I noted with interest), and as such contained a number of local advertisements (none for the casinos, which likely were being a little petulant). Athena giggled when I pointed out the Standard of Rhode Island advertisement. There were a number of other entries that appeared to carry over from edition to edition. Orca-Cola, Bubble Cud, and so forth. Why on earth they put ads for Fenwick Foods and F.R. Buckhorn opposite to each other, I can't fathom, and from the brief encounters I had had with both Lady Fenwick and Viscount Buckhorn, I shouldn't wonder that it was lucky that it had escaped their attention.

One advertisement puzzled me. It consisted entirely of a logo, an oval with a rather stylized design that may or may not have been a fossil. Probably some brand of cigarette going for the soft-sell. So soft, I didn't recognize the brand. I suppose they (over)pay furs substantial amounts for this nonsense.

The lights blinked on and off a few times in succession on the dot of eight o'clock, and the audience, which seemed to be largely Spontoonies in the stalls, quieted down.

From behind the heavy velvet curtain came a spirited overture. In spite of myself, I found that I was gently tapping my foot in time. After a brief interval, the curtain rose and the lights dimmed. On stage, toward the back, was the orchestra, augmented greatly from the brass band that had paraded earlier in the day. Arranged in two rows were lady- and gentle-furs dressed in formal evening wear, with the orchestra leader standing in front of them, his tail to us. All were playing with reasonable skill. In front of them was a series of chairs arranged in a horseshoe pattern, with one seat at the top of the curve being more ornate and set higher than the others.

Eventually, the music segued into the song that had been played at the China Dock earlier in the day, and onto the stage trooped the players, singing

"Here We Are,"

in what was, I'll admit, pleasant harmony. All were dressed in black tie, save for the dignified police dog in the centre, who was dressed in white tie, and gently waving a furled fan in time to the music. I should say the other two exceptions were the bear and mink corner-furs, each of which sported a gigantic sunflower in their buttonhole, instead of the small white rose the other gentle-furs were wearing. The two were also marching, quite deliberately, out of step with the other minstrels (but in step with each other).



"We're Marder's Merry Minstrels!




Everyone a star! Here we are! Here! We! Are!"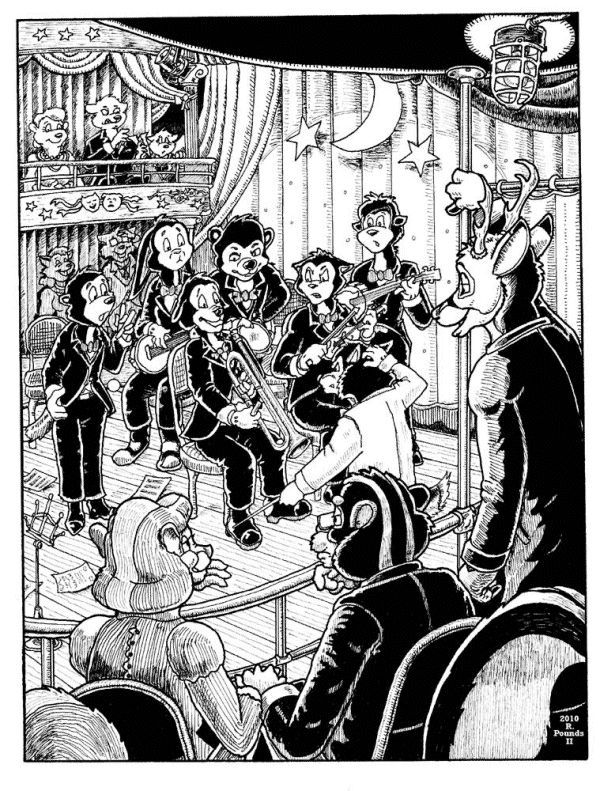 Watching the performance of

Marder's Merry Minstrels

on the showboat

(Athena & Dr. James Meffit, & Inspector Stagg) - art by Rod D. Pounds II - (Larger file

here

- 743 KBytes)



The orchestra played a flourish, and the police dog, who I take was Mr. Interlocutor, bowed.

"Ladies and Gentlefurs, be seated!"

With another flourish, Mr. Interloctuor sat in his seat, and the minstrels sat in theirs.

The mink, at this point, sat upside-down in his seat, standing on his head.



*****



Mr. Interloctuor glared over the top of his glasses at the mustelid.

"Good heavens, what

are

you doing?"

"Well, you've always told me to use my head during the performances, boss!"

This joke was met with a thunderous indifference, not that it seemed to abash the mink, who instantly righted himself and took up a pair of bone castanets.

The massive ursine who was the other corner-fur rattled his tambourine. Mr. Intelocutor shifted his gaze thereto.

"Yes, Mr. Tambo?"

"You still didn't answer the question I asked you a few minutes ago."

"Now is not the time to be taking that up, Mr. Tambo."

The mink piped up, cheerfully. "There's a pending question?"

Another glare from the centre. "Quiet, Mr. Bones. I did not answer your question, Mr. Tambo, because I did not wish to dignify it with an answer."

The mink was having none of it. "Say, Mr. Tambo, what was the question?"

"You want to know the question, Mr. Bones?"

"I would indeed like to know the question, Mr. Tambo."

"I would be happy to oblige, Mr. Bones. Do you know the difference between a school-teacher and a trolley-car conductor?"

"You're asking me the difference between a school-teacher and a trolley-car conductor?"

"That is correct, Mr. Bones, what is the difference between a school-teacher and a trolley-car conductor?"

"I give up, Mr. Tambo. What is the difference between a school-teacher and a trolley-car conductor?"

"One trains minds and the other minds trains, Mr. Bones."

Mr. Interlocutor's look of annoyance was part of the act. Mine was not. I could swear I'd heard that joke when I was in short pants. Nevertheless, the mink's lopsided grin managed to jolly the audience into some laughter.

"I say, Mr. Interloctuor?"

"Yes, Mr. Bones?"

"Speaking of trains, and getting around, that reminds

me

of a question."

"And what question would that be, Mr. Bones?"

The mink bounded up from his seat, pocketed his castanets, and the orchestra immediately bounced into a lively tempo, while he nearly hopped to the centre of the stage.



Old Henryk Hudson found a river




The river that touches New York




The rest of the river is a sliver




But it creates lots of talk!





Summertime, that's the time spooners




Used to go rambling about!




Now they take trips




On rickety ships




But here's what I want to find out:





Why do they all take the night boat to Albany?




That's what puzzling me




They all claim, it's just for the sights




But just the same, they're traveling nights!





I asked a fellow and his cute little pet




"How was the water?" and the answer was "Wet!"




So tell me why do they all take the night boat to Albany




And grab the next train for New York?





Why do they all take the night boat to Albany?




That's what puzzling me




They all claim, it's just for the sights




But just the same, they're traveling nights!





They play the searchlight on the shore as they float




Ha-ha! They oughta play the searchlight right on the boat




So tell me why do they all take the night boat to Albany




And grab the next train for New York?



This got much more of a reaction from the audience, and I suppose it was deserved, as the mink certainly put the song over with a great deal of energy and, dare I say, even charm.

The rest of the first act was a general mixture of bad puns (mostly inflicted by the bear), bad word-play (most inflicted by the mink) and very good singing. A quartet did a nice job of presenting

"Moonlight Bay,"

a sextette did

"Tell Me, Pretty Maiden"

and there were a few renditions of songs from the Stephen Foster songbook by a nightingale with a ringing tenor, and a roe deer doe-soprano.

As the lights came up for the intermission (and there was a very busy trade in refreshments, though I hope to mercy they weren't from the galley), I received a gentle poke in my side.

"You're enjoying yourself." Athena stated this as fact.

"Hurummm. Maybe."

"Oh, stop it, James. You were enjoying the singing, and you know it."

"Songs age far better than jokes, Athena."

"Well…well, yes, you're right about that. Still."

A gentlefur knocked on the door to our box. Athena got up, had a whispered conversation with him, and came back with a little tin of Buckhorn's Blackberry Pastilles. Confound the woman, she knows I can't stop with one of those.

Some of the stagepaws worked to clear away the chairs, moving them to the side, where the company reassembled. The orchestra had moved down into the pit, and was playing "mysterious" tunes, with an emphasis on the bassoon.

The lights blinked on and off, the audience reassembled, and the theatre went completely dark.

You could hear the curtain rising, and soon there came a rapid whirring and hissing sound. Some small spotlights with jelly filters cast soft reddish glows, revealing something quite remarkable.

Imagine, if you will, being transported inside a working pocket-watch. Imagine seeing flywheels and gears many times your size, made from beautifully machined brass, whirring and ticking in an eerie mechanical harmony. Imagine seeing massive steel springs, coiled with who knows how much power, gently quivering in time with the rotation of the mechanisms. Imagine further that all of these harmonious moving parts were set off by delicately enameled cartouches, the same ones that I'd seen in the programme, though I now recognized them, seeing them in colour, as trilobites. Lastly, imagine engraved in huge, curving, ornate letters, very much like gigantic versions of the text inside a pocket-watch, reading:


The

misterioso

music softly faded, until, with a soft snap, a brilliant spotlight was thrown on the centre of the mechanism.

There, reclining on a high mound of velvet cushions, was something that I had never in all my years seen.

It was a feline in brass.

It was almost a caricature of an anthrop feline, in that you could see it was in feline shape, including finely machined ears, but its chest was smooth curved brass. A delicate, highly articulated tail could be seen waving slowly and serenely behind "her." There was no head-fur, and the eyes were closed and looking down at a table set in front of her with sheets of paper and a pen. The brilliance of the light showed that each joint of her shoulders, hips and fingers was carefully joined and covered with red leather, no doubt to protect the joints.

She was, in effect, chained to the mechanism by a series of flexible tubes attached to her back, from which occasional puffs of steam escaped.

Other than her gently waving tail, she made no motion.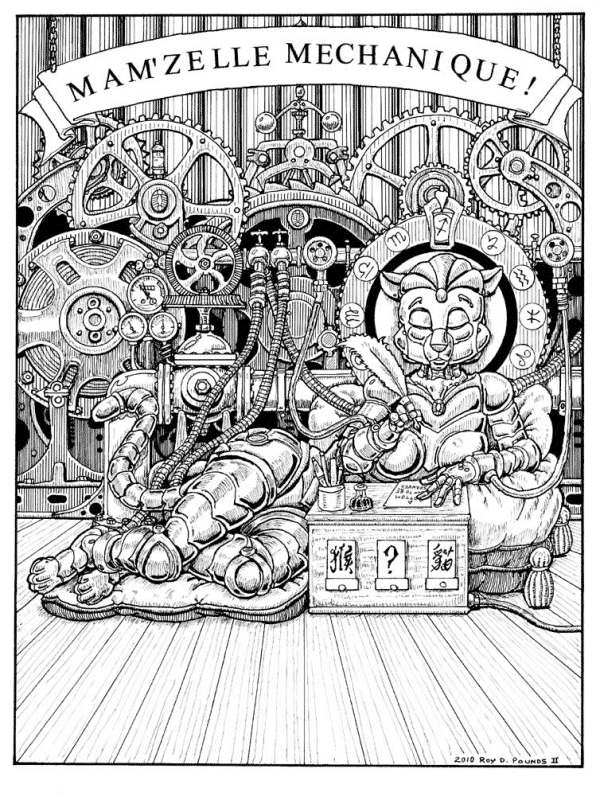 " Mam'zelle Reclining" - art by Roy D. Pounds II

http://www.furaffinity.net/user/steamfox/

- (Larger file

here

- 739 KBytes)


The crowd let out a gasp, and I could see a few flinch. Here and there, a young fur squealed in terror, until shushed.

From stage right, a figure that I recognized as Mr. Marder, the impresario, strode to the footlights. He raised a paw, and stood until the audience was quiet and still, when he lowered his paw.

"Ladies and gentlefurs. I wish to present to you one of the wonders of the age. An attraction that has no equal anywhere in the world, for there is literally no attraction like it anywhere in the world. I give you: Mam'zelle Mechanique!"

A gong softly boomed. The cat looked up briefly, and opened its eyes. When she did that, given how close Athena and I were to the stage, we could see that in that action, she revealed a delicate mechanism comprised of cloisonné. She closed here eyes again and bowed her head.

Her face was a cryptic Expressionist mask, but for all that, was strangely compelling. I couldn't look away from it, and given the grip that Athena had on my arm, neither could she.

Another member of the troupe wheeled out a gleaming cart, and parked it next to Marder.

"Mam'zelle Mechanique cannot understand the spoken word, as you can or as I can. But it *is* possible to ask of her nearly any question…"

He reached into the cart, and pulled out a gleaming metal rectangle, with some small holes punched into it.

"Through years of experimentation, we have found ways to translate our language to commands and requests that Mam'zelle Mechanique can understand. Some of these requests require merely one card, others may require two dozen or more cards. Once she has received the question, she will ponder it, and then write on one of the sheets of paper you see stacked before her."

Indeed, there was a pile of paper in front of her, as well a vessel containing a variety of quill pens, and a small ink-pot.

"Mam'zelle Mechanique is not infallible…she is, after, only human…" This said with an oily smile. "But she has been able to answer the questions of thousands. And if you doubt her answers, we are more than pleased to furnish you with her written reply, should you so desire it."

He turned, and faced my box. With a degree of somewhat offensive impudence, he smiled.

"For those that are curious, all of the sheets in front of Mam'zelle Mechanique are blank. Lest one think there is any sort of imposition…" The audience laughed with him (and at me), while he walked over, and showed that the sheets of paper in front of the cat were, indeed, blank on both sides.

Another troupe member wheeled out a small podium made of brass. A long flexible tube connected the bottom of the podium to a bank of tubes and pipes close to the mechanical feline.

"Allow me to demonstrate. We will start with a simple and obvious question. Namely, 'Are you ready, Mam'zelle Mechanique?'"

With practiced ease, Marder reached into the bin, and selected three metal cards. I did notice that the cards were of different colours, and as he held them up for audience inspection, I could see that the holes appeared to be in different places on each card. The marten stacked the cards neatly, and inserted them into a receptacle at the top of the podium. With a brief, sharp clatter, the cards were accepted by the machine, and reappeared at the base of the podium.

There was a pause of a few seconds. Mam'zelle Mechanique's tail began to twitch rapidly, and then fell still, curling over her legs. She half-opened her eyes, and a metal-and-leather paw was slowly extended to grasp a quill. With rather fine motor control, the pen was dipped in the inkwell, and then applied to paper. The audience was silent enough so that you could hear the scratching of the quill-tip. The writing was brief, and then the pen was put down, and Mam'zelle Mechanique became still, except for her tail, which began to twitch slowly.

Marder strolled over to the desk, and took the sheet of paper. He read it, smiled, and held up the sheet for audience inspection.

There was a small blot on the paper, and a slight smudge, but indeed, there was a large, easily readable word drawn in block letters on the paper.

"YES."

The audience applauded, and various members of the troupe got up from their seats and spread themselves throughout the audience.

The impresario pointed to a vixen standing next to an aisle seat. A Spontoonie got to his footpads and stood next to her, grinning sheepishly. The vixen waved a card.

"I have a question for Mam'zelle Mechanique from this fur:

'Will the waters be calm enough for fishing tomorrow?'

"

The audience rustled. This was a question that interested many. Marder bowed, and replacing the cards he had taken for the first question, he selected a number of cards, shuffled them in order, stacked them, and inserted them.

There was long silence after the metallic clacking had ceased, and indeed only the tip of the cat's tail was moving. Eventually, she picked up the paper and wrote. Marder retrieved the answer and read it aloud.

"NO STORM TOMORROW. STORM IN TWO DAYS."

The answer greatly satisfied the audience, who gave it warm applause.

Another member of the troupe raised a paw. "Mr. Marder? I have a question from the back row." This time, he was accompanied by a small kitten. I noticed that Sergeant Brush, near a fire door, was watching events intently.

"The question for Mam'zelle Mechanique: what do I have behind my back?"

There was a brief "oooooh" from the audience, and the kitten looked smug, thinking himself clever. Marder frowned a bit, and sorted some fresh metal cards.

The answer came surprisingly quickly as to what the kitten had behind his back:

"A BOTTOM, SOON TO BE SPANKED."

This response got a roar of laughter from the audience (not excepting Sergeant Brush), and a scowl from the kitten.

The next question, I found to my consternation, had a source close by.

"I have a lady in the balcony with a question for Mam'zelle Mechanique…"

An audience member shouted out.

"Is it about where to get oysters?"

I don't think the troupe got the joke, but everyone else did. I felt my face flush very warm above my collar. Athena, for her part, giggled, as the mink smiled, standing next to her.

"The question is: will I have a boy or a girl?"

Some applause at that question, and Marder hid a grin behind his paw, before bowing to Athena and myself.

"Many congratulations, I'm sure."

This question required only two cards: it must have been a common one. The answer took everyone in the house by surprise, save for one fur.

"BOY. AND BOY. TWO."

Frankly, this astounded me. I, of course, had heard the two heart-beats inside Athena, but she had not asked of me any specific questions on the subject. To my knowledge, she did not know this fact. In fact, I had told no one of this fact. How the answer had been determined by the mechanical cat, I had no idea. While the fact that the two were boys was a guess, and a guess from only three choices, it was still something that took me aback.

Athena asked for, and received, the sheet of paper on which the answer was written.

I confess that I did not pay full attention to the rest of the act, lost as I was in contemplation. The act continued to get applause, mixed with the occasional burst of laughter at some expression of wit from Mam'zelle Mechanique.

The company closed with another rendition of their theme song, and Athena had to gently prod me in the ribs with her elbow to get me to applaud at the end.



*****



I breakfasted at Luchow's early the next morning. Inspector Stagg was there, as well as (somewhat surprisingly) Charles Foster Crane, who was of course reading that morning's edition of the

Mirror.



Inspector Stagg asked, quietly and politely as is his wont, how I had enjoyed the performance. I noticed Crane cocked his head to listen as well.

I gave an honest answer.

"I don't know. I'm going again tonight."

Both Stagg and Crane raised an eyebrow, and the latter scratched his beak.

"So, Doctor, you enjoyed the performance?"

"Quite frankly, Charles, I'm not certain. There was something about it that…well, it felt a little off. Can't put a finger on it."

Stagg leaned on his cane, and closed his eyes.

"There was a famous case years ago, of the Mechanical Turk…"

Crane laughed. "Of course, Inspector! I know exactly what you're talking about. It was promoted as an automaton, but turned out to be an elaborate hoax, right?"

The deer nodded. "Something of an illusion. The mechanism was laid out ingeniously, allowing a rather small fur, with a chessboard, to secret themselves inside and operate the machine, using a pantograph. Very complicated public mechanism, designed to defeat any fur who tried to analyze it. Audience members were even invited to use magnets to help defeat any alleged magnetic mechanism."

Crane fluffed his feathers. "Destroyed, wasn't it?"

"Oh, yes. Mid-19th century, I think. Fire in Fillydelphia. One of the best accounts of the Turk, you know, was written by Edgar Allen Poe. That bird had wonderful luck in certain literary ways. Ask Herr Nerzmann if he has a copy on his shelves." Stagg turned to me, with a raised eyebrow.

"You believe, Doctor, there is some sort of ruse involved."

I rubbed my paws together.

"To be honest, Inspector, I have no idea. The answer regarding my impending children took me by surprise…"

Crane laughed. "Many congratulations on that score, Doctor."

"…but I can't articulate why I have an uncanny feeling regarding that machine. Something isn't right."

A coffee cup, banged down upon the table, put a punctuation mark on the conversation. I looked up to see that Rosie Baumgartner, the

chatelaine

of the restaurant, was frowning deeply.

"You listen to

Tante

Roseleh, Doctor. The less you deal with that…

thing

…the happier you'll be."

Inspector Stagg opened his mouth slightly, but seeing the expression in his lady fur's eyes, closed his mouth again and desisted. Crane coughed slightly, and ruffled his feathers again.

"That being said, Doctor, if you have no objections, I'll join you in your box tonight."

With darkened brow (and extended claws), Rosie stalked away from the table.



*****



Charles Foster Crane is a bird with a perverse sense of humour.

He took it upon himself to pay for dinner at the show boat. I tried to stick to the fruit. It didn't work. I resolved that I would inflict my office on the galley in the near future.

The audience for the second night was as large as opening night. The jokes were different, though of the same bewhiskered vintage.

It did seem as if the crowd was more interested in the second act. I was told by Crane that there was quite a stack of questions submitted, and some of them were quite complex.

"But then, Doctor, I don't think you were paying much attention to the questions. You seemed engrossed by the machinery."

The observation was accurate. There was a singular beauty in the machinery. It must have been the devil's own job to keep the brass from getting corroded in the salt air of an ocean-going ship, but in the gentle lights with which it was lit, all of the brass (and that included Mam'zelle Mechanique) gleamed. It would be interesting to know where the immense jeweled bearings came from, and how they were produced, and I doubt there were many places in the world that could manufacture the coiled-steel springs that delicately writhed with their power.

I knew a number of master artisans during the Great War; gentlefurs that maintained very complex means of killing other furs. They were all of the opinion that were in not for the results produced, the machines would be works of art suitable for a museum. Not an opinion that would be held unanimously, I'm sure.

Still, in looking at the mechanism, I had the uncanny feeling that something was not quite right. I have no training in such matters, of course, but I could not shake the belief that somehow, what I was seeing was what I was not seeing.

I tried to approach the matter as Inspector Stagg would, and then realized that it would be easier to simply ask the buck, which I did when he was at lunch the following day. Additionally, when both of us were out of earshot of Rosie.

The Inspector flickered an ear. "You think there's a fur manipulating the mechanism?"

"I thought you had said something of the like regarding that chess machine. Something to the effect that the machinery was just for show, the machinery that was shown to the audience."

He pondered this.

"Well, that's certainly true, Doctor. There's a lot to be said for the art of misdirection. It's the same principle why many magicians use scantily-clad femmefurs in their act. Rosie could…well…"

He cast an uneasy glance at his love.

"Inspector, why on earth do you suppose that Rosie is reacting to that…well, machine, the way she is?"

"I suppose, Doctor, that for some furs, seeing a mechanized depiction of a fur is off-putting and unnatural. Keep in mind that both Mam'zelle Mechanique and Rosie are felines, which may be exacerbating the matter."

"Competition?"

A soft, drawling snort. "My tastes, Doctor, such as they are, are limited to the kind of interaction that only Miss Baumgartner can give. I assure you that that is more than sufficient for my needs."

I nodded distractedly.

"Well, Doctor, I did check with Herr Nerzmann last night. He has a monograph on the Turk, something of a compilation on the stories that have been written over the years on it. I'm sure if you asked him, he would be delighted to let you peruse it."

Inspector Stagg's advice was helpful. (Which is why one goes to a fur like him.) Herr Nerzmann was equally helpful in providing the book. The book, somewhat less so, but there was still the point to be made that the machinery shown to the public was a distraction meant to gull them.

The third night's performance was well-received by the audience. I noticed that a few in the troupe looked up at my box with curiousity to see that I had been there three nights running. Even Marder himself noticed.

I had borrowed a pair of opera glasses from Carlos de Ciervos, the musical director for Charles Foster Crane's radio station. (The Castilian buck declined graciously, but firmly, my invitation to join me, as he preferred music-boxes for mechanical music.)

Mam'zelle Mechanique, I saw, was indeed connected by a number of pieces of tubing and pipe to the system, and I could see, with the aid of the glasses, the small valves that showed the steam-pressure that was fed into her. It was also clear that the space under her, that is, the part of her that was on the cushions, was comparatively limited. Still, there were ways around that, possibly.

While dosing myself with some bicarbonate of soda later in the evening ("catch of the day," my eye), the thought did occur to me that there was a way to acquire more information, and one in a manner that was beyond question legitimate.



*****



Marder was not best pleased when I handed him the paperwork the next morning.

"Hygenic inspection?! Are you insinuating…?"

"All restaurants, Mr. Marder, are required to be inspected regularly by the Ministry of Health. As you are operating a restaurant, and I am the Chief Health Officer of the Spontoons…"

Marder growled and glared. "Well, what do you require?"

"A map of the premises, and access, of course."

"Access where?"

"Well, I'm going to need to inspect a number of areas, Mr. Marder, since the restaurant is in close proximity to…"

Marder snarled something sotto voice about the ruination of honest businessfurs, and something deeply uncomplimentary about my species, which I chose to ignore.

The rest of the morning, and a good portion of the afternoon, was taken up with inspecting the ship. Outside of the galley, the ship was, in fact, kept quite tidily. The decks were well-swept and scrubbed, and the paint was obviously well-maintained.

There was enough about the galley, however, to make Marder's day unpleasant. There were deficiencies in food storage and the cleanliness of counter-tops and stove-tops; nothing of the sort that would force a shut-down of the premises, and of the kind commonly seen in most restaurants. There was, however, a great deal of irritation expressed by Marder about interference with business. The fact that the restaurant would be closed that night for cleanup provoked a brief outbreak of wrath. I told him that an outbreak of wrath was preferable to an outbreak of food poisoning. He did not take that sally well.

One thing I did find out, because I inspected the layout very carefully: while the floor underneath the theatre was heavily reinforced (that was hardly a surprise), it was also solid. There was no reason to falsify the maps of the ship, which no fur outside the troupe would ever see, and I was looking in many places where the public ordinarily did not go.

I chose to exit the show boat by walking through the theatre and out the main door. The bear, one of the end-furs, was working on the machinery for Mam'zelle Mechanique. Specifically, he was working on a steam connection. He was wearing heavy protective gear on his arms and paws, as well as goggles. He raised an eyebrow as I walked past, slowly.

From a distance of a few feet, I could see the feline automaton. Her tail was not moving, and the machinery itself was ticking very slowly. Perhaps she was "asleep?"

I thought about going closer, but the bear was giving me the sharp eye, so I decided discretion was the better part of valour.

I also decided that it would be wise to review the statute-books and regulations relating to the Ministry of Health, and perhaps another ministry or two, quite closely.



*****



Nick, the chef at Luchow's, may have some personal faults, but one can fault neither his cooking nor his kitchen. Luchow's never comes close to failing its hygienic inspections.

My enjoyment of the chicken in beach plum sauce was a little dimmed by the fact that Rosie Baumgartner was watching me intently. As I was dressed for the theatre, she knew where I was going, and did not approve of it one bit. What is more, she knew that I knew of her feelings on the subject, and that was making her even more agitated.

The direct approach, I felt, was the only means out.

"So you're familiar with the act, Miss Baumgartner?"

She popped her claws, and produced a hiss that would have done credit to the steampipes of Mam'zelle Mechanique. Seeing her own reaction, she sheathed her claws, and got her breathing under control. As well as her temper. Barely.

"Listen,

boychik,

I have enough issues dealing with the assortment of stupidity I get from B'onss and K'nutt on an average day. Don't. You. Start."

"It's a perfectly reasonable question, phrased politely. And I will repeat it: are you familiar with the act, Miss Baumgartner? It is, I think, obvious what act we are referring to."

"Oh, yes. It's obvious, all right. Very obvious. Take your

Tante

Rosie's advice and stay away from it, too. I don't think you want Athena to be a widow."

This was a little startling. "Widow?"

Rosie opened her mouth, paused, and then closed it with a snap. I waited for an explanation, but none came. After a few minutes, she stalked off to the area leading to her personal quarters, slamming the door.

A little later, I found, slightly to my annoyance, that I had forgot to wind my pocket-watch. Opening it up, I took its little key, inserted it, and wound it up again. The little gears and springs, miniature versions of Mam'zelle Mechanique's, sprang to life with its regular rhythms.

Watching them made me realize something about the stage-mechanism. Why *was* it there? And how did it work?

The jokes were mephitic-centric that night, designed, I think, to guy me. The mink in particular seemed quite nervous when he told the jokes, and glanced up at my box, as if expecting a blast of spray over the railing at any moment. Silly, really.

I resolved to try a small experiment. I walked up to one of the troupe, and indicated I had a question for Mam'zelle. She looked somewhat taken aback by this, and was relieved only when she received the question. It was, in the event, the first one of the night, and the audience was quite curious as to what I would ask of her.

It was a simple question, as read out by the member of the company:

"How do you feel tonight, Mam'zelle? Well, I trust?"

Marder cracked a nervous joke, saying that I should be charged for two questions. He did drop one of the punched-metal cards as he took it out of the case.

It took the automaton only a few beats to start writing. Common question, perhaps.

"VERY WELL. THANK YOU FOR ASKING SIR."

There was hesitant applause from the audience, which was unsure how to take the answer.

For my part, I applauded firmly, and then sat back and watched the mechanism carefully. I did not conceal myself when I opened my watch and held it up, watching both it and the stage at the same time.

What that experiment suggested was most interesting to me.



*****



I was breakfasting at home the next morning, alone; Athena was not feeling very well, and had been given bed rest. My toast had just been disposed of when P'ina, my housefur, indicated that I had a caller. One that was not a patient.

It was, in the event, Rosie Baumgartner, bearing both a determined look, and a rather large scrapbook. Curious, since breakfast was, after all, some of her working hours. She declined my offer of tea or coffee, and got straight to the point, banging the scrapbook on my table and making the china and silverware rattle.

"You've been going there every night, haven't you?"

I bit back my initial response, which was in the vein that where I spent my nights was none of her business, and merely nodded.

"All right. Maybe you think I'm making things up, or I'm just being stupid about that…well, that thing. Aren't you?"

"I only notice, Miss Baumgartner, that its presence here has you greatly agitated. I assume the answer is, at least in part, in that scrapbook?"

Rosie squared her jaw, and flipped open the book for my inspection.

Judging from the pages, it seemed to be a record of her activities in vaudeville, with a slim tigress that I recalled vaguely from a little while back. There were a number of photographs, programmes and press clippings.

One press clipping in particular was indicated by a claw. It was from the

Scranton Times

, and was dated September 11, 1919.



STAGEPAW KILLED IN FREAK ACCIDENT


Somewhat surprisingly, the article was fairly terse. From my experience, theatre disasters usually were played up quite heavily. What appears to have happened was that a stagepaw was scalded to death by a blast of steam from a performer's prop. This prop was described as being in the form of a mechanical cat-femme. The local fire department was said to be investigating the matter.

Rosie flipped some pages, and another clipping was pointed out for me. This one was from the

Evansville Courier

, and was dated March 4, 1920.



1 KILLED, 1 BADLY INJURED AT THE KEITH THEATRE


In this case, two stagepaws were found in the orchestra pit of the theatre. Both had shown signs of being very badly beaten before being dumped in the pit. What baffled police was that there were no other furs in the theatre between the time the furs were last seen alive, after the last show the previous night, and when they were discovered at eight the next morning.

The bill for that week's entertainment was pointed out. A little below "Rosalie and Antonia," which I take was Rosie's act, one of the features of the show was "The Mechanical Wonder."

She closed the book.

"No other incidents, then, Miss Baumgartner? Just those two?"

"That was plenty enough for the rest of us. We refused to be on the same bill with that thing."

"The "thing," I take it, being Mam'zelle Mechanique? How do you know for certain it's the same?"

"Listen, I remember Marder, even if he doesn't remember me. He was the assistant to the creepy old wolf who used to run the act. Both of them were protective of this gizmo. Very protective."

"Naturally. Professional secrets and all."

"You don't understand, Doctor. It went a hell of a lot more than that. They used to get really angry…I mean, killing-fur angry, if somefur even went near it."

"So you suspect Mr. Marder of murder? Or this old wolf?"

There was a very long pause, while she drummed her fingers on the book.

"I can't prove a damn thing. But you heard stories. And stagepaws? If they liked you, they'd do anything for you. I used to treat them right, give 'em tips for fetching things, say hello. I never had any problems with them. But Marder? He'd scream at them if they even looked cross-eyed at his little…thing."

She took a deep breath. "I remember one show in Altoona…and it was not long after the Scranton gig, either…a stagepaw managed to put a funny little hat on his brass toy. It took about a dozen furs to hold Marder and his boss off the fellow, and brother, it took a lot more than that to hush it up so that the head office didn't blackball him from every vaude circuit in the country."

"Strange that the act never made something like the

Follies.

"

"You're not listening, Doctor. I'm telling you

exactly

why it never played the Palace, or was in the

Follies.

Word started to get around that being on the same bill with Mam'zelle Mechanique was not the safest place to be. And working in the same theatre, ditto."

"Odd that I don't remember this act from before the War."

Rosie bit back some exasperation, but answered the implied question civilly.

"It only hit the States after the War. It's supposed to have toured all over Europe, but honestly? I never heard of it, either. And I was in the profession, and stuff that happened in Berlin would be known in Gnu York in a week, and Ashtabula in two weeks."

"So, to summarize: be very wary of dealing with Mr. Marder, because he is very protective of his act."

Rosie leaned in, and hissed at me.

"Beware of the

whole

act, Doctor. All of it. I like your wife, and I don't want her to be a widow."



*****



I had my patients to attend to, but I picked up the telephone and did two things.

The first was to invite one of the otter brothers from Superior Engineering to join me in my box that night at the show boat.

The second – and perhaps this was a bit of impudence on my part – was to dictate a telegram at an urgent rate to no less than Allen Minkerton III of the Minkerton's Agency in Gnu York. This was presuming somewhat on my friendship with the Inspector, which was noted in the telegram, and it was a rather costly and lengthy telegram. But an urgent-rate fully paid response was also included in the transaction.

I didn't know what to expect from either of these sorties, but I was very interested to see the results.



*****



The young otter and I entered the theatre after dinner. I noted, with some satisfaction, that the quality of the dinner had improved significantly from the previous nights. For once, I suspected, the only grease in the galley was of the elbow variety.

On the way in, one of the furs from the box office beckoned me over. He offered me an envelope.

"A message?"

"A refund."

"Whatever for?"

A simple question, but it seemed to flummox him. Eventually, he stammered out that he was following orders.

"Oh, really? From whom, may I ask?"

The fur look embarrassed.

"Please convey my regrets to Mr. Marder, but tell him that he can take comfort in the fact that I am

very

interested in the performances."

I turned on my heel, and walked up to the box, my companion trotting after me, with a somewhat puzzled air. I could feel more than one pair of eyes on my tailfur.

Speaking of my companion, he enjoyed himself immensely. It must be a wonderful thing to be so young and so unexposed to bad jokes. I imagine that he would be the only one of his brothers who would have. One of them had quite a reputation for propping up bars, even more than Reggie Buckhorn, and the other had a face that would have done credit to a riverboat gambler (how appropriate). A fur once had the temerity to inform him that he had wagered a substantial amount that he could get him to say three words. The otter glared at him and snapped "You lose." And so he did.

But to return to the youngest. As I expected, the revelation of Mam'zelle Mechanique brought an even larger smile and swishing of tail. After a period of time, he lowered his brows, and tilted his head. Soon enough, he had taken out a pencil and had begun to sketch in his program.

He had indicated a desire to have a discussion on mechanical design with the owner. I gently suggested that while Mr. Marder was no doubt very busy with post-performance matters, I, on the other paw, had the leisure and the interest to listen to him, and would he like a nightcap?

I have to say something about mechanical engineers: somewhere along the line, the art world got robbed. Considering it was a sketch done on a knee, with a pencil, on a small programme, in a darkened theatre, what I was looking at was a model of simplicity and clarity. Even I, with no experience in the matter, could follow along.

The gist of the drawing was that there was a much more compact way to produce the same effect, that a number of the gears weren't truly necessary, and that not only would it reduce the size of the machine, it would reduce the amount of power required to run the machine.

Perhaps I was hasty about the art world comment. The young fur, in his innocence, probably did not realize that the size of the machine was probably very much to the point.

The fact that he clearly missed the point of the act became apparent when he took a napkin and began to sketch a revised design for the femmebot.

"You know, you don't need all that steam power for the things it's programmed to do. Especially since the turbine inside is pretty small…well, it would have to be. Size and the functions it's supposed to power. You could design it this way…"

Perhaps I was not hasty about the art world comment. It was clear this young fur had a very keen and appreciative eye, and it was entirely possible that engineering had not been the only thing he had studied. Whether part of his official curriculum or not.

He tilted his head after finishing, admiring his work.

"You know, I'll bet if I asked Dad…"

I had met his father on a few occasions, and the notion of how that conversation would evolve was certainly fraught with interest. At a later time.

There was something waiting for me at home; namely, my mate with a largish Nimitz Union envelope. It was marked as eleven Spontoonie pounds, ten and six. Which, presumably, did not include the fee associated with the message. Athena's father owned the Standard of Rhode Island oil company, so Minkerton's was not unknown to her. She was clearly deeply curious about the telegram, but bless her, she left me to it.

Indeed, it was from Allan Minkerton himself. (An extra 100% on the fee, I should think.) The telegram was thorough; for some reason, they must have had a file opened already. That would also explain the speed of the response. Reading it over twice, I came to the conclusion that it was an explanation for what made Mr. Marder tick. A fur's past often explains his present.



*****



Athena, the next morning, was giving me the quiet eye over breakfast. It was not until I had finished my poached eggs and toast that I saw that she had a slim volume unobtrusively next to her plate. There was a slip of paper in it. A slightly closer inspection showed that the programme from opening night for the show was underneath it.

"You've found something out, Athena."

An eyebrow, a tail swish, and a nod.

"Obviously, something in the program that you think I didn't ask about, of Minkerton, Miss Baumgartner, or the like.

Another nod.

I looked again, and I saw that the spine of the book had a title printed in Gothic lettering, lettering that was familiar to me from the Great War. I wasn't able to read it from across the table, but Athena saw that I was looking at the spine.

"Herr Nerzmann."

"Inspector Stagg better look to his laurels, James."

"Mixing in good company, I suppose. Or stimulating company. So: if you're researching something that requires a book in German, and it's something triggered by the programme…"

I ate another slice of toast and considered. Running through the contents of the programme, I eliminated much of what was in it, except for…

"That advertisement!"

Athena nodded. "I described it to Herr Nerzmann. He did not recognize it. But Frau Nerzmann did. She was from an area not far…but I'll let you read Herr Nerzmann's translation…"

She handed me the book. It was, as I said, slim. It also had a number of colour plates. The page that was indicated by the slip of paper had a hand-tinted colour plate that was very close, if not identical, to the advertisement.

It was, in effect, a maker's mark, for a master artificer who specialized in very compact, yet complex, machinery. It was his family seal, derived from what could be found in the mountains near his workshop: the trilobite.

One paragraph was translated:



"Much could be said of the products of this workshop, but how much of what could be said is the truth, is another matter. The objects pleased the eye and ear, but whether they were intended for other purposes was never made clear. The secrets of the Master of the Spring, the last of his long line, died with him. As to the fruits of his mind, and their location, God only knows, and we hope that He does, in fact, know their location. For our sake."



I closed the volume and put it on the table. Very interesting. Confirmatory, in fact, of one or two things. Being married to a femmefur of brain is a good thing.

Athena leaned on a paw and looked at me with a level gaze. "Whether you like it or not, James, I've told Sergeant Brush he's to keep an eye on you. That's my – our – right." This said with a significant rub of her stomach.

Put like that, I had no alternative but to nod my head.



*****



I did not, in fact, attend the performance that night. What reaction this produced, if any, in the minds of the troupe I could not say. I had every expectation that Mr. Marder would take notice of it.

From a discreet distance, it was easy to observe the audience leave the show boat, and the activities of the cast and crew as they gradually made it secure for the night.

Under law, the ship was required to have a manned gangplank during its time docked at the wharf, and I could see the light of the guard posted at its top.

Another light that I could see came from some yards off: the light produced by a cigarette end. Sergeant Brush had, evidently, taken my mate's words seriously. I would know that compact profile (including flat cap) anywhere.

It was near the dot of two o'clock when I finished the small tot of whiskey I had brought with me for warmth (and courage, I will admit), and walked up the gangplank.

The guard, seeing me come up, stood astride the path and began to finger a whistle. And yes, I'm sure he recognized me.

I reached into my coat pocket, and produced a paper.

"This is my warrant to enter this vessel, as Chief Health Officer."

"Galley's closed. Come back in the morning."

"I'm not here to inspect the galley. I'm here to inspect the stage area."

The fur goggled at me, but stood still otherwise. I put a paw on his shoulder, and gently nudged.

"If you look down, you will see a detective with the Constabulary. If you interfere with my duties, he will intervene."

Pure bluff on my part, but the double-take the guard made showed me he recognized the fur down below. He stepped aside, but raised the whistle. I put my paw on his wrist.

"No interference, mind. If you must, go and fetch Mr. Marder. On second thought: please go and fetch Mr. Marder. I would like to speak with him."

The fur looked at me with a level, and not terribly friendly gaze.

"Don't worry, I know the way. I've been here often enough, haven't I?"

The only sound of steps were my own against the metal of the deck, until I had reached the entrance to the theatre. At that point, I could hear unhurried steps moving away into silence.

The theatre itself was quiet and dark, with the exception of a small, circular area on the stage. There, one could hear (and see) the slow turning of gears. Some kind of small electric lamp was lit. It threw most of the machine into shadow, but you could see Mam'zelle Mechanique reclining, eyes shut, on her pillows.

It was not difficult to mount the stage; there were no traps or anything like that barring my way. I stood, paws behind my back, and observed, with eyes and ears.

From somewhere nearby, a pump was throbbing slowly and rhythmically every few seconds. In between, there was a faint hiss of escaping steam, and indeed, I could see small clouds of steam escape from Mam'zelle Mechanique at rest.

From my vantage point, and now that I had a chance at leisure to look at her from a relatively close distance, I noted with great interest the obvious craftsfurship that went into her creation. Even for a Master, it would have taken thousands of hours to prepare even her form, let alone the machinery that supported her.

I stood in silence, until a voice broke out from the opposite wing, in a harsh snap:

"Well? Are you going to just stand there, or aren't you going to fondle her? Don't be shy…after all, she's just a machine."

"Good morning, Mr. Marder."

"You're very circumspect for a pervert, Dr. Meffit."

"Pervert, Mr. Marder?"

"Don't think I haven't seen it before, Doctor…" Marder strode out to the stage, flipping a light along the way so that I could see him. Well, both him, and the automatic he was leveling at me. "Professional types, the ones with education, are the worst. They have the most vivid imaginations."

"Really? I would think stagepaws are their equal in imagination, wouldn't you?"

Marder slowed, and stopped.

"What d'ye mean?"

"Oh, I think stagepaws, who would after all have seen Mam'zelle Mechanique at the range I'm seeing her now, or even closer, would have roughly the same ideas that you ascribe to educated furs. That's what happened in Evansville and Scranton, wasn't it?"

Marder was silent.

"I'm liable to think the stagepaws met with their fate because they had no idea what they were dealing with. Cocky, I suppose. They deal with dangerous machinery all the time. But I don't think they ever expected death to come in the way it did."

"Oh?"

"And it wouldn't have been the first time. You were lucky to leave Germany when you did, Mr. Marder. You and your former lupine master. (That's master with a small "m" by the way.) 1915 was not a good time to have such a beautiful metal machine like this, when the war was on. I know quite well how the armies of the Kaiser had such a voracious need for brass and steel. Or were there other events, events that got lost in the death lists from Belgium, France and Russia, that impelled you?"

I turned to look at Marder, who had narrowed his eyes at me. His paw was shaking slightly.

"The insurance companies after the Evansville incident had a detective agency trace both you and your act back. It was very fortunate for you that incident in Memel happened the very day Franz Ferdinand met his fate in Sarajevo. Only that one couldn't be blamed on the overheated id of a stagepaw, could it? Policefurs have such a reputation for a lack of imagination, don't they?"

Marder let out a small hiss, but otherwise stayed silent.

"So when the events happened in Scranton and Evansville, you knew that the police were going to get interested. Especially if no act would go on the same stage with it…"

That shot went home, as his grip tightened on the gun. (Perhaps a better choice of words there, James.)

"So, you fear the lady, Doctor?"

"How very interesting that you suggest I should fear Mam'zelle Mechanique, Mr. Marder. She doesn't fill me with fear, sir. No. At some level, admiration for the skill of the Master of the Spring. I take it, by the way, the advertisements you run with the sigil were part of the deal you…or, rather, I should say, your former boss, the deal he concluded with the Master?"

"So, you know of the Master?"

"Have you ever been to St. Paul's in London, Mr. Marder?"

"No."

"Ah. Pity. There's a memorial to the architect, Christopher Wren, there. I forget if it's the exact quote, but it says something to the effect of:

"if you seek my monument, look about you."

One would imagine the Master would be proud…"

"SILENCE! You are not…

worthy

…to speak of the Master!"

Marder's eyes were gleaming in the half-light in which he had moved.

"…would be proud of his creation. And would have passed on his possessiveness from owner to owner. Including you, Mr. Marder."

Marder's breathing began to get more ragged.

"It is interesting you would ascribe to others the thoughts you must have for Mam'zelle Mechanique. Do you often visit the stage after hours?"

"SILENCE!"

"Is that why the light is burning here?"

"SILENCE!!!"

"Her true workings must be quite remarkable. Even if you discount the fact that much of this…" I waved my paw to take in the whole

tableaux

, "is for show."

Marder sneered. "You're a doctor, not a mechanic."

"May I show you something, Mr. Marder? I assure it is not a weapon." Taking his silence as assent, I pulled out my pocket watch, opened it, and held it up.

"One of the things I found interesting, Mr. Marder, was that the gears and mechanism here, while presenting the image of harmony, don't actually work in tandem. I discovered this, quite by accident, by looking at my watch in operation. The other point of interest

was

noted to me by an engineer. Mam'zelle Mechanique is rather small, yet she is hooked up to steam pipes. To what end? The mechanisms are either very small and thus useless for the purposes to which she is used, or, perhaps, there are very special mechanisms that one does not ordinarily see."

Marder was silent, but was breathing rapidly.

"Much of what you see here is an illusion. I congratulate you, Mr. Marder. It is a supremely effective illusion. Actually, there's an error in what I just said."

Marder's face twitched.

"The congratulations are not due to you, Mr. Marder. I would congratulate the Master of the Spring, were he still alive. I shall have to do the next best thing."

I turned slightly, and bowed.

"Your humble servant…Mistress."



*****



When nothing happened for an extended period of time, I became quite disconcerted. Mr. Marder, on the paw, was growing more confident by the second. Initially, I could tell, he was holding his breath, but in due course, I heard a nasty chuckle and the snap of the automatic being readied.

The relative emotions reversed themselves, though, when, with a faint click, the eyes of Mam'zelle Mechanique opened. From far away, they were quite noticeable. Up close, the effect was stunning.

I did the only thing I thought was reasonable in the circumstances: I bowed. Out of the corner of my eye, I could see that Marder had quickly hidden his gun paw behind his back, and had bowed as well.

The mechanical cat's tail began to swish, and her toes, within their leather sheathes, flexed. With great deliberateness, she placed her paws upon the table to steady herself, and slowly brought herself to a standing position.

With equal deliberateness, she moved her paws, and slowly disconnected herself from the bonds that constrained her to the machine. There was a faint, whizzing hiss as the tubes slowly fell to the floor. Within a minute, she was completely autonomous.

She looked down at the floor briefly, and with a slow-motion, balletic grace, began to move. Each step was carefully taken and finished before the next one was undertaken. One could only imagine the effect on susceptible minds, considering that this motion produced a slow swaying of the hips.

During this process, her ears gently swiveled, and she kept her eyes fixed upon me. I had no knowledge as to what she saw, or "saw," so I stood politely at parade rest.

Mam'zelle Mechanique stopped at a point within arm's reach of both myself and Marder. Her head slowly swiveled from side to side, watching each of us in turn.

In due course, she fixed her gaze on Marder, and held out a paw, palm side up.

Marder, who had started to shake, looked at her in bug-eyed fear. He may well have missed her gesture.

There was a faint thrum from inside her, and then she began to speak. Given that her "mouth" was fixed, this was somewhat eerie. Even more eerie was the fact that her voice sounded very much like an anthrop's. It was a low, husky contralto. If she had said

"I vant to be alone,"

it would have been acclaimed as perfect mimicry. That is not, in fact, what she said.

"You haff been careless. Giff it to me."

Marder swallowed, and his jaw quivered, but he seemed rooted to his spot. Mam'zelle Mechanique swiveled her ears gently, and her tailswishing stopped.

"You haff not heard what I say? Giff it to me. Now."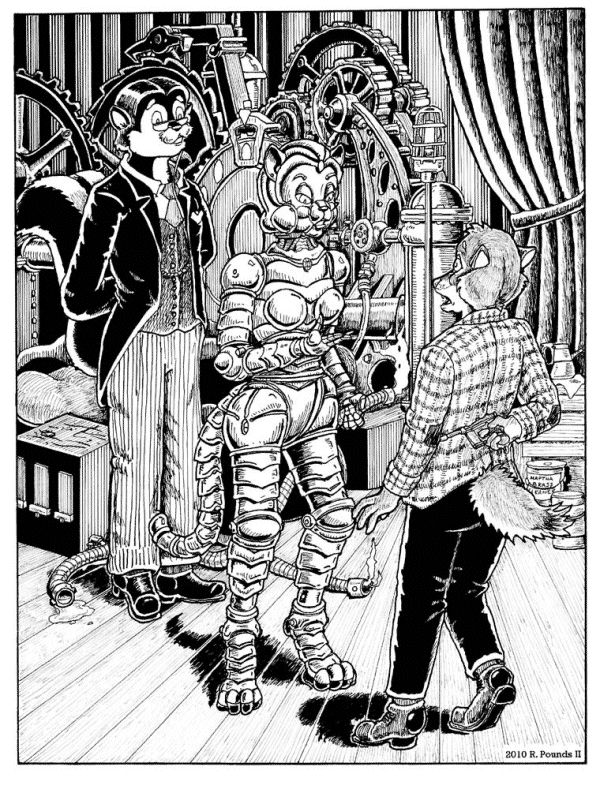 "Marder Gets Careless"

- (Dr. Meffit, Mam'zelle Mechanique, Mr. Marder)

art by Rod D. Pounds II - (Larger file

here

- 743 KBytes)


Marder snapped out of it, and produced his automatic. He placed it in the upturned paw of Mam'zelle.

Her head tilted down, and she regarded the pistol for a moment. Her paw slowly began to flex. In a few seconds, accompanied by sharp sounds, the automatic was slowly crushed into a shapeless mass. The paw opened, turned over, and the ball of metal dropped to the floor with a dull, metallic noise.

After staring at Marder for a minute or so, she slowly turned her gaze to me. For all the world, it was the sensation of watching a battleship slowly revolve a turret. She looked at me, and then posed a question.

"Why?"

I gave the reflexive answer.

"I am a fur of science. When I see something remarkable, I want to know why, myself."

A few tailswishes.

"What kind scientist are you?"

"I am a doctor. I practice both surgery and general medicine."

"You haff not the experience with the machine?"

"No. I do not. I make observations, and from them, I make inferences."

More tailswishes.

"You do not haff…feelings…for the machine?"

I thought about the answer before I gave it.

"I believe that if I were to engage in…well, offensive familiarities…yes, I think that's the phrase…if I were to engage in offensive familiarities with you, Mam'zelle Mechanique, it would end very badly for me. It is, in any event, not the way I act."

Well, when I haven't been eating

ma'muul.

I would say, though, that eating those oysters produces events beyond my control. But irrelevant for the conversation. I continued.

"Those stagepaws, some years ago: they were deeply offensive to you, were they not?"

I had been searching, in my mind, for something to compare her tail to. I finally figured it out…her tail, in the way it was articulated, reminded me something of the design of the spire of the Chrysler Building in New York. In some ways, her creator had anticipated Art Moderne by a number of years. The way head-fur was suggested on her head would have greatly appealed to an artist steeped in that design.

In any event, her tail twitched a few times in response to my question.

"That is so, yes. You are not this way?"

"No, Mam'zelle."

Another long pause.

"Ah. You haff the mate, yes? The one who ask the question about the childs?"

"Yes, Mam'zelle. That is correct."

Another long pause.

"Pity. And now that you haff knowledge of Mam'zelle, what do you do?"

"Nothing, Mam'zelle."

Her tail swished slowly from side to side as she pondered this.

"Why?"

I spread my paws. "You have done no harm here. And I suspect that if the full truth were known about the events where you have been involved in…tragedies…a neutral analysis of the facts would indicate self-defence. The mere fact you are mechanical does not mean you should be subject to assaults on your dignity."

I kept my paws within what I thought was her range of sight, and stood politely as she gave me a long, searching stare. One curiousity: she had started to blink, slowly, when talking to me and looking at me.

"There are those like you, here, yes? Are all like you?"

"I could not say, Mam'zelle. I am not a native of these islands. I know many of the natives have a certain…what's the word?...ah, "flexibility," when it comes to new concepts. This is true of the priestesses, certainly."

"Priestess? What is priestess?"

She had me there. Not an easy question to answer.

"They are called "Wise Ones" in this land, Mam'zelle. They have a reputation for knowing many mystical things."

There was another long pause, while her tail swished. Eventually, it stopped swishing, and she slowly raised her arm. Gently furling her fingers, she pointed with a firm index finger.

"Go."

I blinked. Not quite what I had expected, but I bowed, and turned to leave.

I did not look back, even as I descended the gangplank.

Sergeant Brush, twirling his blackjack, was waiting for me at the foot.

"Seen any'tin unusual, Doc?"

I thought about it.

"Nothing that I did not expect to see, Sergeant."



*****



Another thing I expected was the four-alarm alert to the Fire Brigade the next afternoon. The fireboats from the harbour, and even some pumps from South Island and Main Island, attempted to control the blaze. They were not able to do so. A few hours after dark, the showboat, with a massive groan, turned turtle and settled to the bottom of the harbour.

I must say, though, the Fire Brigade did an admirable job with their rescue. In spite of the obstacles, confusion and fear, all of the furs on board were rescued, save one.

I was not surprised to see Marder on a slab before me in the morgue.

It was widely assumed that he had died as a result of the fire, especially given the extensive burns he had suffered.

I did notice, however, that he had no soot in his lungs. Death had come, evidently, before the fire had reached him.

The cause of decease was listed as "death by misadventure" on his certificate. A bit slippery, perhaps, but I did sincerely believe it was the truth.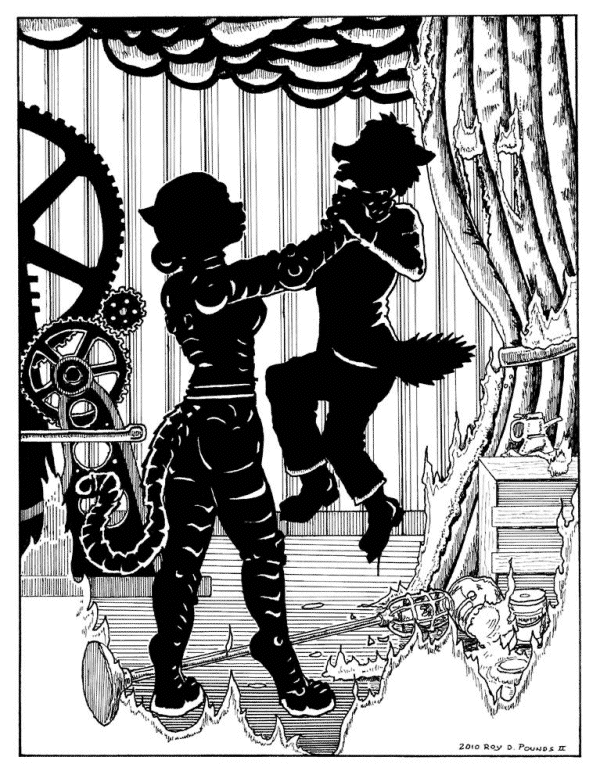 "Marder's End"

- Art by Roy D. Pounds II (larger file

here

- 751 KBytes)

http://www.furaffinity.net/user/steamfox/


Most of the troupe went on to other things, though a few stayed behind, having found jobs in the Casino Island hotels. The show-boat itself was raised and scrapped. I was told by Mr. Crane that the high-quality brass of the gears and mechanism fetched an excellent price at the metal-yard.

On a separate matter, he asked me if I knew anyone in the Islands who had experience in thermal engineering. This seemed a little startling, and out of his usual line. I told him I did not, and asked what prompted the question.

He shrugged, and said that he had heard from his native mistress, L'yra, that certain villagers on the Main Island had recently indicated a highly intelligent interest.

In steam-power…



end




New York, NY




January 10, 2010