Spontoon Island
home - contact - credits - news - links - history - maps - art - story
comic strips - editorial - souvenirs - Yahoo forum
First posted 2002
* Update 12 April 2016 *
** Update 9 June 2016 **
*** Update 16 January 2017 ***
**** Update 25 January 2017 ****
***** Update 30 April 2017 *****
****** Update 20 June 2017 ******

Jerry Collins
presents:
'Round the Bay & Harbour
sketches from Spontoon Island in the "Off Season"
from 1901 to 1968

(A mailing address for Jerry Collins may be found on
the "Contact" page on this website.)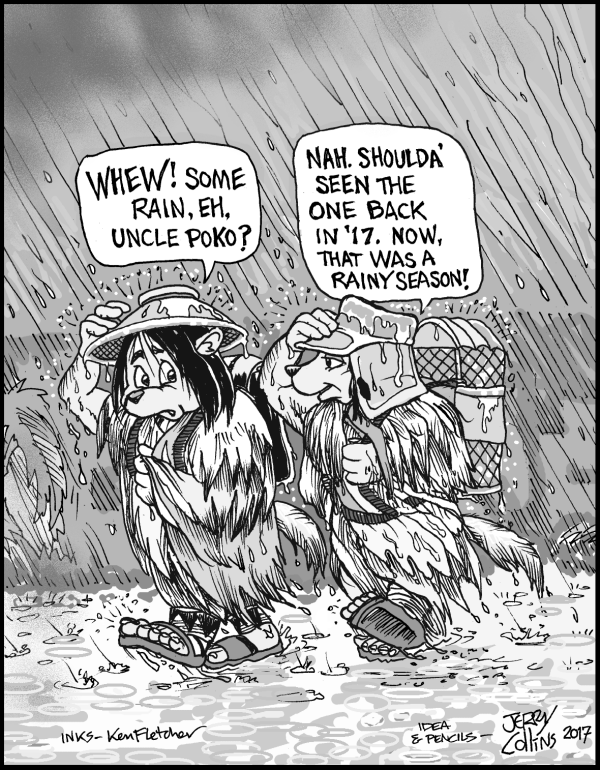 ****** ******
"Some rain, eh, Uncle Poko?" (Rainy Season) Larger file here (1 MByte)
Ideas & pencil sketch by Jerry Collins - inked & toned by Ken Fletcher
Rainy Season during Winter on Spontoon Island - Circa 1935. The two locals are
wearing rain-capes made of shredded bark fiber. The North side of the
Spontoon Atoll main island has customs and gear influenced by
the North American Indian cultures of the Pacific Coast.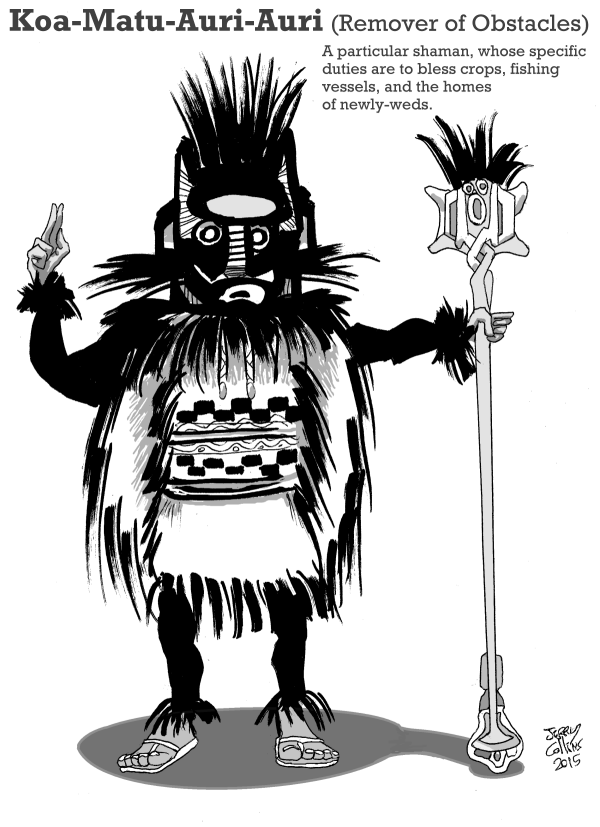 ***** Koa-Matu-Auri-Auri (Remover of Obstacles) - by Jerry Collins *****
A particular shaman, with specific duties. (Larger file here - 1.8 MBytes)
As seen in the Spontoon Island Archipelago.
An ink sketch by Jerry Collins, with some grey tones by Ken Fletcher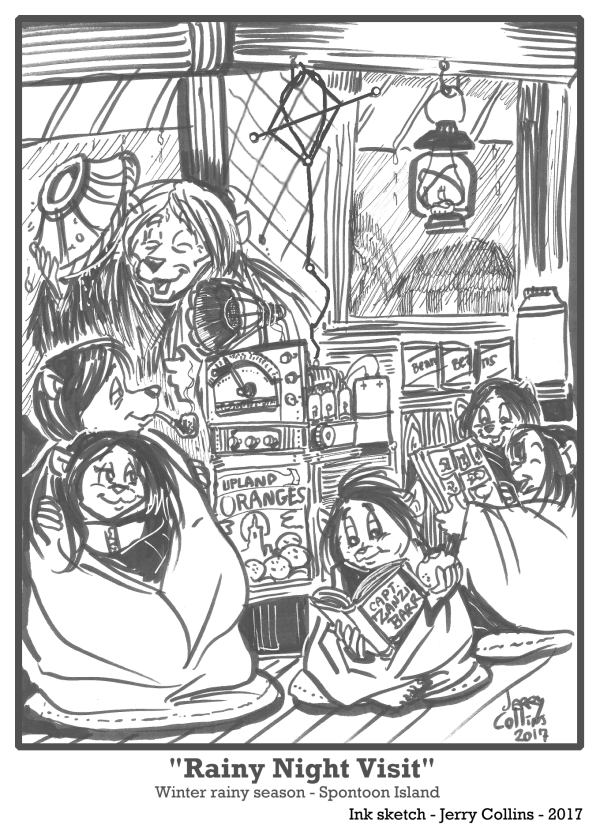 "Rainy Night Visit" - ink sketch by Jerry Collins
Larger file here (708 KBytes)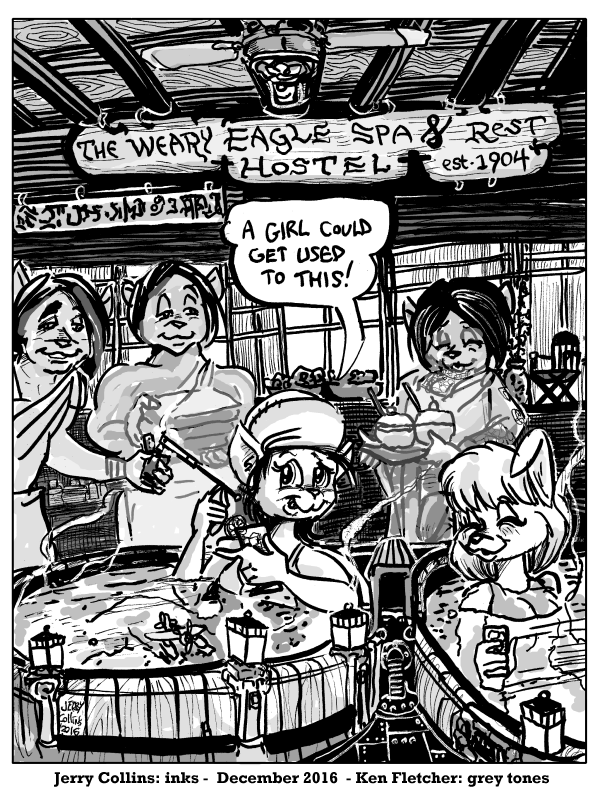 **** "The Weary Eagle Spa & Rest Hostel" by Jerry Collins. ****
Grey tones by Ken Fletcher - Larger file here (743 KBytes)
Upload 25 January 2017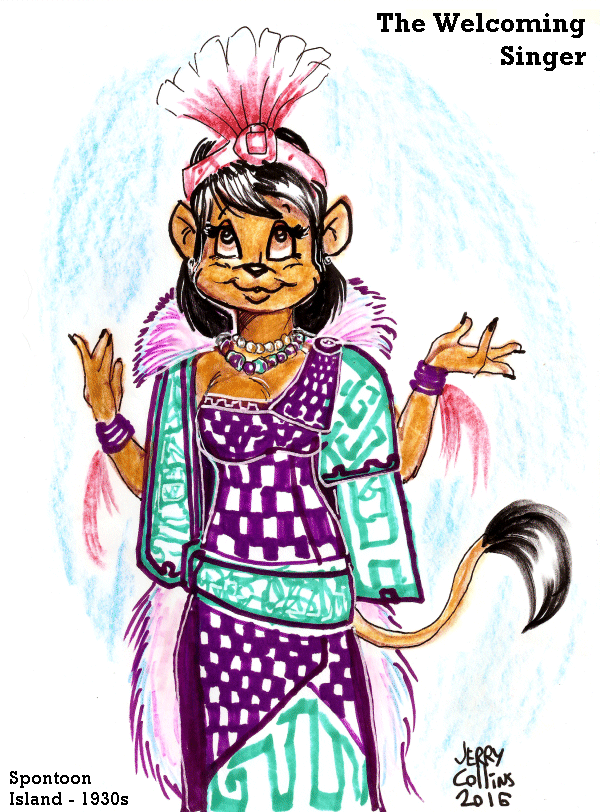 *** "The Welcoming Singer" - a color sketch by Jerry Collins ***
Larger file here (2.8 MBytes)
One example of an officer at most all Spontoon Island official events with 'company'.
This elaborate style of costume is from the 1930s, and most likely for a major political
or religious event... or perhaps even dressed for a part in a theatrical presentation.
A neighborhood or village singer would be in a more plain costume, but she
would still be expected to be present at the start of most major gatherings.
Upload 16 January 2017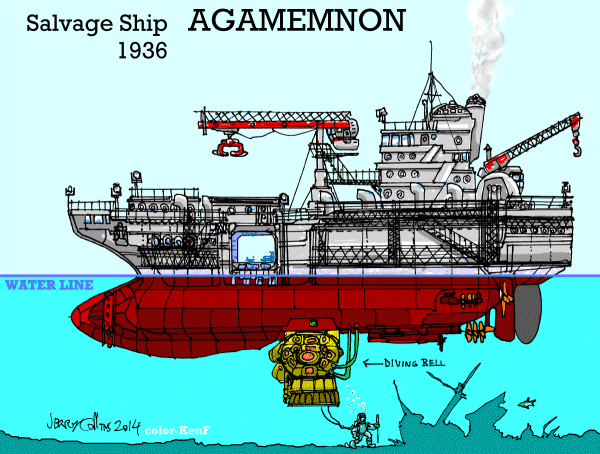 ** Salvage ship "Agamemnon" (with diving bell) - by Jerry Collins **
Larger files here (465 KBytes) & here (1 MByte)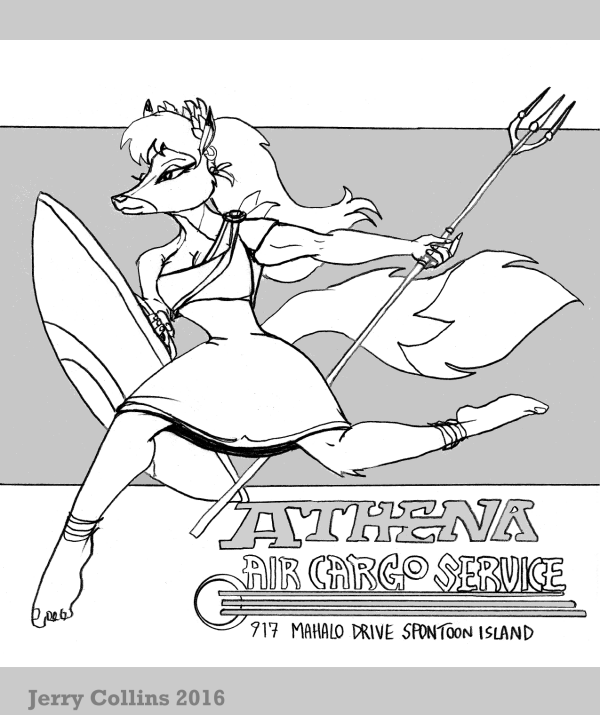 * "Athena Air Cargo Service" (ad in a Spontoon Island business directory) *
by Jerry Collins (Larger file here - 1.8 MByte)

"Prof. Calbert Cormoray and the Gentleman Wanderers, 1931"
A popular band booked Summers at the Coconut Shell, Casino Island.
Jerry Collins, concept and pencils - Ken Fletcher, 'inks' and shading.
(Larger file here - 1.7 MBytes)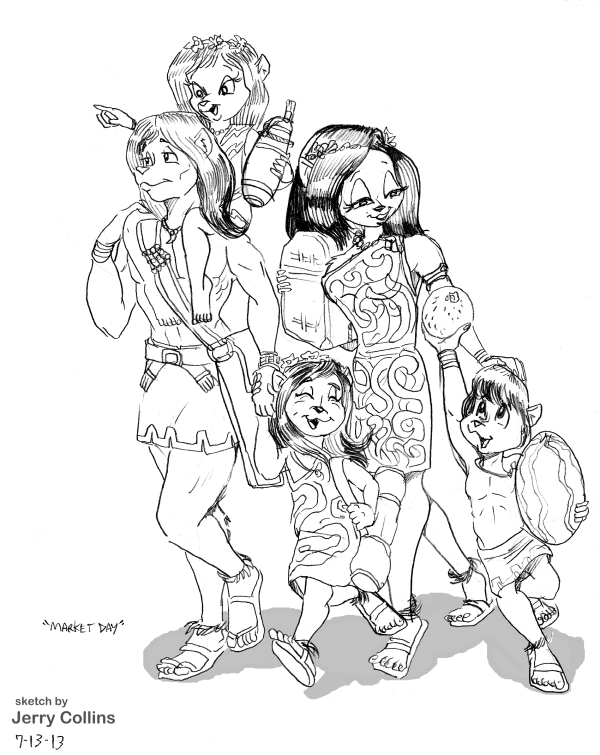 "Market Day" - an ink sketch by Jerry Collins
(Larger file here - 787 KBytes)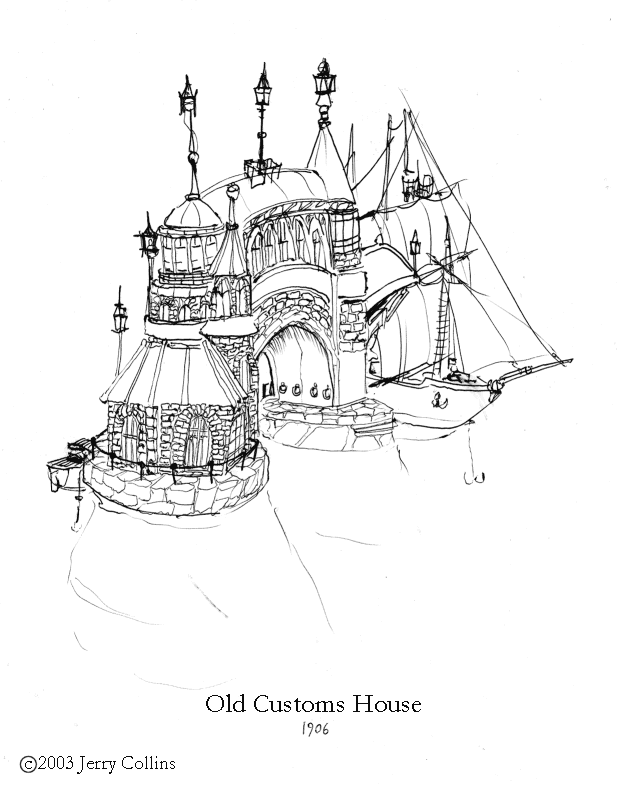 Old Customs House in the Spontoon Island Lagoon-1906
Part 1
(sketches from 2002 & 2003)
© 2002 & © 2003 Jerry Collins

Part 2
(sketches from 2012)
© 2012 Jerry Collins

Part 3
(sketches from 2013)
© 2013 Jerry Collins
Update 18 January 2014
Update 31 January 2014
Update 28 April 2014
Update 19 October 2015

Part 4
(sketches from 2014)
© 2014 Jerry Collins

Part 5
(sketches from 2015)
© 2015 Jerry Collins
Update 22 September 2015
Update 18 February 2016
Update 30 April 2017

Tiki Sketches by Jerry Collins
from the Spontoon Archipelago 1880 - 1940
Posted 14 May 2014
Update 2 April 2015
Update 10 February 2016
© 2014, 2015, 2016 Jerry Collins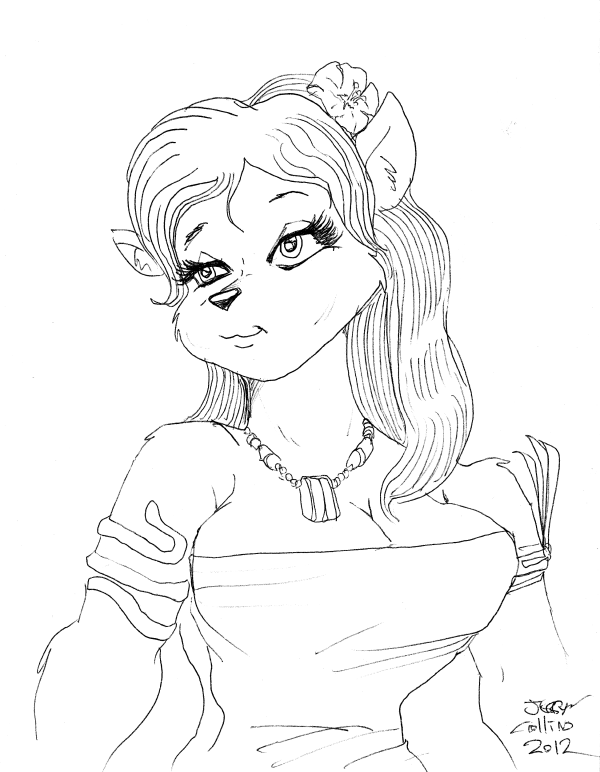 Portrait of a Spontoonie
by Jerry Collins
(larger file here - 1 MByte)