Spontoon Island
home - contact - credits - news - links - history - maps - art - story
comic strips - editorial - souvenirs - Yahoo forum
* Update 27 March 2014 *

Krupmark Island
& region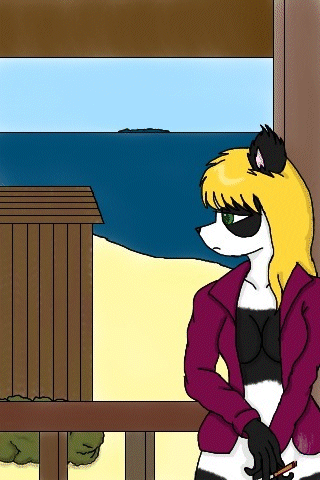 *
Smoke Break - "The Beach" (Krupmark Island)
*
by O. T. Grey (Larger file
here
- 450 KBytes)
("The Beach" is an infamous entertainment area near Fort Bob)
Update 27 March 2014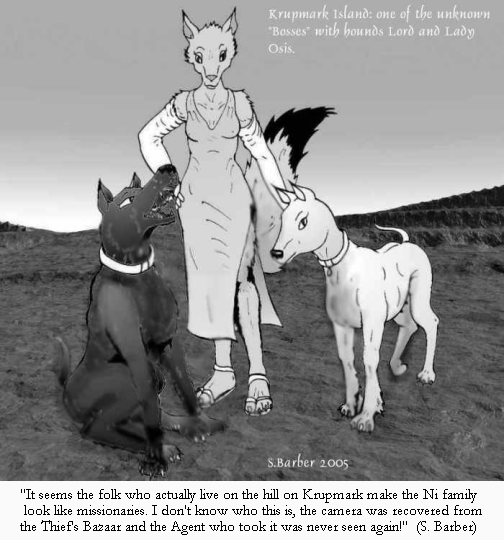 Krupmark Island Aerial Photos
cartography by Simon Barber
View looking SSW to NNE
This gif file opens to 651 Kbytes
View looking N to S
This gif file opens to 459 Kbytes
Krupmark Island sketchmaps
provided by Walter D. Reimer from unknown agents
A Sketchmap of Krupmark Island (circa 1930)
"There has not been a professional survey done of the interior of this island."
A Sketchmap of Fort Bob (circa 1930)
"The only permanent settlement."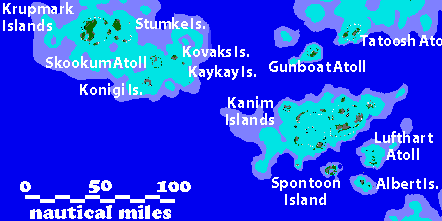 Location of Krupmark Islands in the Spontoon Island Archipelago

Politics & Government of Krupmark Island
Some Portraits & a report by Walter D. Reimer
Upload 1 August 2005
Stories of the Ni family
by Walter D. Reimer
Refugees in the early 1930s, who have survived & prospered
in the brutal lawless society of Krupmark Island.
Included are other spin-off stories set on Krupmark.
Link 18 November 2010
Krupmark Island and its criminals have also appeared in stories such as Amelia's
"Excerpts from a Diary"
by Simon Barber (and in other tales of the Songmark Academy students)
and in the "Time of Oharu" Spontoon stories by Reese Dorrycott, at his
Naorhy.com
archive.
Eden In Paradise
by Walter D. Reimer
(with Eric O. Costello & M. Mitch Marmel)
An excerpt from a report (12/31/41) on the history of
the infrastructure of Krupmark Island (including the trolleys).
Update 11 March 2011
Knockin' Down the Fares
by E. O. Costello
An adventure story of rival armored electric streetcar lines
battling to finish their runs and win their bets.
Link 18 November 2010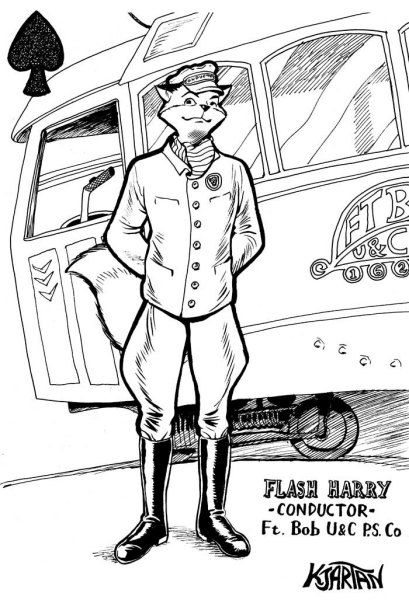 "Flash Harry", streetcar conductor,
Krupmark Island
Art by Kjartan - From the story
"Knockin' Down the Fares"
by E. O. Costello
(larger file
here
- 703 KBytes)