© 2010 by Walter D. Reimer
(Chef Joseph and Louis Morpion courtesy of E.O. Costello. Thanks!)
Max dumped the still-groggy Morpion in a corner and relieved him of his pistol and shoulder holster. "I'll take that," the fox said and donned the rig himself. It made a counterpoint to the Swedish-made M1903 pistol still belted at his hip. "And . . . I'll take THOSE," and he swiftly de-pantsed the feline.
The trousers were a poor swap for what Max had previously worn, and as he put them on and cinched his belt tighter Sam and the canine tied Morpion up. "Hey, Sam!" Max suddenly said before laughing.
"What, Max?"
Max merely pointed, and Sam chuckled.
Morpion was wearing a pair of mauve silk boxer shorts under his pants. The feline glared at the pair and started to struggle against his bonds. "You two again!" he rasped. "I shall have you both over a slow fire for this!"
"Don't worry about that," Sam said. "It's too hot to have a fire going. It's summer, you know." She took a strip of his shirt and knotted it, then gagged the feline. Morpion struggled, but the badgeress was larger than he was, and the two men helped her hold him down.
"There," she said as she stood up. "All we have to do now is get him back to the submarine."
"Good," Max said. "Say, Sam?"
"What, Max?"
Max's expression bore a friendly smile, an expression that instantly had her on guard. "Do you have holes in your underwear?"
"No," she replied.
"You don't have holes in your underwear?"
"No."
"Then how do you put your feet through?"
She smacked him.
***

After nightfall the three Rain Islanders held a council of war in one corner of the shack. Morpion, still bound in an opposite corner, was not invited to give his input.
"It might be risky to head back down the way we came," the shiba inu said. "Our best bet's to head west, through the woods, and then move south along Traitor's Ridge."
Max scratched under his chin before resuming what he was doing, which involved using his boot knife to reduce a cast-off chair leg to a sharply pointed prod. "I have an idea. Why don't we take him to Traitor's Ridge and throw him off? The sub's crew can catch him, and I always preferred traveling light."
"Tell you what, Max," Sam said. "Let's compromise. We'll follow our guide's advice, and you'll shut up, okay?"
"Sure, Sam. I was just offering suggestions."
Sam gave her companion an arch look. "You're very suggestive," she remarked, eyeing his trousers. "Those are the least flattering pants I've ever seen you wear. They're large enough for two of you."
"Be thankful there's only one of me."
"Oh, I am. So's the entire Naval Syndicate. So," the badgeress said to their guide, "I think we should start out now, and wait for the sub when we get there."
The canine nodded. "It's a couple miles, and the sub will surface for us after the Moon sets."
"That's a few hours from now. I hope nothing goes wrong – you hear me, Max?"
"I hear you, honeyfur." The fox pantomimed a few jabs with his improvised assegai.
"What are you planning on doing with that, Max?"
"Just making sure your friend Louie's got some incentive." Max grinned maniacally.
"He's no friend of mine, Max. But he might have friends here, so we'd best be careful."
"No problem, Sam. I have it on good authority that Louie here won't make a sound."
"Oh?"
"Yeah. I just won't take the gag off him until we have him underwater," Max said breezily. He jabbed the stick against the floor and used it to help himself stand, then crossed the room to loom over Morpion. "I'm going to untie your ankles, Louie, and you're going to be a good little kitten for Uncle Maxie, savvy? Or else you'll get this right where the sun doesn't shine," and he brandished the pointed piece of wood before the feline's face.
Morpion's eyes went wide as saucers and his heels scrabbled against the rough floorboards as he squealed against the gag.
"Max."
"Yeah, Sam?"
"Heel, boy."
"Why, Sam?"
"You should only threaten him as a warning. He hasn't done anything yet."
Max looked up at her. "This is a precautionary threat, Sam my darling."
"Precautionary, Max?"
"Yes."
"Okay."
"OW!" Max rubbed the back of his head with a paw. "What was that for?"
"Just a precautionary threat, Max my bushy-tailed sweetheart." Sam grinned at him. "Now, help me get him on his feet. We're out of here."
Led by their guide, the group slipped out of the shack and into the high grass that flanked the road. Their route led south of the makeshift airstrip and southwest toward Traitor's Ridge. As they marched (Max whistling the
Marseillaise
off-key, much to Morpion's irritation), the terrain changed to hills and the grassland gave way to trees and finally to jungle.
"Looks like a nice place – in the dark," Max commented as he ran a paw over a bush, snagging a few berries off the branches as he walked. He squinted at the fruit in the moonlight. "Hmm. Hey! Any idea what these things are?"
"What do they look like?" the canine asked.
"Hmm, berries, sort of pale with a black spot." He popped one in his mouth, chewed and swallowed. "Tastes sort of like a sour blueberry."
"You ATE one?" the canine gasped.
"It's not poison, is it?" Sam asked.
"No, but he'll wish it was. That's a bogberry, Max."
"Oh?" The fox had made no attempt to spit out what he'd eaten. "What's it do?"
"You'll find out."
"When?" In the brief silence that followed Sam heard Max retch. Coughing, he said quietly, "Oh. That all?" He promptly started retching again, and Sam took the pointed stick away from him and took over guarding Morpion. Their shiba inu guide whispered a comment in her ear.
"You going to be okay, Max?"
The fox's voice sounded a bit breathless. "Yeah . . . yeah, I think – " Again, retching sounds filled the night.
Eventually Max recovered sufficiently to resume their trek, and the group made its way to the shoulder of the ridge. They followed the slope around, not needing to climb to the top of the volcanic scarp.
"Hey, Sam!"
"Yes, Max? You okay now?"
"Fit as a –
urp
– fiddle, yeah. Just glad I didn't have much to eat. You know, honeyfur, this would make a great place for a picnic."
"Oh?"
"Sure! And I'm sure my good friend Louie would just love a nice pawful of bogberries. Wouldn't you, Lou?"
Morpion squealed again behind his gag. Apparently he'd heard of the plant's effects.
"I don't think you'd appreciate it, Max."
"Oh? Why's that, Sam?"
In the moonlight, he could see her grin. "You'll find out."
"You know," their canine guide said, "you're the weirdest guy I've ever met, Max. How the hell'd you get in the Syndicate in the first place?"
"Oh, that. It's a long story."
"Time's something we have, Max," Sam said. "I'd like to hear it, too."
"Sam, you've read my service file."
"I know, but it helps to sift fact from fiction. So let's hear it."
"Okay, you asked for it. Get along, you," and he urged Morpion along and was silent for a moment. "I got four brothers and sisters, and a lot of cousins."
"Family reunions must be fun, if you're any example."
"They publish casualty lists in the papers afterward, yeah," Max laughed. "Anyway, I got in trouble after I got in a fight in this little bordello in Barnsfield – "
"Were you a customer, or part of the staff, Max?" Sam asked.
"Customer, Sam. The Prostitute's Union said I didn't measure up. Besides, I hadn't met you yet, and since I've met you no other femme can compare."
"Uh huh. I'm only assuming the Union has a height requirement. Keep talking, Max, or you eat a whole pawful of those berries."
"Sure, Sam. The judge was a good sort – been up in front of him before, y'see – and he says to me, 'Max, you get a choice this time.' Then he tells me."
"What was the choice?" Sam asked.
"Either a year in prison, or three months in jail and a stint in the military."
"Hmm."
"What's that, Sam?"
"Just thinking about who might have got the worse of that deal, Max."
"You wound me, Sam."
"My aim was a bit off. Anyway, get on with it. What happened in jail?"
The fox gave a chuckle. "Well, I figure I need to make a good impression my first day. So when I get in, I tell everyone 'I ain't locked up in here with YOU – you're locked up in here with ME!'" He had a brief laugh at the reminiscence. "Spent most of the next three months in the hole."
"I take it your comrades took offense with your attitude," the shiba inu said.
"Some furs have no sense of humor," Max said. "Seriously, challenging the biggest guy in the block – you'd think that'd count for something."
"Suicidal behavior, Max?"
"Your aim's improving, Sam. So when I get out there's a guy from the Army Union waiting for me."
"You joined the Army, Max?"
"At first, Sam, yeah."
"What happened?" The group was picking its way across a small maze of trails that led up to the top of the ridge.
Max paused to take a swig from a canteen at his belt and replied, "He lays paws on me and tells me that I'm in the Army now, and I'd better learn to like it. Imagine that! So I tell him that there's only a couple things I like, and he's neither of them."
"I'll bet that went over well."
"Better than you might think, Sam. Anyway, he says that I need discipline, and you know what I said to him?"
"I can guess."
"I'll save you the trouble. I give him the usual." Max chuckled ruefully. "I missed, and he walloped me all the way to the camp." His chuckle changed to a snort. "Trust them to send a guy from the Landing Forces."
Sam laughed and ruffled the fox's headfur. "So what sent you to the Naval Syndicate?"
"They found I had a mechanical bent."
"Mechanical bent what?" the guide asked.
"Pictures are available in Seathl," Max shot back. "I was good with machinery, and the Syndicate had lost in intramural boxing matches five years running. So you see, Sam, I HAD to go to sea."
"Uh huh. So?"
"You're looking at the Northwest Group's boxing champion, five years straight," the vulpine said proudly. In the dim moonlight he sketched a bow and looked a bit disappointed that no one applauded. "Oh well. I did well up in Tillamook, anyway. So, Sam – "
"Yes, Max?"
"What's your story, my sweet badgeress?"
"Nothing as exciting as yours, my dear Max. My family's always been in the Syndicate. Dad served in the Gunboat Wars, or so he told me."
"You saying your father's a liar, Sam?"
"You wanting your head dented, Max?"
"If I wanted that, Sam, I'd ask, or audition for The Old Comrades. My previous question stands, though."
"More like staggers, Max. You know a lot of furs don't like to talk about that. So, anyway, I joined up right out of vocational school."
"Bill pull some strings?"
"I'll pull your string, Max, and you won't like it either."
"Ooh, promises promises, Sam. You want to wait until we get back to the submarine, or do it right here? The grass looks a bit soft and comfy."
"The sub, but only if you promise not to make so much noise this time. We had complaints from the torpedo crew."
"Which one?"
"Aft."
"Impressive!" Max whistled. "We drowned out the diesels! You know, Sam, I qualified on subs."
"Really?"
"Yup! Everyone said I was peculiarly suited for something long and hard." He sniggered lecherously.
Sam said, "Max."
"Yeah, Sam?"
"That was a very bad joke, you know."
"That's why I didn't audition for the Old Comrades, Sam. The way that marten clobbered the fox made me think I could get in show business."
"Helping the fox?"
A snort. "Hell no! I ain't speciesist. And that fox is an idiot."
"Unlike you." Sam's voice was deadpan.
"I wouldn't have made officer if I were an idiot, Sam."
"You never met my first Syndic, Max. Guy couldn't find his tail with both hands and a team of Pioneers."
"So how'd he get any votes?"
"No one else wanted the job."
The guide hissed for quiet as they neared a trail that cut across a hill a short distance from the coast road. Below them they could see the lights of the sporting houses on the beach. Over the sounds of the surf and the seaward breeze they could hear screams coming from one of the bordellos.
"That's probably Mad Mac," the canine guide said. "He only comes down the hill once a month – but that's plenty." He pointed to a huddled shadow in the road. It was difficult to discern species, but it was obviously dead. "Looks like someone wanted to argue with him."
"Why have we stopped?" Sam whispered.
"I thought I heard someone coming up the trail," the shiba inu replied. They waited for a short while, until they were satisfied that they were not going to cross paths with anyone, then their guide led them down the knoll to the road.
They recovered the boat and Max shoved Morpion into the craft after Sam and the canine pushed it into the surf. "Moon's about to set, so our timing's good," the canine said.
"What if someone spots us?" Sam asked.
"I can always say I was smuggling something."
"To a submarine?"
"Sure," the canine replied. "It's a perfect spot, so others use the Cove for drops or pickups."
"I like it," Max said brightly. Sam took over watching Morpion as Max and the canine started rowing. After they cleared the surf line Max started to sing:
"I went to sea with a drunken sailor
Six long months in a leaky whaler
Put him in the hold and I made him bail her
Ear-ly in the morning."
"Max."
"Yeah, Sam?"
"Please don't sing
Yiff You, I'm Drunk
again."
"Why not, Sam? It's a great tune."
"Yes, but have you ever listened to the lyrics? The guy singing it's very rude to the woman. Hardly egalitarian."
Max pondered this as he kept on rowing. "I suppose you're right, Sam, but look at it this way – the singer doesn't necessarily have to be a guy, you know. This is Rain Island."
"Hmm. Yes, it could be two girls singing it, at that. Good job, Max."
"Really, Sam?"
"Yes. Now you have me thinking of marrying some nice young girl and settling down," she said with a chuckle as the fox groaned.
"Now, Sam, that was not nice."
"Oh?"
"Yes. You'd be utterly wasted on anyone but me."
"And how do I know that?"
"Oh, so then you have – "
"No, never have."
"There goes my fantasies for the night," the shiba inu said, and all three laughed.
"Seriously, Sam, you never?"
"Nope. Never met a femme who attracted me that way."
"Well, you haven't had any boyfriends before me, have you?"
"Of course I have, Max, and you know it. Remember Jasper Morning Star?"
"Oh. Yeah, I do. You think he's doing all right?"
"After you broke his collarbone? Maybe."
"I had a perfectly good reason, Sam."
"Oh?"
"Yes. First, he was making eyes at you."
"I'm flattered. I think. And the second reason?"
"He changed his last name. Very sneaky."
"Look, just because he was born Morgenstern – "
"See what I mean?"
"But Max, he felt that it made him feel more like a Rain Islander."
Max snorted, and started humming as the craft breasted the surf again and entered Smuggler's Cove. They then rowed out to where they guessed the center of the body of water was located, and shipped the oars. The trio and their unwilling guest settled down to wait.
A brief swirl of water, and a periscope emerged a few dozen yards away. It went under again and Sam remarked, "I expect we'll have company soon."
"Good." Max stood up in the boat, swaying and brush whisking back and forth as he maintained his balance, and opened his pants.
"Max!"
"Sam?"
"What on Earth are you doing?"
"All this water, Sam. You know how it is." The periscope came up alongside again and swung around in a circle. It paused, and swung back fast as Max started to attend to nature's call.
"Max!"
"Sam?"
"That was totally uncalled for."
"It's what they get for being a bunch of Peeping Toms, Sam," Max said as he finished and fastened his trousers, while the periscope quickly went under again.
They rowed a short distance away as the sub surfaced again, and hatches were thrown open with loud metallic clangs as furs swarmed out on deck, brandishing rifles. "Okay," a voice came from the top of the conning tower, "who's the wise guy?"
Sam replied, "I don't know whether you'd call him wise, but he's got a great sense of timing. Permission to come aboard?"
"That you, Sam?" came another voice, that of the boat's commander.
"Yeah, George, it's me."
"You get Morpion?"
"Of course."
"You bring that bushy-tailed fool with you?"
"Who do you think spooked whoever you had on the periscope?" Max called out.
"I might've known. Okay, let's get you aboard," and as the tod-fox and the badgeress clambered aboard several small boxes were passed to the shiba inu, who then started rowing away to the north.
Max slid down the ladder into the forward torpedo room and inhaled deeply. "Ah! The smells of diesel fuel and body odor – I love submarines!" He turned and helped as two ratings lowered Morpion into the compartment, the feline trying ineffectually to kick the fox. "Easy there, Louie, you keep that up and you'll ride all the way home in one of the tubes," and the feline keened around his gag as Max showed him the brass cover of one tube. "Where should I put him, George?"
"Hmm," the sub's commander, a lean Malinois, mused. "If it's empty, Max, shove him into the aft lazaretto. This tub's too small to have a brig. The good thing is we're only a couple days away from Blefuscu." He grinned as Sam and the last of his crew came below and closed the hatch behind him. "If you two are finished with exploring the delights of Krupmark Island, let's get out of here." He hit the intercom switch on the bulkhead near him. "Bridge."
"Bridge here. That you, George?"
"Yep, Jenny. If everyone's back aboard, rig the boat for dive and start plotting a way out of here."
Max stepped out of the way as the crew went about their tasks, and he grinned up at Sam as the badgeress stood beside him. "Stop ogling my cleavage, Max."
"I can't help it, Sam."
"Uh huh." There was a pause, then Max looked somewhat uncomfortable and sprinted for the nearest head.
The bogberries were having their secondary effect.
***

21JUL351530 RINSHQ SEATHL TO RINSB BLEFUSCU MESSAGE STARTS COMMANDER RAIN SKY AND LT VREELAND ESCORT PRISONER TO SEATHL STOP FASTEST AVAILABLE TRANSPORTATION STOP WELL DONE STOP YOU WILL BE MET BY POLICE AT SEATHL STOP FOR MORPION NOT MAX STOP PRZYBYLSKI SENDS
***

July 22, 1935:
"The message said 'Fastest available transportation,' Sam."
"I know, Max. But it still wouldn't work."
The fox waved aside her objections. "Nonsense, Sam. I have scientific proof that it works."
"What proof?"
"Greenwood Lakes, New York, USA, and cross-Channel between England and France."
"Hmm. That's as may be, Max, but where would we find a rocket big enough to stuff Morpion in and then shoot him at Rain Island?"
"Well, we could build one – " He grinned as the seaplane touched down in one branch of the Seathlfjord and headed for the Naval Syndicate base. The water was fairly smooth, so the plane had no difficulty taxiing to the seaplane slips.
"And even if we built one, Max, how would he land safely?"
"Hadn't thought about that, Sam. Say! Maybe we could aim it so it lands in the water!"
"You'll scare the fish, Max."
"You have a point, Sam my dear." The plane was tied up and Louie was prodded out of his seat. The feline was wearing a dark blue jumpsuit, but was shackled and sporting a pair of pawcuffs. He wasn't gagged any longer, but had kept his mouth mostly shut since the plane took off earlier in the day.
Now he said, "You will never get away with this. I have friends."
"Did you hear that, Sam?" Max asked. "Louie's got friends."
"Must be nice to be loved, Max."
"Or at least wanted. Which reminds me, Louie my boy, you are most definitely wanted." He pointed at the slip's concrete apron, where a trio of furs in blue police uniforms stood waiting. By the look of them – two bears and a musk ox – they were expecting trouble.
Whether with the feline or with Max, it was difficult to tell at first glance.
"Hi, fellows!" Max said as he opened the passenger cabin door. "I think we have a package for you."
The musk ox, with sergeant stripes showing on his uniform sleeves, grunted and took a warrant and a photograph from his pocket. "We got a warrant for one Louis Morpion."
"Yep! And here he is!" and the fox hauled the reluctant feline out of the plane, almost throwing him to the concrete before the two bears could catch him. They stood Morpion up on his feet, and the French feline spat at Max.
"Little bastard," he hissed in English. "I won't forget this."
Max grinned. "Have fun in prison, Louie my boy. You'll make someone a fine wife." He blew a kiss at him as the police hustled the feline to a waiting police van. The dark green Fjord roared off in a cloud of dust, and Sam dumped a sea bag at Max's feet.
"Here's your luggage, Max."
"Thank you, my sweet badgeress." The fox scooped up his belongings and grinned up at the taller femme. "Care to have lunch with me?"
"Where?"
"I know this great place up on Roberts Street."
"Is that the Italian place six blocks from Haywood Square?"
"You know it, then."
"Yes. Never been in it, but it sounds good. I'll pay this time, Max."
"Okay," the fox said breezily. "Stop at the base first and change?"
"You'll do anything to see me in my fur, won't you, Max?"
"Of course, Sam!"
***

Manzoni's was a popular restaurant, and by the time Max ushered Sam into the place the lunch crowd was only just starting to thin out. "Hey, Maxie!" the proprietor caroled as soon as he caught sight of the fox. The tall, portly hound waved the couple to seats and offered menus. "Whaddaya want today?"
"Mario, I want only your best for me and my lady friend here," Max said, grinning at Sam. He looked at the menu and said, "How's the ravioli?"
"Perfect, as usual. Tony made the pasta."
"Wow. Sam, you have got to try Tony's pasta."
"Hmm. Okay, I'll have that – and a beer. You sell Naval Issue?"
"No, signorina, but we do have Red Lance on tap."
"That sounds good." Sam sat back and looked around as Max ordered cannelloni and a glass of chianti. "Nice place."
"Prices are reasonable, too," Max said as he munched on a crunchy breadstick, sending crumbs everywhere. "Best thing about it," he said with his mouth full, "is Mario."
"Really."
Max nodded and swallowed. "He sings sometimes. Great baritone voice."
"Nice." Sam looked down. "Max."
"Yes, Sam?"
"You're holding my paw."
"So I am, Sam."
"Now, don't get me wrong – it's quite romantic, lover boy – but I need that paw."
"Oh? Why?"
"Mario's coming back with our drinks, and I'm right-pawed as you know."
"Then I shall hold your left paw, Sam."
"Give me a kiss first, Max."
The two were kissing as Mario put their drinks down. The hound smiled.
"Che bella,"
he said in a pleased tone. "Max, you and this wonderful lady are - ?" he pantomimed putting a ring on his finger.
Sam gave an enigmatic smile as Max said, "I'm trying to convince her to say Yes, Mario."
"Ah. How is he doing, my dear?"
Sam looked speculatively at Max. "Hmm. He's been doing all right so far. On balance."
***

August 22, 1935:
"What?" Sam asked. She and Max had returned to duty a day after relinquishing Morpion to the police, and were working on the base – Sam in Operations, Max as an instructor in one of the machine schools - while waiting for the
Orca
to return to Seathl.
"I said, have you heard the news?" Max asked. His brush was bottled out and snapped back and forth like a samurai's back-banner. "This morning's paper?"
"I tried, Max, but you always hog the funnies. What's going on?"
"Morpion got found not guilty," the vulpine growled.
That made the badger sit up and take notice. "How?" she asked as Max passed her a newspaper.
"I'll tell you how," Max said as she started reading the article. "He gets a good lawyer – no doubt paid for by his friends – and starts squalling about we didn't have the right to arrest him since we weren't police officers."
"Citizen's arrest – "
"The judge didn't see it that way." Max settled into a chair and seethed as Sam read the article, which agreed with his account.
"Says here that as soon as he was released he left Seathl."
"Yeah, by train. Doubtless headed to America. Those Yanks will let anyone in."
"Except Chinese, Max."
"You got a point, Sam. Those Yanks will let almost anyone in."
"True. So Louie the Louse won't be enjoying the People's hospitality anytime soon," the badgeress said as she folded the paper and laid it aside. She sipped at her coffee, then reopened the paper and started reading the sports section.
"We went to all that trouble for nothing, Sam."
"True enough, Max."
"Risking life and limb – "
"And you're already short enough, Max."
"And for what? Nothing." The fox snorted in disgust and stood up.
"Where are you going, Max?"
"Well, I'm off until tomorrow, so I figured I'd go to The Hanged Man for a drink. Come with me?"
"Max, it's only seven o'clock in the morning. The barkeep's probably asleep." The fox slumped back in his chair, still seething. "Max."
"Yeah, Sam?"
"Don't slouch. It makes you look shorter. Now, what's got your tail kinked?"
"Louie."
"And?"
"I wanted him to go off to the Krop for a long time. For Singapore."
"Max."
"Sam, you'll understand when it's all YOUR fur that gets removed."
"I try to avoid that."
"So do I, except when that creep threw that can of solvent at me."
"Hmm."
"What, Sam?"
"Just thinking."
"About what?"
"About how I can cheer you up – that doesn't require waking up everyone in the barracks."
"Heh. Yeah, you make a lot of noise, Sam." He chuckled at her sudden blush. "You know, Sam, there IS something you might say to cheer me up."
"Oh?"
"You could say Yes."
Sam smiled and reached out, running a paw against the side of Max's face. "Max, you know I love you – "
"Yes?"
"But – well, I'm just not ready yet. I haven't made my decision, honeyfur."
Max's smile faltered and he sat back.
"When was the first time you proposed?"
"December fourth. Nineteen thirty-four. It was a Tuesday." There was a pause and Max looked down. "About seven at night."
"'About?'"
"I was drunk – and you'd just finished breaking a table with me."
"And how many times have you proposed since then?"
"Too many."
Sam reached out again and gripped one of his ears. Leaning close she whispered, "Keep at it."
He blinked, then grinned at her as he realized what she was saying. They kissed, and she drew back before his paws started something that would likely wake up the late sleepers in the barracks longhouse. "Now, now," she admonished. "Naughty fox."
"Naughty fox? Naughtier badger," he said, and kissed her again. "I think I'll wander down to the school and see if I can be useful. The Hanged Man tonight? After dinner?"
"Sounds nice."
***

The sign hanging over the door of The Hanged Man bar portrayed a representation of the Tarot card, an unlucky bear hanging upside down by his ankles. It got part of its name from being located in the town of East Seathl, site of the capital's jail. The bar had been founded by a retired jailer with a dark sense of humor.
"Hey, Sam! Look at those old-style paw cuffs!" Max enthused as they sipped at their drinks. One wall of the establishment was decorated with tools of the owner's former trade. Sam was drinking Mendenhall lager, while the fox was knocking back a very dark whiskey and water. Max took another sip of his Cougar Whiskey and said, "That give you any ideas, my sweet?"
"Hmm. Only to keep you under control, Max." She took another sip of her beer. "What possessed you to do that at the machine shop?"
"What?"
"You know perfectly well what. Putting aviation fuel in a Fjord sedan."
"Sam, the Fjord Ursus is a fine family touring car, but the engine lacks oomph. I only wanted to see if maybe changing the fuel would make the engine more efficient."
"Oh, it was efficient, all right. I think the engine was still running when they fished it out of the water."
"It's the Syndicate's fault, Sam."
"How so, Max my dear?"
"They shouldn't have placed that lake in the way. If it were a straight run, it would have gone all the way to Barnsfield."
"And likely blown itself to bits."
"Details, details," the fox said, signaling for another drink.
"Max."
"Sam?"
"Are you going to keep on drinking?"
"Only because I'm thirsty, Sam."
"Am I going to have to pour you into a bucket to get you back to the barracks?"
"Just remember I have to be decanted gently, like fine port." Max drained the glass, then stood up, clasped his paws together in front of his chest and started to sing
The Northern Lights Are in Your Eyes.
Several furs clapped, while one man shouted, "Shut that noise off!"
Max stopped singing instantly and peered across the room. "Who said that?"
"Max," Sam admonished, but her warning went unheeded.
"I did," and the speaker turned out to be a cougar roughly six feet tall and built like a lumberjack. "Were you singing or having an attack? Should we call a doctor for you, Shorty?"
"And you think you can do better?" Max sneered, taking a couple steps toward the feline. "Your voice sounds like my sister's – and she can't carry a tune in a bucket."
"Your sister works for the Prostitute's Union," the cougar growled.
"I'll have her give your regards to your mother then," Max said. "I think they work at the same house."
"Max," Sam said.
Max seemed to not hear her, as the cougar drew nearer and towered over the Catalina fox. "What'd you say about my mother, Midget?"
Max drew himself to his full five feet four inches and said, "I said your mother isn't worth the two dollars listed on her price sheet!"
The cougar clenched a fist.
Sam eased back in her chair.
Max started the bidding with a fist straight to a sensitive area of the cougar's anatomy. The big cat doubled over with a strangled cry, and the two others who had been drinking with him stood up at their table and charged.
The fox planted a foot on the back of the cougar's head and ran down his spine, using it as a springboard to launch himself at one of the man's compatriots. A hard right to the eye and the wolf went spinning, while the third fur, a whitetail buck, smashed a nearby beer bottle and dropped into a fighting crouch.
"Come on, sweetheart!" Max shouted, scooping up a chair. "If you don't like my singing, let's dance!" The two went into a brief ballet, the buck feinting with the bottle and Max parrying with the chair. The fox finally spied an opening and knocked the deer out of the competition with a sweeping left. Max carried through with the motion and the chair went sailing.
Straight at the bar.
The huge mirror that sat at the back of the bar shattered into splinters with a loud crash as assorted barflies ducked.
"Okay, girls!" Max shouted. "Who's next?"
The cougar wobbled to his feet and punched Max in the nose, causing the fox to stagger back. He came at the feline again, and the two swung at each other with a few combinations that demonstrated a bit more enthusiasm than technique.
"Max!"
"Busy, Sam!"
The badger looked around at the crowd, some of whom were deciding whether to choose sides. The bartender had already run out into the street, blowing a whistle to summon the police. She needed a distraction to get them both away. "Max!"
"I said I'm busy!"
"Recall that question? The one you keeping asking me?"
"Yeah?"
She blushed, feeling people watching her. "The answer's YES!"
Max paused, lowered his fists and turned to look at her.
Judging from the look in his eyes, her answer had rendered him stone cold sober.
"Really?" he breathed.
The badgeress nodded, increasing his half-shocked, half-scared look.
The cougar grabbed a chair and swung.
"MAX!"
The chair hit the fox from behind, driving him forward where Sam caught him in her arms, clutching him to her chest.
He looked up at her. "You said Yes," and his eyes rolled up in his head as he went limp and unconscious.
Sam looked down at him.
She looked up at the cougar.
The cougar, still holding the remains of the chair, looked at her.
"Why, you – " and with that, she tossed Max aside and charged at the feline.
***

August 23, 1935:
"Oh, my aching head."
"Your aching head? What about MY aching head?"
"You didn't stop a chair with it, Sam."
"I stopped far too many fists with it, Max." The badgeress ran her paws over her head, wincing at the bumps. "Where's that damned cougar?"
"I heard he's still in the hospital. You fight rough, Sam."
"You weren't there to see it, Max."
"No, I was blissfully unconscious, my dear. Struck to my heart by your answer."
"Can it, Max." The badgeress sat up with a groan. "What I want to know is why I'M the one who ended up in jail. YOU started the fight."
Max ran a finger over the flaking paint on the steel bars of her cell. "I didn't, Sam. That fool cougar did."
"But he wouldn't have started it if you hadn't started singing."
"Was I singing? I can't recall."
"You were singing, Max."
"I'm sure it wasn't anything bad. I save those for special occasions."
"Save it for now, Max. I need to get out of here."
"Well, Sam, as to that – "
"What?"
"Um, your bail – "
"What?"
"It's fifty dollars."
"So?"
"Well, Sam, that's quite a bit of cash, you see. And it's not pay day yet."
"Max . . . "
"And the bank's not open yet."
"Max, do you have any money?"
"Sure."
"Then bail me out, you little squirt."
"I'm thinking about it, Sam."
"THINKING? WITH WHAT, YOU LITTLE – "
"Now, now, Sam, remember your blood pressure."
"I'll 'blood pressure' you, you – " The badgeress sagged back on the mattress and held her head, waiting for the pounding to stop. "You're just loving this, aren't you?" she asked finally.
"Well, now I have a captive audience," Max said. "And she's the most beautiful bruised and black-eyed badgeress in the entire world." He poked his muzzle through the bars. "And she said Yes."
She craned her neck, and they kissed. "Max," she whispered.
"Sam?"
"Get me out of here? Please?"
He winked at her as he stepped back. "One jailbreak, coming right up."
***

August 29, 1935:
"Barnsfield! Barnsfield next stop!" the train conductor called out. Sam reached over in her seat and tapped Max on his nose.
The fox lifted the flat cap he had jammed over his eyes when the train left the station and looked up at the badgeress. "Yeah, Sam?"
"We're here, Max."
"Oh, good. Wake me when we leave," and he put his cap over his eyes again.
"Max?"
"Yes, Sam?"
"Do you want me to hit you on your head?"
"Not really."
"So get up, slugabed, or I'll knock you on your noggin."
"Okay." The tod-fox sat up and yawned. "I still have no idea why you want to do this."
"It's traditional. Besides, you've already met my folks."
"Your father doesn't like me."
"My father's met you, Max."
"Your mother doesn't like me, either."
"You shouldn't have said that, Max."
"But, Sam – "
"No, Max. Telling my mother she has a big rear end is not the way to start a conversation."
"Well, it might have been the way she was bending over."
"Yes. Poking her in the rear and saying 'Looks like the bread's rising' was probably not a good idea."
"She hits pretty well. I can see where you got your fighting talents."
"Learn from the best, Max."
The two left the train and walked out the station to find a taxi waiting for them. A fox about two inches taller than him sat on the fender, reading a book, and as the couple approached he said, "Hi, Maxie."
"Mort. Sam, my older brother Mortimer."
"Pleased to meet you."
The fox raised his cap, looked at the badgeress and said, "Max, you're an idiot."
"Am not."
"Are so."
"Am not."
"You are so, you little snot. Ma'll kill you."
"Ma already knows, you jerk. You going to drive us to the house?"
"What for? You need directions or something?"
"Well, if you don't *want* money . . . "
"Not from you, you twerp."
"How about me?" Sam asked. "Is my money good?"
Mortimer looked her over again. "Yeah. Get in – not you," he said to Max. "YOU ride up front."
"Why?"
"So I can hit you easier."
"Says you. You need to keep your eyes on the road," Max said as they all climbed into the cab.
"No I don't."
"Ouch!"
"See?"
"Oh yeah?"
"Ouch!"
"Two can play that game all day, Mort."
Sam sighed and looked out the window as the taxi left the station. Barnsfield was a town south of Seathl, where (according to Max) his family first settled after leaving Holland.
As with a lot of things Max said, Sam accepted this not with a grain of salt, but with the entire shaker.
The two foxes in the front seat sat in stony silence, broken only by each punching the other at random moments. The silence grew uncomfortable until Mortimer suddenly said, "Ma's at the graveyard."
"Dancing again?"
"I think she's just visiting this time."
"Can we stop there?"
The cab swerved down a side street, almost hitting a large truck. Horns sounded as Mortimer said, "Your funeral, jerk."
"Moron."
"Fathead."
"Ma hates you."
"Ma hates all of us, Max."
"True. Hey, Sam?"
"Yes, Max?"
"Last chance, honeyfur. You SURE you want to do this?"
A paw reached over the seat and grabbed one of Max's ears. Twisting it only slightly, Sam said sweetly, "Why, Max, I'm quite sure of it. I plan on inviting her to the wedding, you know."
Mort glanced at her, then at Max. "You're inviting Ma to the wedding?"
"Yeah."
The older fox whistled. "Hey, lady, am I invited?"
"It's Sam. And yes, you are."
"Why, Mort?" Max asked.
The fox chuckled. "I ain't missing this. I'll give up a day's pay for it."
The cemetery was located beside a meeting hall that doubled as a community center and a church catering to several congregations. Sam left the two vulpines to bicker and swing at each other, and walked among the neat rows of headstones to where a single older vixen stood, looking down at a certain grave. "Excuse me?"
"You're excused," the older femme said. She squinted up at the badgeress; she was a bit shorter than Max. "Who the hell are you?"
"Samantha Rain Sky."
"Oh yeah. You're marrying Max, so I hear."
"That's right. Is this your husband?"
"Yeah, this is Michael." Mrs. Vreeland spat on the grass. Flowers had been strewn over the grave. The granite headstone bore the inscription
Here Lies Michael E. Vreeland
Beloved Husband
1879-1934
Below the name and dates was the legend
'Here lies my husband, let him lie.
He's at peace, and so am I.'

Sam studied the inscription and glanced back at the older woman.
She glared back at the badger.
"How did he pass on, Mrs. Vreeland?"
Mrs. Vreeland snorted. "Name's Phyllis, girl."
"Sam."
"Sam, huh. So you're the girl who's marrying Max."
"That's me."
The vixen spat again. "You don't look crazy," she said in accusatory tone, "so why in hell are you two getting hitched?"
"I love him, Phyllis."
Phyllis shook her head. "Love makes fools out of everyone," she asserted. "I met Mike at a church social back in '96. Good man, considering." She gave a sour grin. "It was his idea."
"What was?"
"Naming all the kids with names starting in M. Mortimer, Mary, Max, Mike Junior, Margaret. I never thought Max would amount to much, but now he's an officer." She started walking away from the grave at a surprising clip, and Sam lengthened her stride in order to catch up with her. "Mike bought it last year, working at the foundry. He was the union shop steward, and good at it too. The collective's looking after me, so I don't rely on my kits to pay the bills."
"I see. I wanted to meet you, and invite you personally to the wedding – "
"Oh, don't worry, I'll be there," Phyllis said. "Is that Mortimer and Max?"
"Yes."
"Good! Saves me a trip, and Morty knows better than to charge his mother for the fare."
They walked up just as the two tod-foxes stopped trading verbal jabs and started trading physical jabs, both showing moves that might have impressed Max Bear. "Stop it, both of you!" Phyllis snapped, slapping both foxes until they stopped trying to swing at each other and started ducking in an effort to avoid being hit by their mother. "You both ain't so old I can't get the castor oil!"
The implicit threat had its effect. Sam noted that Max looked a bit ill at the idea of castor oil.
She mentally filed the information away for future reference.
Mort whined, "But, Ma – "
His mother slapped him. "Stop whining! You ain't no wet-behind-the-ears kit anymore, Mort! And YOU," and here she started boxing Max's ears, "what the hell are you doing, seducing young and innocent women like this?"
Sam raised her eyebrows at that.
"Huh? I didn't seduce her, Ma." Max's expression was one of pure shock.
"Oh, you didn't? You must have! There's only one way she'd even go near you . . . unless she's off her nut somehow."
"Ma, she isn't crazy," Max said. "The Syndicate doesn't make crazy people officers."
"Then how do you explain yourself?" Mort sneered, and promptly yelped as his mother aimed a swat to his muzzle.
"Ow! Ma!"
"Drive me home, Mort."
"Sure, Ma. Hop in the back and we'll go."
Sam glanced at Max, who shrugged and slid into the front seat beside Mortimer, while she sat beside Phyllis.
As the cab started down the road Phyllis leaned over to Sam. "You're a fine young woman. I hope you don't take any crap from my son."
Sam smiled and caught Max's eye as he glanced back at her. "I don't plan on taking crap from anyone, let alone Max."
Phyllis nodded approvingly.
The Vreeland home was neat as a pin, the hedges and lawn primly manicured and the house painted. Phyllis showed Sam in, with the bellowed admonition, "WIPE YOUR FEET!"
"Perhaps I should take my shoes off and leave them outside."
The older woman nodded, and Sam started to untie her shoes.
"Sam," Max whispered.
"Max?"
"Don't do it."
"What?"
"Take your shoes off."
"Why?"
"Ma likes to really lay the wax down on the floors. She gets a laugh out of watching people slip and fall."
"Now I see where you get your sense of humor, Max." The badgeress finished taking off her shoes and socks, then stepped into the house, carefully wiping her feet on the mat.
The wooden floor was polished like glass, and Phyllis looked vaguely disappointed as Sam negotiated the terrain as if it were an icy deck in a heavy sea. Presently she was seated on a settee, smiling as the vixen walked into the kitchen and loudly ordered her youngest daughter, Margaret, to make some coffee.
The girl protested, "Coffee? Ma, it's – "
A smack and a feminine yowl indicated that Mrs. Vreeland brooked no backtalk from any of her children, male or female. Phyllis walked back into the living room. "Now, Sam, tell me about yourself. When did you get out of the asylum?"
"I've never been in an asylum, Phyllis."
"Dear, you must have. Or maybe the Syndicate doesn't know . . . suppose they have a doctor on call? I could get one to look you over."
"My last physical was in January."
"Ah. Must be something else, then." The older woman thought. "Max has lied to you and told you he stands to inherit a fortune?"
"No."
"Hmm. Max has lied to you about a rich uncle?"
"Nope."
"Max has lied to you about a rich aunt?"
"Uh-uh."
"Max?"
"Yeah, Ma?"
"You haven't lied to Sam?"
"No, Ma."
Phyllis sat down. "You're going to sell Max for scientific experiments?"
Sam grinned and made a great show of thinking about the question before replying, "No."
"Why the hell not? He's fit – healthy too; from the looks of him, he's been taking care of himself. Has he shown you any pictures of himself as a kit?"
"No, he's not."
"Destroyed 'em all," Max mumbled.
"Don't mumble, you little jerk. Fetch me the album," his mother ordered, and Max obeyed. Phyllis flipped some pages and as Margaret brought in the coffee she started showing off his baby pictures to Sam.
"This is when we sent him off to Pioneers camp, when he was six."
"You never said you were in the Pioneers, Max."
"I was sent back after two days, Sam."
"Who's the kit in the picture with him?"
"His cousin Jack. We don't talk about him."
"Why?"
"Well, he emigrated to America. Last we heard he got a job as a sheriff's deputy down in Florida."
"Idiot," Max muttered.
"Max!"
"Yeah, Ma?"
"You still Apache dancing?"
"Sure, Ma."
"You teaching Sam?"
"Sure thing."
His mother leaned close to the badgeress and said confidentially, "He loves that. Says it's close to actually fighting, but you can't get arrested for it." She spooned some sugar into her coffee and glared at Max. "Of course, he does tend to scare off his girlfriends. I can see why you haven't dumped him," she said, now glaring at Sam.
"Oh?"
"Yes, you're bigger than he is. And a badger. No grandkits, I see."
"I'm sorry that I'm not a vixen – "
"It's okay. You can't help what you are, and Max has such lousy luck with the vixens I'm not surprised you caught him. I've got enough grandkits from Mort and Mary's families so far. I'm already having a hard time keeping their names straight in my head." She slurped her coffee while defiantly glaring at the others in the room, as if daring them to say something about her manners.
When no one did, she looked a bit disappointed again. "Anyway, when are you two going to do this? And where?"
Sam smiled across the room at Max, who eyed the scrollwork on the mantelpiece clock. "Well, Phyllis, I had decided that the service will be at the base up in Seathl, on September fifth."
"That's a bit fast. You SURE you ain't pregnant by him?"
"Very sure, Phyllis."
"Who's doing the service?"
"Well, I had planned on asking one of the chaplains – "
The older woman snorted a laugh. "You'll use Father Wanamaker, and like it. I'll talk to him tomorrow, and he'll be there. It's only just desserts – the loudmouth gives us two hours every Sunday. Hardest thing in the world to shut him up, the stupid beaver."
"Who else will be coming?"
"His brothers and sisters, of course. Maybe a few cousins."
"Not Cousin Alf, Ma."
"He wouldn't come anyway, Max."
"Who's Cousin Alf?"
"Cousin on his father's side. Alf's a shaman up around Cranston. Talks to trees," she said disgustedly.
After perhaps an hour, Sam and Max said their goodbyes, and Mortimer drove them back to the train station. Max sat in stony silence, sulking with his ears laid back and his arms crossed over his chest.
As they started to walk into the station, Mortimer said, "Max."
"What, Mort?"
"She's too good for you."
Max looked Sam up and down, and said, "I agree."
The older fox said, "Sally and I'll be there," and drove off.
"Max?"
"Sam?"
"Do you still want to go through with this?"
"Of course! Do you?"
She smiled at him.
"Of course."
***

September 5, 1934:
"Is that your formal uniform? You look stupid in red."
"Shut up, Mary."
"Don't tell me to shut up, you little runt," Max's older sister growled. Nevertheless she and her husband Chuck left the small office and took their seats out in the hall. Military policefurs in the military's maroon and dark green formal uniforms stood vigil at the doors and at strategic points along the walls.
They could have been ushers, were it not for the two-foot-long riot batons in their paws.
The Catalina fox closed the door and looked at himself in a mirror. His stock collar was hanging open, the two gold anchors slightly askew. An M1903 pistol sat in its Sam Bruin holster – empty; Sam had insisted on it.
No sense in inviting trouble.
Max blinked as the door opened and Sam walked into the room. "Sam! You're not supposed to be here."
"I thought we were getting married."
"We are, my love – but you and I aren't supposed to see each other until the actual wedding. It's tradition, you know."
The badgeress gave the tod-fox a tolerant smile as she brushed a speck of lint from the gold lieutenant's bar on one shoulder of his uniform. She was dressed in a similar formal uniform, but with the two bars of a Commander. "Since when did you care about tradition, Max?"
"It's supposed to be bad luck, Sam."
"Then give me a kiss for luck, Lover Boy, and let's do this thing." She leaned in to kiss him. He murred as she kissed him and she straightened up. "Now, do up your collar like a good kit." She pulled a filmy lace veil from a pocket and fixed it to her headfur, letting it drape down over her muzzle. "How do I look?"
"Silly."
"Silly, Max?"
"Silly, Samantha my sweet. White lace does not look good with maroon wool."
She blew him a kiss and left the room, and Max took one last look at himself in a mirror before heading into the hall.
***

The doors swung open, exactly on cue, and the bride advanced down the aisle arm-in-arm with her father, both in formal uniform. Captain Rain Sky winked at his wife as he escorted his daughter down to the waiting groom and the officiating pastor. When they came to a stop before the short beaver in the dark suit, Sam accepted a kiss from her father, who then took a seat.
The rest of the hall was filled with uniformed furs and those members of Max's family who could be counted on to not cause a riot. His cousin Lucy, dressed in band box-clean gray with a broad black stripe, was seated at the back of the hall. The pawcuff connecting her to the prison matron escorting her clinked as she dabbed at her eyes.
His mother had frowned and growled at Sam as she walked past her.
Max had watched her approach with a manic, albeit somewhat glassy, look in his eyes.
Pastor Wanamaker raised his paws and intoned a blessing, then said, "Dear Friends, we are gathered together today to witness the marriage of Max and Samantha. If there is anyone here who knows any cause why these two should not be married, let them speak now – "
"Anyone does oughta get shot," someone shouted, and the audience chuckled.
"Get on with it, before she changes her mind!" another called out.
The beaver slapped his tail against his legs and turned to Max. "Do you, Max – "
"Say all of it!" Mrs. Vreeland snapped.
Max started grinding his teeth as the pastor took a breath. "Do you, Maximilian Percy Vreeland – " He broke off as Sam started to snicker. The audience snickered as well, but all eyes were on her.
The snicker turned into a chuckle.
The chuckle turned into a full-throated laugh.
The laughter continued until the badger was doubled over, and she finally sank to her knees, laughing for well over a minute until she was snorting through her nose for breath and clutching her sides as she hyperventilated.
The audience laughed as well, and Max's brush bottled out as his ears laid back. As Sam finally caught her breath he growled, "That's it. The wedding's off!" He turned to walk away.
The best man, a member of the Army Union, tried to bar his path and instead went down hard, gasping as he gripped his crotch.
Sam's paw closed on his tail. "Oh, like hell you don't, Max," she said sternly, hauling him back to her and catching him up in her arms. "You went to all this trouble, and you WON'T wreck the best day of my life. You made it this far – you go through with it."
He struggled, but she turned him around to face her.
"Because I do love you, you lunatic."
She kissed him, hard, then picked him up and threw him over one shoulder. He started to struggle again, but quieted as she swatted him on his rear. Sam then glared at the beaver as Max's brush whisked over her chest.
"Well? GET ON WITH IT!"
Wanamaker jumped an easy six inches at her shout. "Um, er, as I was saying, do you, Maximilian – "
"Yes!" Max yelled from behind Sam's back.
"And do you, Samantha Beatrice Rain Sky, take – "
"Would I be standing here if I didn't?"
"Er, no, I suppose not. Then, er, with both of you accepting each other, and no one objecting – "
Sam half-turned to glare at the audience, who meekly kept silence. Most were grinning widely, though.
There was one lone, loud raspberry blown from the back of the room.
" – by the power vested in me by the Synod of the Anarchcracy, I pronounce you husband and wife. You may kiss the bride."
"MWAH!"
Sam jumped an inch and slammed her palm into Max's rear, causing him to yip as the crowd roared with laughter. "OW!"
"C'mon, Max."
"Where we going, Sam?"
"Honeymoon time, Max."
"Am I invited?"
With her mate still draped over her shoulder, Sam tore off her veil and let it fall to the floor, then turned and carried Max out to the cheers and laughter of the assembled onlookers.
"What do YOU think?"
Max grinned and waved to the congregation as Sam marched through the double doors into the sunlight.
"I think this may be the beginning of a bee-YOOTIFUL friendship...!"
end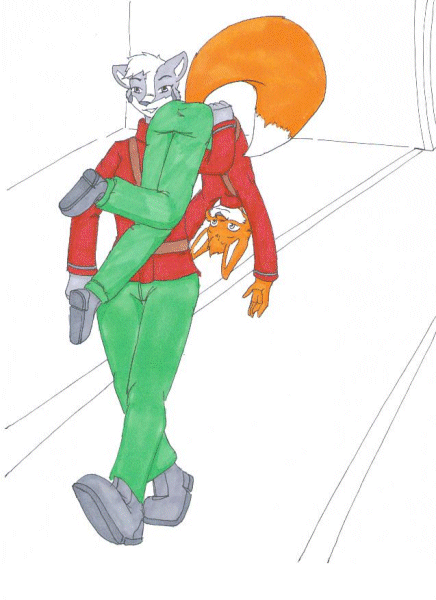 Sam carries Max out of the church, post-wedding.
Characters by Walt Reimer - Art by Patches Namaki
http://www.furaffinity.net/user/patchesnamaki/