I regret to announce the death of J.P.Morgan, artist & writer,
and occassional contributor to these Spontoon Island pages.
He was born in 1957, and died 30 December 2010
at his home in Keansburg, New Jersey.
He was the writer and artist of the ironic, satirical,
cynical, & political comic strip character,
"Fission Chicken"
http://www.fissionchicken.com/
which appears in independent comic books & on the internet.
J.P. Morgan contributed art that added to the mystical science fantasy of
the Spontoon Archipelago, and he was the originator of
several mythic memes in our islands, including
the "Nootnops" soft drink bottling works.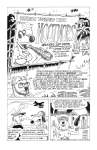 NOOTNOPS
Bottling works
refreshing soft drink
Kilowatt Kat Battles the Crater Lake God-Monster!
Kilowatt Kat Vs. Keyho-Raha-Raha!

Token tikis (found in ancient archeological archives
by J.P. Morgan)