Spontoon Island
home - contact - credits - new - links - history - maps - art - story
comic strips - editorial - souvenirs - Yahoo forum
* Update 5 October 2009 *

Aircraft Decoration & 'Nose Art'
Besides official registration numbers & letters
Civilian and Military aircraft have often been given names by their crews.
Sometimes these names are incorporated in decorative artwork & icons
painted onto the planes.
This pin-up icon by CapnTsubasa is typical of the large color pictures
that might be seen on Second World War warplanes in historical photos,
often painted near the front crew cockpit ('nose') of the larger bombers.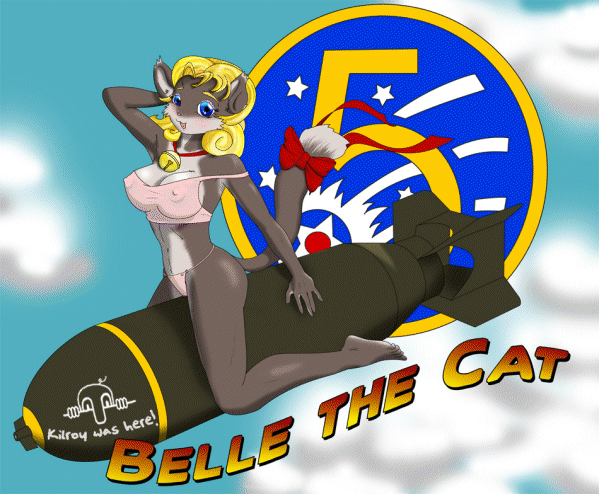 "Belle the Cat"

 nose art from 

Douglas A-20 Havoc

 flown by CPT James
McChatten, USAAF, 3d Bombardment Group, 

Charters Towers, Australia

,1943-44.
Art by capntsubasa, 

capntsubasa@hotmail.com

,

  

http://www.furaffinity.net/user/capntsubasa/
Saluting the aircraft construction workers:
"Straight Eight"
by Stuart McCarthy
Another typical patriotic pin-up warplane decoration:

"Yankee Doodle Pretty"
by Stuart McCarthy
A picture more elegant (& genteel) than most of the 'nose art' that is its inspiration: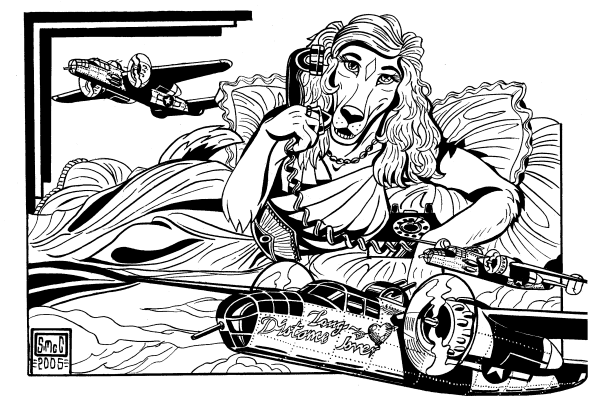 "Long Distance Lover" by Stuart McCarthy ('Inspired by the work of Philip Castle')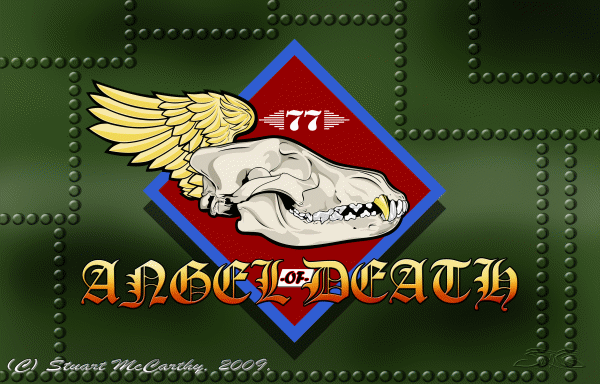 *
"Angel of Death" Aircraft 'nose art'
by Stuart McCarthy (Larger image
here
) *
http://duraluminwolf.deviantart.com/
On this website's
"Wars in the Pacific"
webpage there is a link to
Taral Wayne's
"Sketches S. Pacific: 1942-1944"
that has more examples of aircraft nose art and links to other nose art cartoonists.
On the Spontoon Islands, your nose art might be painted by
"The Patterned Painting Lady"
who appears courtesy of Joyceanna Brock and Dennis Clark.
"And now, for something completely different: ..."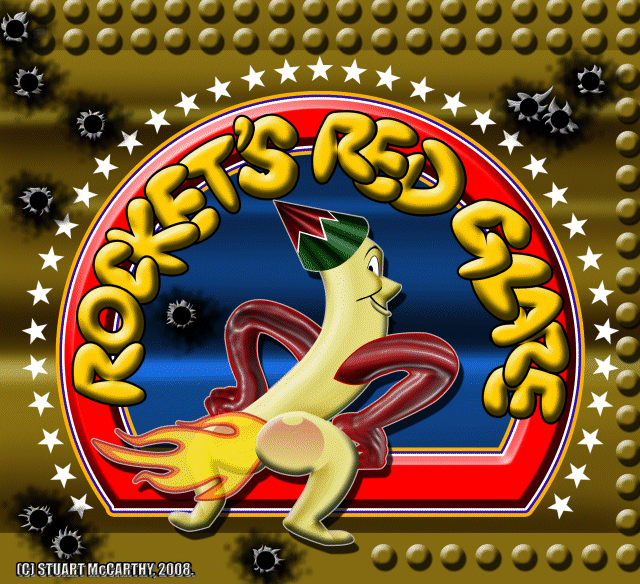 Nose art for the aircraft,
"Rockets Red Glare"
- by Stuart McCarthy