Spontoon Island
home - contact - credits - new - links - history - maps - art - story
comic strips - editorial - souvenirs - Yahoo forum
*** Art upload 13 July 2011 ***
** Upload 7 July 2007 **
* Upload 28 June 2007 *
First posted 5 October 2006

(Parts of this story will deal with
Mature relationships)

SEAHAWK
The adventures of Ensign Halli Amura, RINS
BY WALTER D. REIMER

Chapter 1


Chapter 2
Chapter 3
Chapter 4
Chapter 5
Chapter 6
Chapter 7
Chapter 8
Chapter 9
Chapter 10
Chapter 11
Chapter 12
Chapter 13
Chapter 14
Chapter 15
Chapter 16
Chapter 17
Chapter 18
Chapter 19
Chapter 20
* Chapter 21 *
** Chapter 22 **
(completing this story)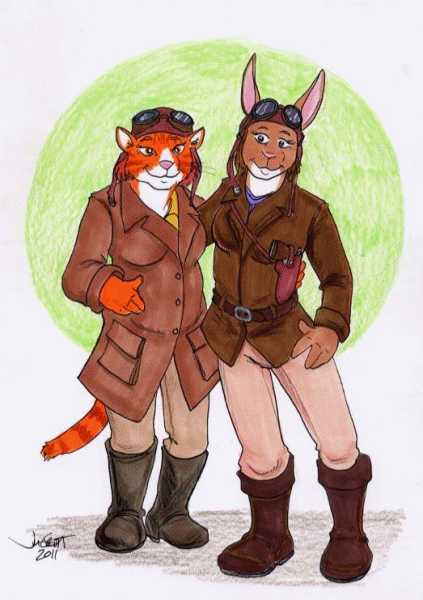 Katrina Demjanjuk & Hali Amura in RINS flight suits (circa 1937)
Art by Jim Groat (Larger file here - 1.1 MByte)
http://www.furaffinity.net/user/rabbi-tom/
Characters & caption by Walt Reimer -
"Katrina Demjanjuk (the tabby on the left) and Halli Amura (the rabbit on the right)
are officers in the Rain Island Naval Syndicate's Air Arm, that country's air force.
Pictured here in 1937, Katrina flies the KV-9 seaplane fighter
and Halli the KV-3 seaplane bomber. Halli Amura is a native Spontoonie,
but was part of the first group from that nation to join the Rain Island Naval Syndicate.
She was selected for flight training as a pilot in the Air Arm, earning her wings in 1937.
She's a qualified combat pilot, having earned Rain Island's third-highest award."


Aircraft identification rondel
Rain Island Naval Syndicate Air Arm (Navy aircraft circa 1937)