A text story by Simon Barber & David Reese Dorrycott
continuing Fredrik K T Andersson's comic strip,
"Silver Angel", and including his illustrations
featuring characters by Freddy Andersson, characters by David Reese Dorrycott,
and characters from Simon Barber (including some from the Songmark Academy).
Some parts of the story and illustrations portray mature situations.
The complete "Stranded Angel" story
is also available at Reese Dorrycott's [Mature] archive website:
Check his "Stories" page under the new title:
"Tales of Spontoon
"
http://www.naorhy.com/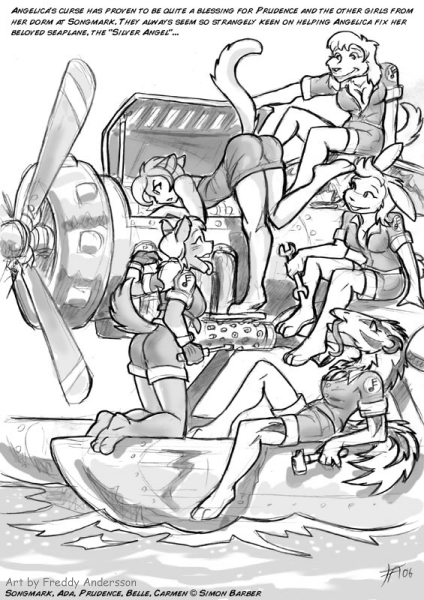 Angelica attempts repairs on "Silverangel"
with help from one of the Songmark Academy dorms.
Art by Fredrik K. T. Andersson
---
"Stranded Angel: Summer 1936"
* Repost of text: 22 August 2011 *
Stranded Angel: Part One
by Simon Barber
(with illustrations by Fredrik Andersson added)
Part Two
by Reese Dorrycott
Part Three
by Simon Barber
Part Four
by Simon Barber
Part Five
by Simon Barber
Part Six
by Simon Barber
Part Seven
by Reese Dorrycott

---
"Stranded Angel: Autumn 1936"
Stranded Angel: Part Eight
by Simon Barber
(Update 2 April 2006)
Stranded Angel: Part Nine
by Simon Barber
(Update 24 April 2006)

Stranded Angel: Part Ten
by Simon Barber
(Update 16 May 2006)(Art added 23 July 2006)

Stranded Angel: Part Eleven
by Reese Dorrycott
(reposted here 31 August 2011)
Adult situations make this part for mature readers.
Oharu begins to unravel Angelica's curses. She brings Ada from Songmark
for counseling with Angelica. Oharu answers questions in the spirit-plane.
An artful plan to finance the care and keeping of the SilverAngel.
Two Priestesses talk, though gates are between them.

Stranded Angel: Part Twelve
by Simon Barber
(reposted here 29 June 2012)
Life at Home: The limited joys of learning cooking. A rewarding dreamtime.
Songmark will shelter an Angel. Angelica goes fishing & Kama acquires a pet.
The Ahnernerbe may learn more than it wants to know about 'Play!', and so do we.
Home, sweet Home.

Stranded Angel: Part Thirteen
by Simon Barber
(reposted here 20 August 2012)
Angelica allows her seaplane to be flown to the Songmark Academy hangar for shelter
& maintenance. Kama plays more 'hide-&-seek' with the Ahnernerbe. Angelica's
seaplane is now more visible, and this indirectly attracts the attention of some criminals..
Little Kama wishes a larger family, and (surprisingly) consults a priestess.
The SilverAngel seaplane has concealed some other surprises.

Stranded Angel: Part Fourteen
by Simon Barber
(reposted here 16 September 2012)
Angelica loses some of her Lutefisk ingredients. Miss Pohovic, village priestess, visits. We
learn why the Ahnernerbe can be cautious. Prudence's dorm plans seaplane repairs. Where do
the ashes go? Black Lotus investigates to locate Angelica, and plots some alternate paths.
Ada shows Angelica some welcome warm devotion.

Stranded Angel: Part Fifteen
"Portfolio"
by Reese Dorrycott
RATED MATURE for adult situations & erotic quotations from a fiction portfolio.
(reposted here 6 February 2013)
At his English country manor, Lord Barton receives by post a limited edition publication
("profusely illustrated"). It seems to revive his interest in exotic collectables.
Stranded Angel: Part Sixteen
by Simon Barber
(reposted here 6 February 2014)
Angelica & Kama (& pet) walk to 'Vikingtown', get a Scandinavian-flavor lunch, and have a
tour of the local Bioreaktor. On the way home, 'sane' science is encountered
& avoided, with a helpful intervention by extended family.

Stranded Angel: Part Sixteen-A
by Simon Barber
Posted 24 February 2014
Stranded Angel: Part Sixteen-B
by Simon Barber
Posted 24 February 2014
Stranded Angel: Part Sixteen-C
by Simon Barber
RATED MATURE for adult situations

Posted 1 August 2008
(with art by Fredrik K T Andersson)
Stranded Angel: Part Sixteen-D
by Simon Barber
with art by Fredrik K T Andersson
Posted 4 March 2009

Stranded Angel: Part Seventeen
by Simon Barber
Posted 30 March 2014

Stranded Angel: Part Eighteen
by Reese Dorrycott
RATED MATURE for adult situations
Posted 30 March 2014
* Stranded Angel: Part Nineteen *
by Simon Barber
Posted 26 February 2015

This story continues at Reese Dorrycott's archive:
http://www.naorhy.com

---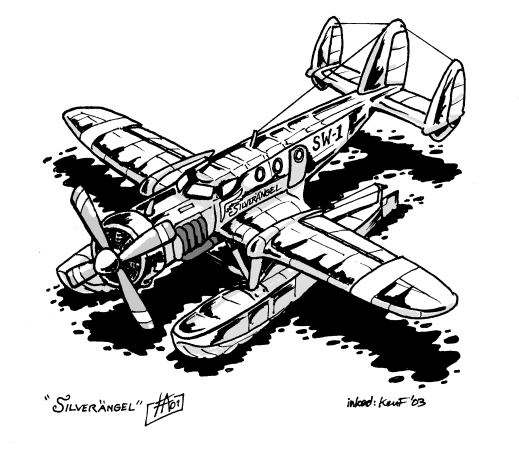 The Swedish Seaplane: "Silferangel"
Art by Fredrik K.T. Andersson - inked by K. Fletcher


back to