Spontoon Island
home - contact - credits - new - links - history - maps - art - story
comic strips - editorial - souvenirs - Yahoo forum

The Casebook of Inspector Stagg
by EO Costello

**** Update 3 December 2008 ("Shriek, Memory") ****
*** Update 13 June 2007 ("Bright Lights") ***
** Update 4 October 2006 **
* Update 30 April 2006 *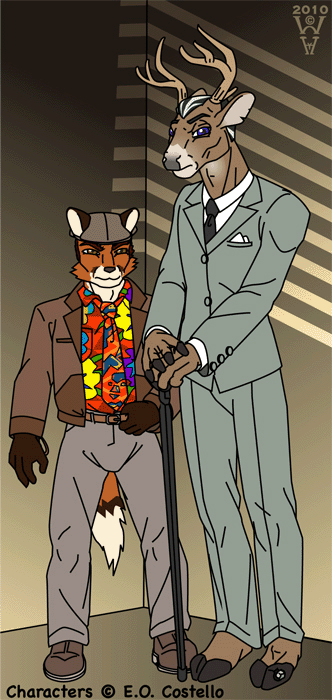 Sergeant Brush & Inspector Stagg,
Detectives of the Spontoon Island Constabulary
Portraits by Warren Hutch - Characters by E.O. Costello
warrenhutch@yahoo.com

** Wolf Without Wings **
A serial story in 5 episodes
In this serial, Detective Inspector Franklin J. Stagg, a
stateless refugee starting over in the Spontoons in 1934, is given his first case,
when he is called to investigate the mysterious death of an industrialist
who has fallen from his seaplane. Inspector Stagg is assisted
by his partner, Spontoon native Detective Sergeant Orrin Brush,
in unraveling the tangled web of the dead man's life to find his killer.



"Telephone Inspector Stagg!"
Short case histories
In this series of case histories from the files of the Spontoon
Islands Constabulary, Inspector Stagg and Sergeant Brush are faced
with a number of crimes, including: a retired, wealthy man is found
dead in his vault, clutching a mysterious paper; a series of native idols
are found defaced; a gambler is slyly practicing his craft; and a mysterious series
of vanishing secretaries leads Stagg and Brush to a horrifying truth.

Illustrations by Kjartan added February 2005
Illustrations by Kjartan added January 2006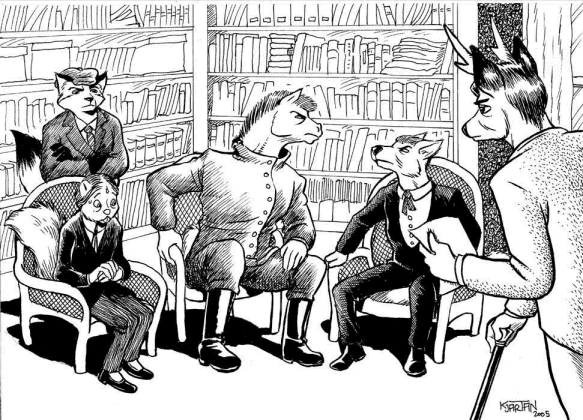 Illustration by Kjartan from "Gambit" in "Telephone Inspector Stagg!"
Inspector Stagg Contemplates
Short case histories
In this second series of case histories, Inspector Stagg and
Sergeant Brush continue their efforts to unravel the crimes that
confront them, from the sinister series of illnesses in a restaurant,
to the sublime and mysterious events in a quiet church.
From this new series of cases: "The Doe Who Isn't There"

*** "Bright Lights" ***
Dr. Meffitt, Medical Examiner, narrates an investigation
by Sgt. Brush and Inspector Stagg
**** "Shriek, Memory" ****
(A full-length trial transcript of a Spontoon Island court case in 1937
regarding capital crimes committed in a pirate raid of 1912.)
(With a Coda in the form of notes by an attorney present at the trial.)
(This is indeed full-length, and the equivalent of an 87-page transcript.)

A short biography of
Whitney Iveagh St.James (1893-1936)

* "Adventures of Inspector Stagg" *
transcripts from the network radio shows of 1938
The Pickering Papers
The mis-adventures of Inspector Stagg's immediate boss in January 1938.
The Catto Comeback
by Mitch Marmel & EOCostello
Inspector Stagg and escorts on some involuntary rest and recovery in January 1938.

(Notes on the Spontoon Constabulary Service)
from various contributors; with illustrations by diverse artists.