Spontoon Island
home - contact - credits - new - links - history - maps - art - story
comic strips - editorial - souvenirs - Yahoo forum
* Update 10 July 2014 *
** Update 12 February 2015 **

Visitors & Guests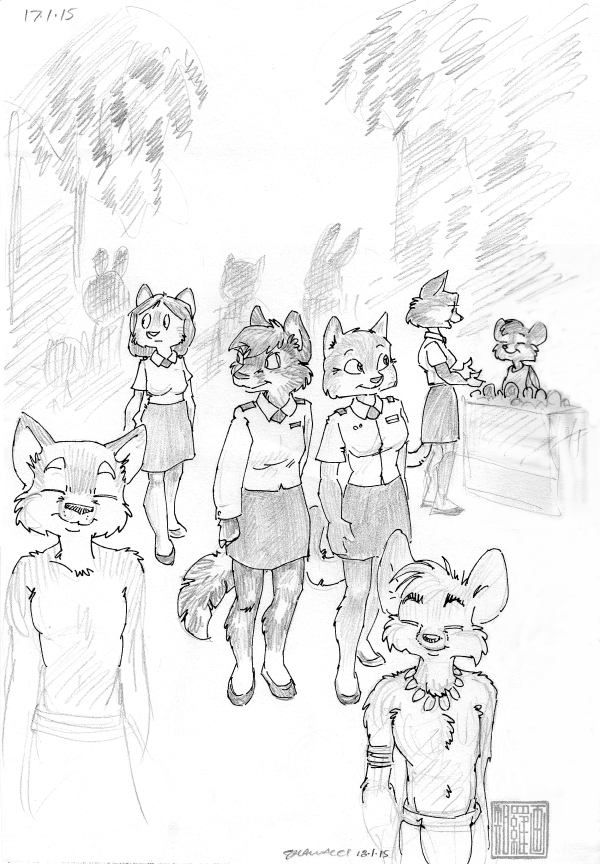 ** WAASS crew on a visit to the Spontoon Islands; scouting out a market. **
by S. A. Gallacci - Larger file here (2.1 MBytes)
(A Women's Auxiliary AirShip Service crossover picture.)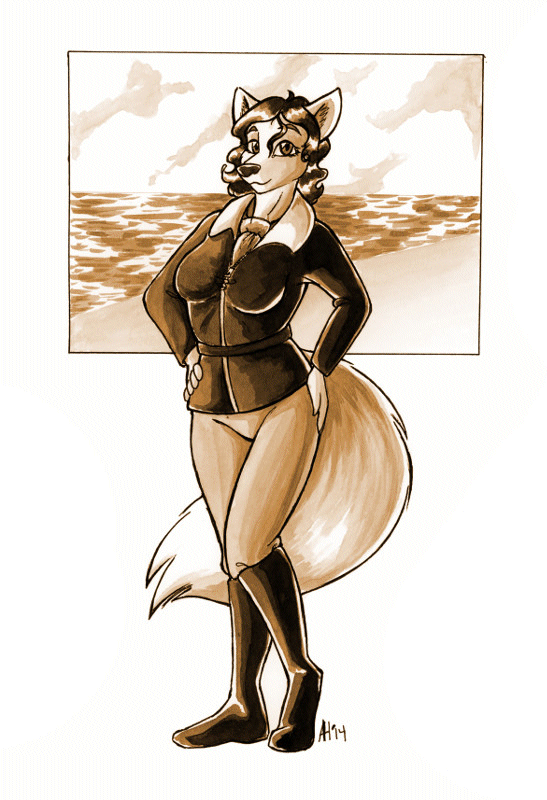 * Zanny, aviatrix, in her flight jacket (early 1930s) - by Zannah *
(Larger file here - 1.2 MBytes)
http://www.furaffinity.net/user/zannah/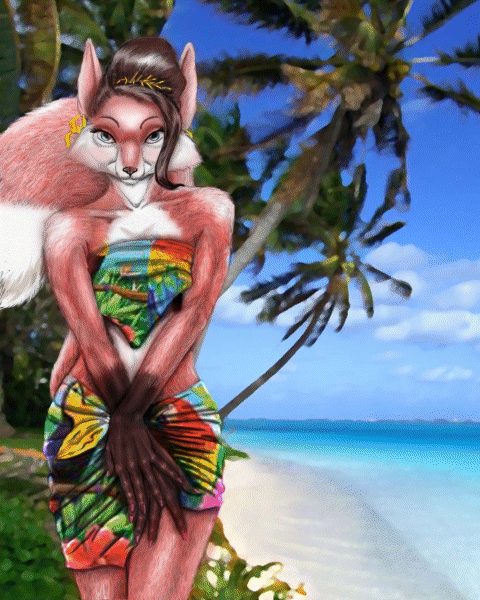 "Island Fox" - by Richard Hernandez
(Larger file here - 1.2 MBytes)
http://darkwax.deviantart.com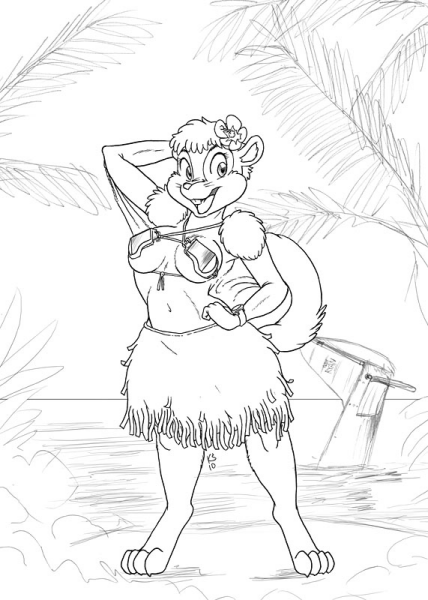 Aviatrix Jetta Aerosmith improvises some island clothing....
by Ken Singshow - http://www.furaffinity.net/user/kensingshow/
(Larger image here - 447 KBytes)
"Jetta Aerosmith arrives on some tropical island without a proper outfit...
But don't worry, she is very resourceful. Goggle as a bra-cup is not quite
a good idea, though; she'll get sunburn in there."
("Jetta is a 1930s aviator, and Rokki T. F. Squirrel's mom -
but missing since Rokki was a baby.")
(Jetta & Rokki are from the universe of Ken Singshow's Andorozon
team and comic book stories.)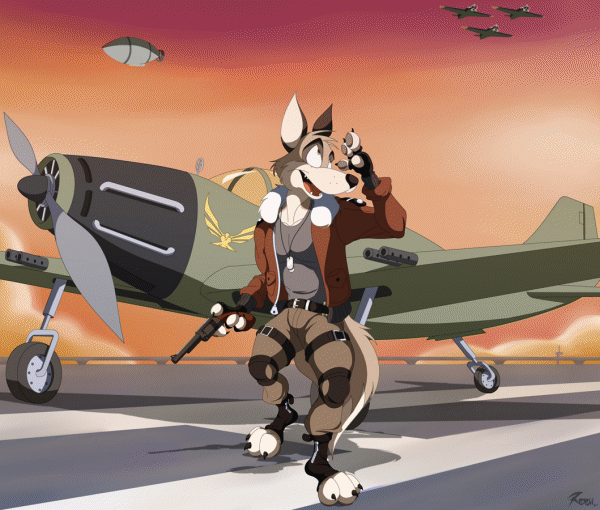 "Aviator Extraordinaire" by retehi (Larger file here - 1.2 MBytes)
"...Captain Marcus Deringer. The absolute best fighter pilot amongst the ranks of
the Anitorian Federation Air Defense Force. A bit narcissistic,
he doesn't take much seriously, and at the same time,
can fly circles around any other pilot without breaking a sweat."
(from Retehi's own retro-pulp setting)
http://www.furaffinity.net/user/retehi/


Visitors from Everywhere & Everywhen






"Drake TigerClaw on a beach" by Drake TigerClaw 2008
http://www.furaffinity.net/user/draketigerclaw/


"Azraelle Wormser" by Stephanie Mobius 2008
http//:www.furaffinity.net/user/azraelle/
From the "Bristled" webcomic: http://www.bristled-comic.com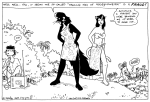 "The Talking Tiki of Hooeyloweiah" - art by JWKennedy (commission by MMMarmel)
Zandar Skonk & Tali Hortoh-Mason make some disappointing discoveries!
http://docphlogiston.tripod.com/ (Larger version of image here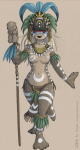 *** "Lutrai Priestess" by 'Fisk' (Jay Naylor) 2008 ***
Larger file of this image (1 MByte)
Jay Naylor's settings & stories on www.jaynaylor.com
The Lutrai are from the world of 'Rim', developed
& drawn by Ollie Canal - http://furaffinity.net/user/ollie/




"Tali Missed the Night Train"
Art by P. O. Holland - http://phaeton99.deviantart.com
Character by M. Mitchell Marmel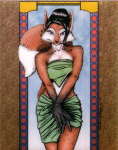 "Island Vixen"
by Richard Hernandez http://darkwax.deviantart.com
(He is doing commissions)




"Moreau"
("Genius, nemesis, mentor, tormentor")
by Dark Aldebaran http://www.furaffinity.net/user/darkaldebaran/




"Coconut Collection" by Henbé, artist for "Fifine" http://fifine.purrsia.com.
Artist's art archive: http://www.furaffinity.net/user/henbe/


"Those darn Airpirates" ©2007 Ratiries
Left to Right: Fleabag; Ratiries deLorraine; Konrad; Whiplash
Larger image & backstory: http://www.furaffinity.net/view/549118/


"Rabbit, the Aviator (Coniglio Aviatore)" by Tark
http://www.furaffinity.net/user/tark/

Maxine's Memento by Blotch
Tanja's Memento (mature image) by Blotch
screwbald@gmail.com
http://www.screwbald.com



Kerri Ann Robinson singing
Character © KenJKitsune; Art © Alicia Boros/Guyver47
http://guyver47.deviantart.com
A Panther Vintage (by Bridget E. Wilde)
http://www.bewildered-art.com

Tali Hartoh-Mason on the beach (low resolution) (Bond movie tribute)
(Character by M.Mitchell Marmel; art by S. Pleger)
Higher resolution Tali Harto-Mason picture (off website)

Alex and Denise, agents extraordinary, from Rusty Haller's comic strip "Ace and Queenie"
appearing in the anthology comic Furrlough published by Radio Comics.
Ace & Queenie: a successful night at the gaming tables.
Alex & Denise on alert in the tribal tiki ruins.
Alex to the rescue from the story "The Walkabout Gambit"
Denise & Alex at Peggy's Grotto, South Island, Spontoon Atoll

Saara Mar, in her tie-died sarong, "Going Native" (Taral Wayne)
Rosie Sinclair is a USAAC pilot at Henderson Field, Guadalcanal in 1942
She relaxes with some hula daydreams. In color. In sepia-tone. (Daniel Keller)
Rosie Sinclair in 'WASP' uniform
during a Henderson Field air raid (Daniel Keller)
Chakat Goldfur gets to do some fishing (illo by Bernard Doove)
Maya enjoying the view (by O.T.Grey)
Herman Orca gets his vacation (Kjartan's character drawn by K.Fletcher)
Rokki the native flying squirrel (by Ken Singshow)
Dutch Spontoon (by Donna Barr)
Tina on the beach (by Kjatan Arnorsson (mature image))
Renee lends a hand nursing at the hospital (thanks to Allan Fishbeck)
Rocky Coone, P.I. (by Todd O'Donnell)
Trade Delegation from Duckarr (photo by John Speidel; greytones by K. Fletcher)
(Omar Bin Duck, Ali Bin Duck, & Miss Kitty Malone)
"Snowflake" meets some cannibal mice (Daniel Keller)
Guest Dancers

'Sierra', one of the mascots of the CaliFur furry convention, visits & dances
with Edy Lodis. 'Sierra' from Robert Johnson; art by A.Husky.

Kurt Moller (& jonwI') share a picture of Bali Hi dancing on Spontoon:
"I finally got around to reading some of Simon Barber's "Spontoon Island" series,
and thoroughly enjoyed them. Here's a small tribute; my Bali Hi Tigress
doing the "Hula of the sunburned tourist" at the annual dance competition.
In the background is a somewhat out of the time line Vought OS2U Kingfisher
from about four years in the future. Maybe he's emerging from the Burmuda Triangle...."

"My Tigress, Bali Hi, does the Hula of the
Tourist Who Tries To See Up Grass Skirts,
while the weekly Pan Am Clipper flies past on its way to the harbor."
(by jonwI')
Pilot Jenny Curtis (of Kenedy, Texas USA) Maori dances
with poi balls--visiting from Scott Kellogg's 21st Century Fox

Cowrie, the hula-fox, dances with a lei (Daniel Keller)
Cowrie dances with a tiki-mask (Daniel Keller)
Cowrie entertains some pirates (Daniel Keller)


20 February 2007:
(Various Soviet comrades moved to "Characters" page;
"When Germans Go Native" moved to "Comics" page)