Spontoon Island
home - contact - credits - new - links - history - maps - art - story
comic strips - editorial - souvenirs - Yahoo forum
**** Update 28 August 2010 ****
*** Update 7 August 2010 ***
** Update 28 July 2010 **
* Update 18 May 2010 *

The Willow Pages
Willow Fawnsworthy created and written by M. Mitchell Marmel
with collaborations with, and stories by EOCostello & Walter D. Reimer

* Art Archive! *

---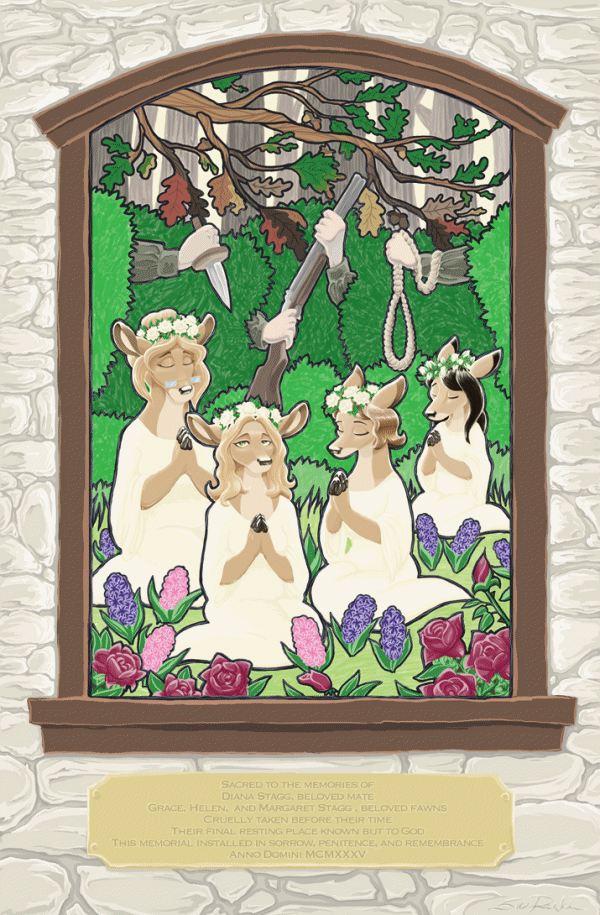 * "Cenotaph" - Art by SusanDeer *


SACRED TO THE MEMORIES OF
DIANA STAGG, BELOVED MATE
GRACE, HELEN AND MARGARET STAGG, BELOVED FAWNS
CRUELLY TAKEN FROM THIS LIFE BEFORE THEIR TIME
THEIR FINAL RESTING PLACES KNOWN BUT TO GOD
THIS MEMORIAL INSTALLED IN SORROW, PENITENCE AND REMEMBRANCE
ANNO DOMINI MCMXXXV



"...after the original at the Stagg Library, formerly St. Anthony's Church."
From the 'Willow' stories by Mitch Marmell & the 'Inspector Stagg' stories by E. O. Costello.
"Original story © (M. Mitchell Marmel). Cenotaph concept, design and inscription © EOCostello"
(larger file here - 2.2 MBytes)
Illustration Nominated for the 2010 Ursa Major awards!

---
"Meet Jane Doe"
EOCostello
(Nominated for 2005 Ursa Major Award)
(Autumn 1933)
Allan Minkerton, head of the Minkerton Detective Agency, meets a
ghost from the past...and a legendary operative is born.

**** *** "The Sows Will Rise Again" *** ****
Walter D. Reimer
Illustrated by L. Frank
(Spring 1935)
** Act 1: Upload 28 July 2010 **
*** Act 2: Upload 7 August 2010 ***
**** Act 3: Upload 28 August 2010 ****
(ending this story sequence)

"Fun with Gas Mains"
M.Mitchell Marmel
(May 1935)
A brief excerpt from Willow's diary, explaining what she does for
recreation and introducing her latest assignment
"Case of the Giant Gnat of Sinatra"
M. Mitchell Marmel, E. O. Costello, & Walter D. Reimer
Illustrated by Seth Triggs
(1935)
An island adventure when Willow was Les's secretary.
Conclusion: 7 December 2009
"Justice Takes a Hand"
M.Mitchell Marmel
(August 1936)
There is a plot afoot against Inspector Stagg. Can Willow put a stop
to it in time? And how far will she go to do it?
You may wish to read
"The Doe Who Isn't There"

in the Inspector Stagg stories, before reading: