Spontoon Island
home
-
contact
-
credits
-
news
-
links
-
history
-
maps
-
art
-
story
comic strips - editorial - souvenirs -
Yahoo forum

First posted 13 December 2010
Nominated for the 2010 Ursa Major awards!

A Cenotaph

Memorial window at St. Anthoy's church, Meeting Island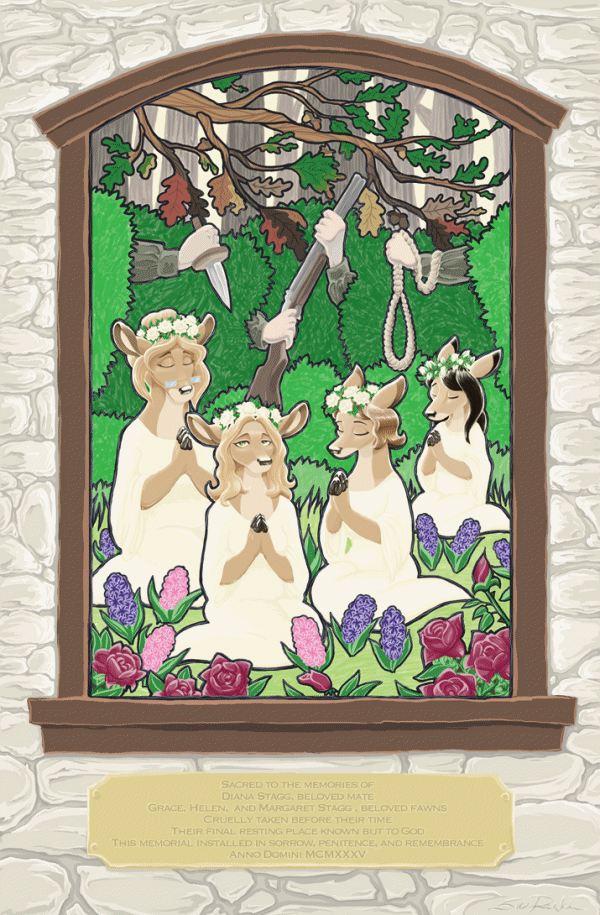 ***
"Cenotaph"
- Art by Susan Deer ***
http://www.furaffinity.net/user/susandeer/
SACRED TO THE MEMORIES OF
DIANA STAGG, BELOVED MATE
GRACE, HELEN AND MARGARET STAGG, BELOVED FAWNS
CRUELLY TAKEN FROM THIS LIFE BEFORE THEIR TIME
THEIR FINAL RESTING PLACES KNOWN BUT TO GOD
THIS MEMORIAL INSTALLED IN SORROW, PENITENCE AND REMEMBRANCE
ANNO DOMINI MCMXXXV


"...after the original at the Stagg Library, formerly St. Anthony's Church."
(larger art file
here
- 2.2 MBytes)
From the
'Willow'
stories by Mitch Marmell & the
'Inspector Stagg'
stories by E. O. Costello.
"Sins and Sensibilities"
by M. Mitchell Marmel
"Original story © (M. Mitchell Marmel). Cenotaph concept, design and inscription © EOCostello"