Spontoon Island
home
-
contact
-
credits
-
news
-
links
-
history
-
maps
-
art
-
story
comic strips - editorial - souvenirs -
Yahoo forum

* First posted 31 October 2012 *

Halloween Flights
[Collected Spontoon Halloween Stories]
(circa 1920 to 1945) from many contributors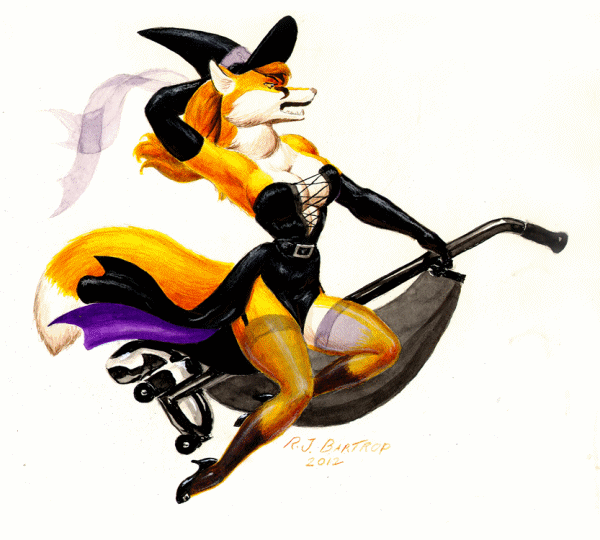 >>> Big Red: That Old Black Magic - by R. J. Bartrop <<<
(Larger file here - 1.7 MegaBytes) - http://rjbartrop.deviantart.com/

* Special Delivery *
by Reese Dorrycott
A story for 31 October, featuring the Songmark Academy,
a Tigermoth biplane aircraft, and a flight with a special delivery.
Posted 31 October 2012

The Devil Came Down to Spontoon
by Walter Reimer & Mitch Marmel
A Spontoon Story of a Visitor (who is not a Tourist)
A story with a touch of

Halloween

flavor.
Posted 19 October 2009


"Sinnessteuersymphonie"
A tale of mad science in six movements, with coda
by E.O. Costello
Overture: Introduction & Dedication: Upload 13 October 2009
Movement 1: Upload 7 December 2008
Rusty Haller illustration added 19 January 2009
Rusty Haller illustrations added 3 February 2009
Movement 2: Upload 12 December 2008
Rusty Haller illustration added 16 February 2009
Rusty Haller illustration added 11 March 2009
Movement 3: Upload 15 December 2008
Movement 4: Upload 24 December 2008
Movement 5: Upload 29 December 2008
Movement 6: Upload 31 December 2008
Coda: Upload 31 December 2008
concluding this performance
Sympathy From The Devil
by E.O. Costello, M. Mitch Marmel, Walter Reimer, & J.T. Urie
A Spontoon Story
set in the People's Republic of New Haven.
with a definite Halloween horror story atmosphere.
Posted 19 November, 2007

A holiday message (circa 1931)
from the Union City Poster Collective, Rain Coast: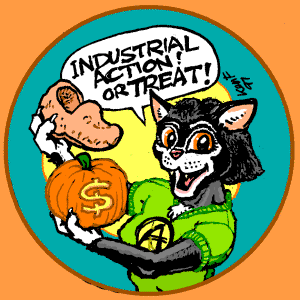 "Industrial Action! or Treat!"
by Ken Fletcher
The Spontoon War
A Special Halloween Broadcast!
(As performed by The Spapoop Mystical Theater of the Air)
(and broadcast Halloween, 1936, with surprising results.)
transcribed and edited by W.D.Reimer & M.M. Marmel
Upload: 31 October 2008

* "Trick or Treat!" *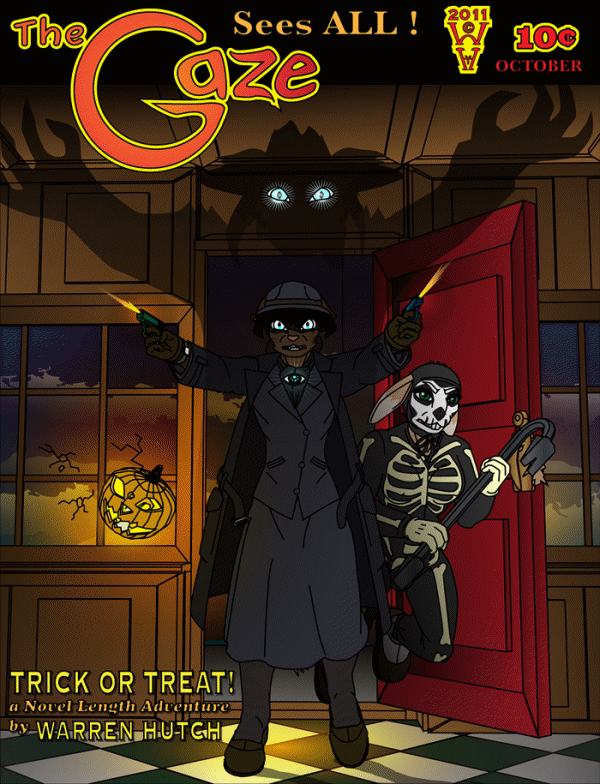 "The Gaze" pulp story magazine (Halloween number)
(larger file here - 1.8 MegaBytes)
by Warren Hutch (warrenhutch@yahoo.com)
(The serial story is at this link: "The Gaze: The Glass Goose")

---

For more tales of the Spontoon Islands on Halloween:

Pumpkin Sacrifice!
A lurid account of Halloween season ceremonies on the Spontoon Islands!
In art & articles, as reported by our intrepid contributors!