Spontoon Island
home - contact - credits - new - links - history - maps - art - story
comic strips - editorial - souvenirs - Yahoo forum
* Update 16 December 2015 *
** Update Link 26 October 2016 **
*** Updates 20 December 2016 ***
**** Update 25 January 2017 ****
***** Update 30 April 2017 *****
Hotels & Resorts

---
"What happens at the Marleybone Hotel, stays at the Marleybone Hotel...
Unless of course, you forget to tip the Bellboy."
(
Casino Island saying, as heard by Rusty Haller
)
---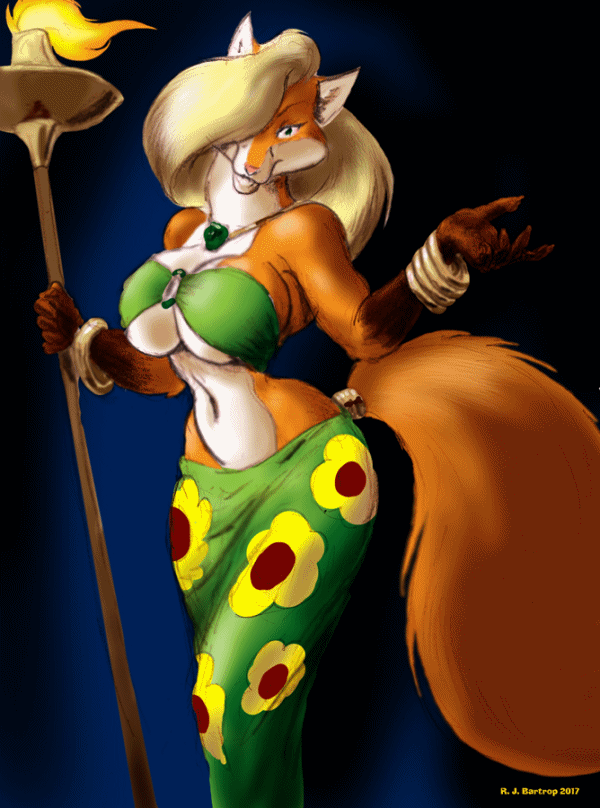 Pele: "Welcome to the show." by R.J. Bartrop (Larger file here - 1.7 Mbytes)
Gift art for Marc Schirmeister, of Schirm's character Abigail 'Pele' Petersen, the
"Hostess With The Mostess" at the Michener's Paradise Hotel, Spontoon Island.
http://www.furaffinity.net/user/rjbartrop/
http://www.furaffinity.net/user/schirm/
***** (Upload 30 April 2017) *****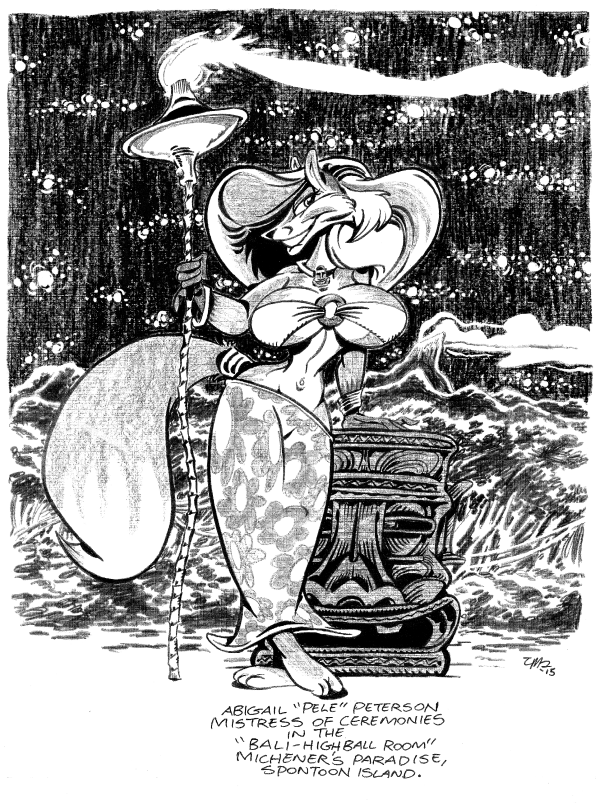 * Abigail "Pele" Peterson, Mistress of Ceremonies - by Marc Schirmeister *
Larger files here (731 KBytes) & here (2 MBytes)
http://www.furaffinity.net/user/schirm/
(and also via the Contact page here at the Spontoon Island website)
(Update 16 December 2015)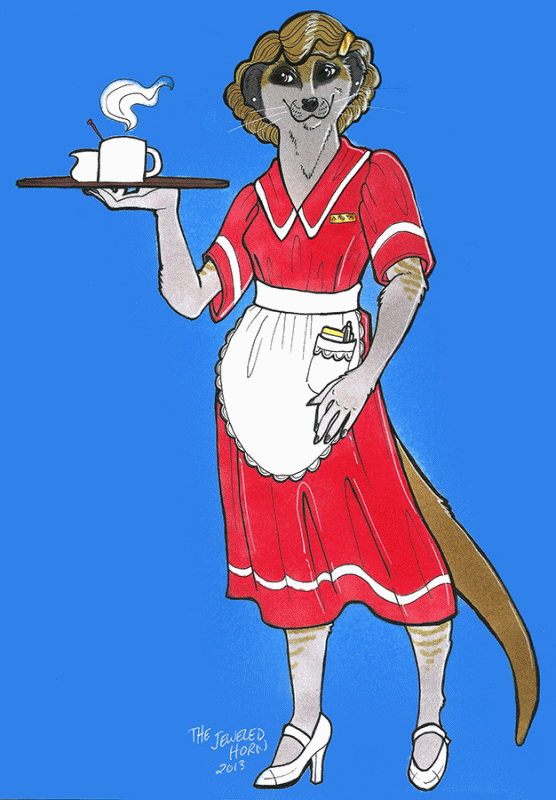 Union Syndic, EdnaMae, serving customers (Casino Island. circa 1933)
(Larger file here - 1.6 MBytes)
Art by The Jeweled Horn - thejeweledhorn@gmail.com
http://www.furaffinity.net/user/thejeweledhorn

Featured Hotel: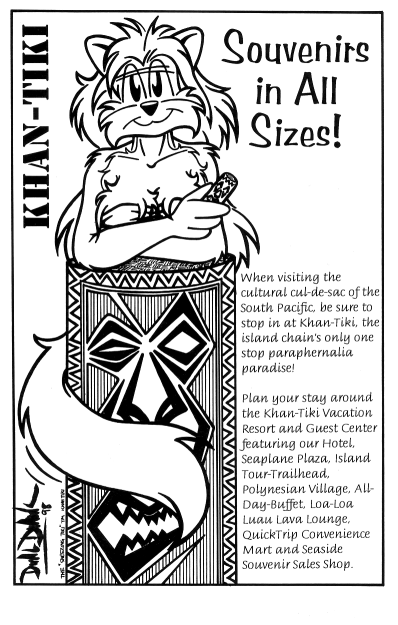 *** Ad image & hotel created by Derek Dasenbrock ***

The KHAN-TIKI
(a text-story traveller's report via Wm. Van Ness)
30 April 2008

Other Hotels:

The Weary Eagle Spa & Rest Hostel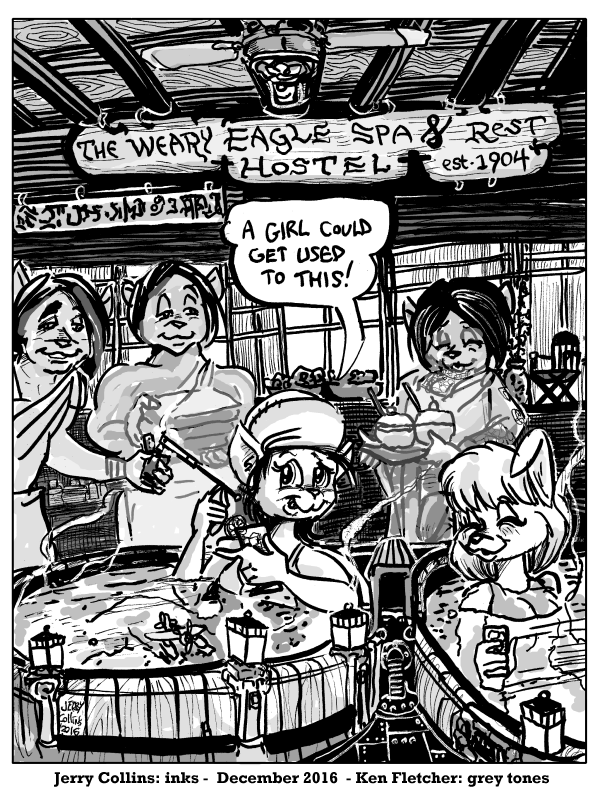 **** "The Weary Eagle Spa & Rest Hostel" by Jerry Collins. ****
Grey tones by Ken Fletcher - Larger file here (743 KBytes)
Upload 25 January 2017


*** "Morning tea and newspaper." (Larger file here - MBytes) ***
(Mrs. Ankiana Toru & Col. Hollis Hadaway)
Ink sketch and characters by Jerry Collins; grey tones by Ken Fletcher
(The editor believes this may be one of the large resort hotels on South Island,
Spontoon Island Atoll. It also may offer long-term rentals as a 'residential hotel'.)
(Update 20 December 2016)

Resort Denhaut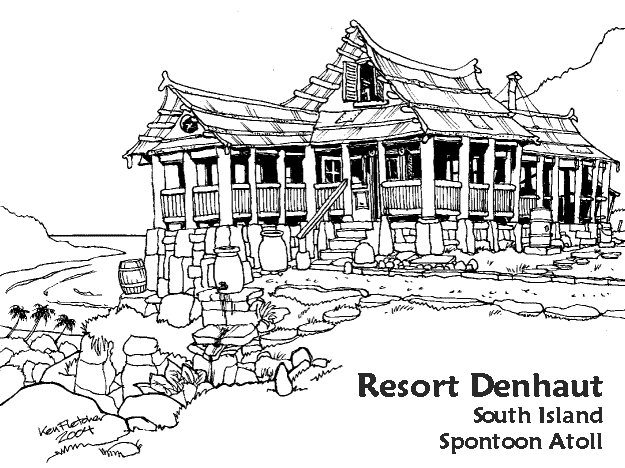 Resort Denhaut - South Island
Resort Denhaut is typical of several small tourist resorts spaced out on
South Island. This is the main building, with front desk, lounge, porches,
& dining areas. Guests sleep in screened cabanas scattered around
the resort grounds. This resort was founded as a co-operative in 1931
by Constance La Carme, a seaplane pilot for the French airline, AeroPostale.
Staff of the co-operative resort in the 1930s. The job notations show their lead
responsibilities, but since the number of staff is so small, they have a routine of
stepping into a job to assist, as needed. As an example, 2 to 3 of the other staff
may help the chef and server at meals. During busy times, part-time workers
may be called in from local villages.
Guests may find themselves helping too! A guest who chooses to act as part
of this resort family may be surprised to find how open they can be.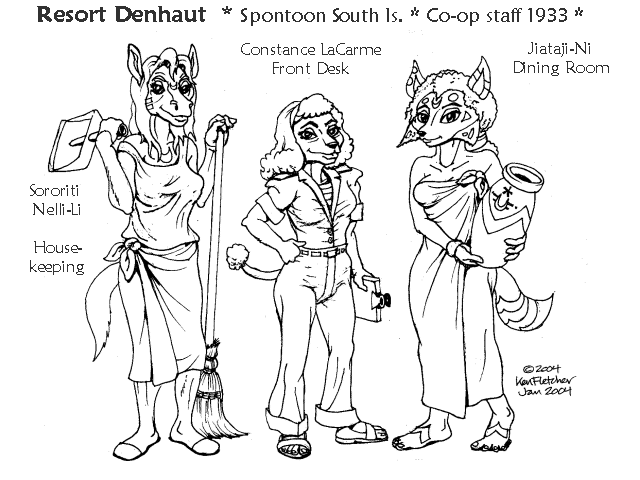 Sororiti is a Scandinavian Spontoonie, fostered by a Polynesian-culture family.
Constance is a Spontoon resident, but still keeps her French citizenship.
Jiataji-Ni is a member of one of the South Island Polynesian-culture fox clans.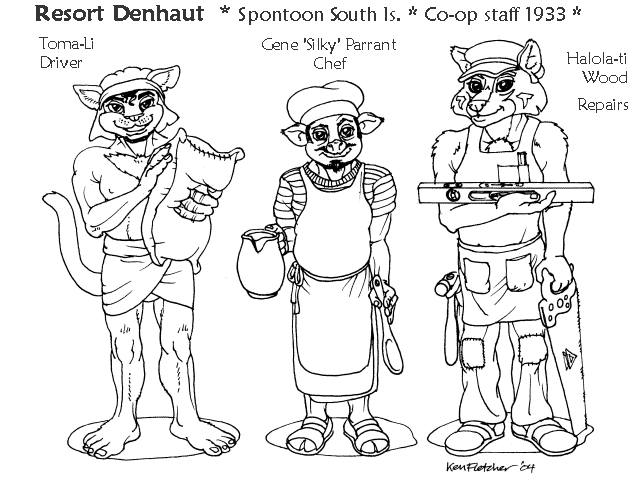 'Toma Thumb' drives, guides, and is social director.
'Silky' Parrant is the *French Citizen Co-Op Chef*, and Don't You Forget It.
Halola-ti is a Spontoonie from a family on Casino Island,
and enjoys how laid-back South Island can be.
Sketch of a large resort hotel on South Island (Ken Fletcher)
Hospitality Staff
Bellhop - the reality (Kjartan)
Simon Barber says:
"Despite what the Pulp comics may say, here's more like the truth about
being a cute Spontoon bell-hop with a hotel full of eager tourists..."
Staff at the Hotel Metropole (Stu Shiffman)
Bartender cleaning up (Tom Foster)
Your Wine Steward (Tom Foster)
Waitress with drink (Ken Fletcher)
Tiki drink adventure! with Willow & Leslie (Stu Shiffman & Ken Fletcher)
Cabana service on the Lagoon (Tom Foster)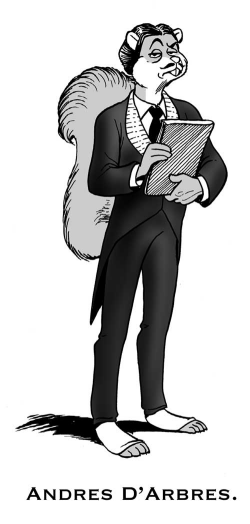 Andre D'Arbres
A Maître D'hôtel (of some reputation)
of the dining room, "L'Etoile D'Argent"
of Shepherd's Hotel, Casino Island.
(Character by E.O.Costello; art by Kjartan)

'Joy Hotels' & the Sex Trades
[including 'Hunters']
(Mature content warning - Adult situations)
(takes you to a separate webpage)
25 January 2008
** Update link 26 October 2016 **

Tourist season - a history
30 April 2008