Spontoon Island
home
-
contact
-
credits
-
new
-
links
-
history
-
maps
-
art
-
story
comic strips - editorial - souvenirs -
Yahoo forum

Posted 22 August 2016
Update 12 October 2016
Update 27 September 2016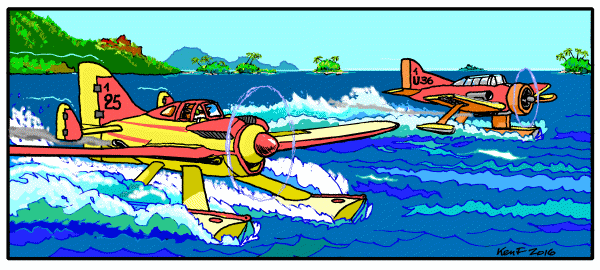 An image of one way to start a seaplane race - from the water. The pilots might
have to start their engines at the starting line, or they may be allowed to
start their engines before moving to the starting area.

Speed Week!

Aircraft Race Art - Page 5
to Page 1
to Page 2
to Page 3
to Page 4
to Page 6
---
"...Flight Lieutenant Hope...had been airborne for only a few minutes
when a section of the engine cowling began to blow loose, and he decided
it was wise to make an immediate landing before it became detached....
As the seaplane touched down the floats hit a sea-swell, throwing the
machine some 20 feet (6m) into the air. Before Hope could collect her with
a burst of throttle, the port wing dipped and N.248 cartwheeled
but did not sink. The water-logged and despondent pilot
clung to the floats until picked up...."
(Flight training in the Supermarine S.6A racing seaplane.

The Schneider Trophy, by David Mondey, 1975 - page 267)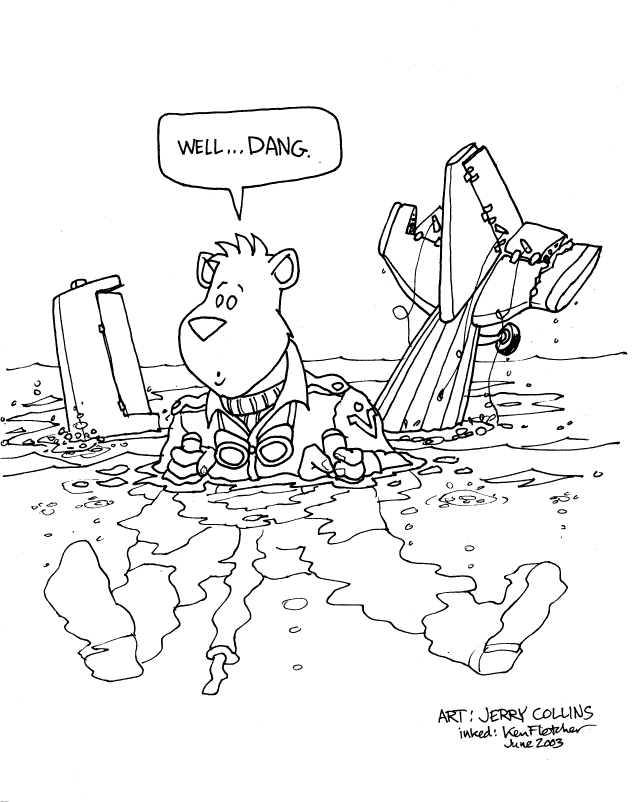 "Dang." - Uninjured pilot - 'pranged' aircraft
- by Jerry Collins (inks by Ken Fletcher)
added to this webpage - 27 September 2017
---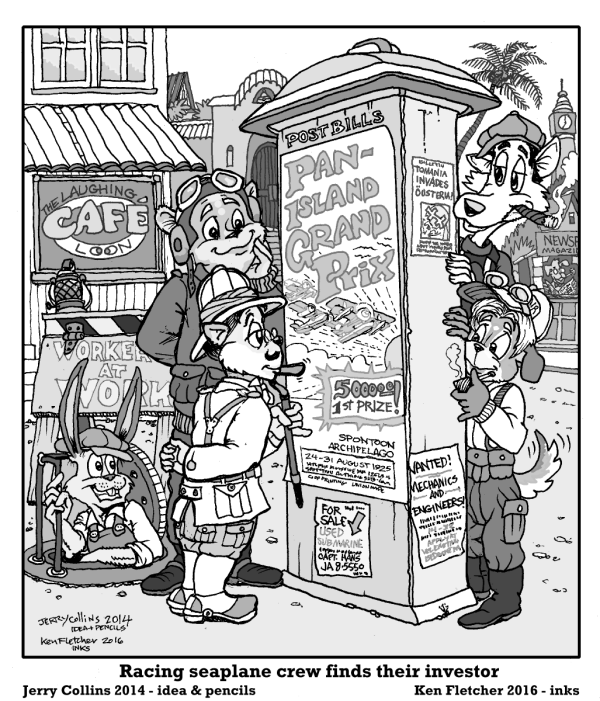 Racing seaplane crew finds their investor
Jerry Collins, idea & pencels; Ken Fletcher, inks and tones
Larger file
here
(1.1 MBytes)
It is early 1925, at a major seaport on the Pacific Ocean. A civilian seaplane
crew is looking for a sponsor for their entry in the Spontoon Island seaplane
races. They believe they have perhaps found their patron. They have constructed
a quite excellent floatplane within its racing classification, but money and
sponsorship is needed for design improvements, tune-ups, flying practice,
entry fees, and transportation to the Spontoon Archipelago, and hangar rental
once they are there. A promotional poster in their seaport neighborhood provides
a good excuse to bring up the subjects of international prestige, business publicity,
and upward social mobility. And several weeks for a patron to explore the exotic
people and events during the 'Speed Week' in the Spontoon Islands.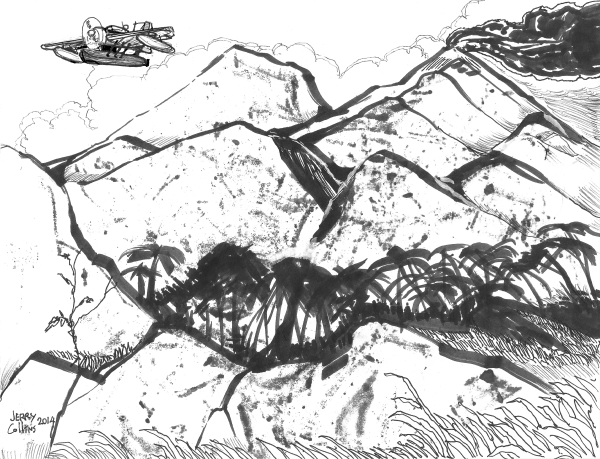 Past the Volcano
(Floatplane over rugged mountains) - by Jerry Collins
Larger files
here
(462 KBytes) &
here
(1.9 MBytes)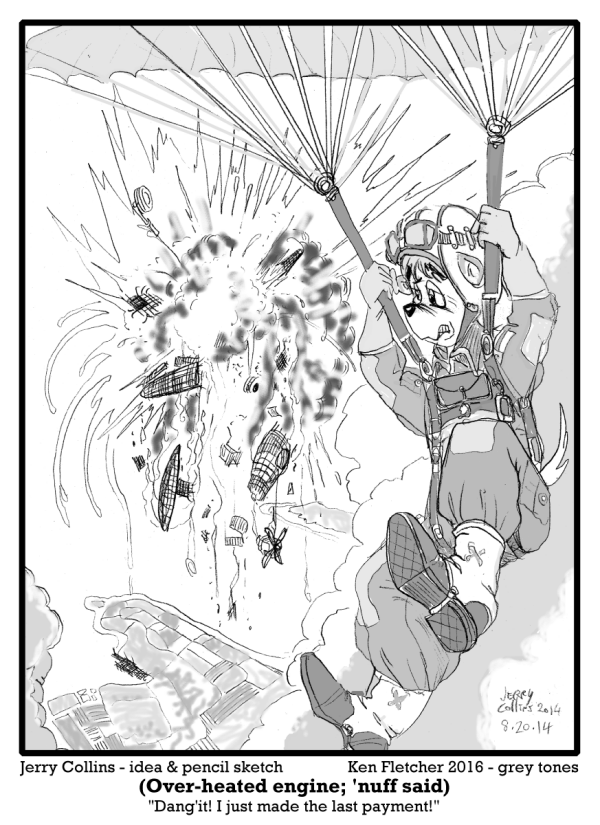 "(Over-heated engine; 'nuff said)"
Jerry Collins - idea & pencils; Ken Fletcher, grey tones
Larger file
here
(1 MByte)