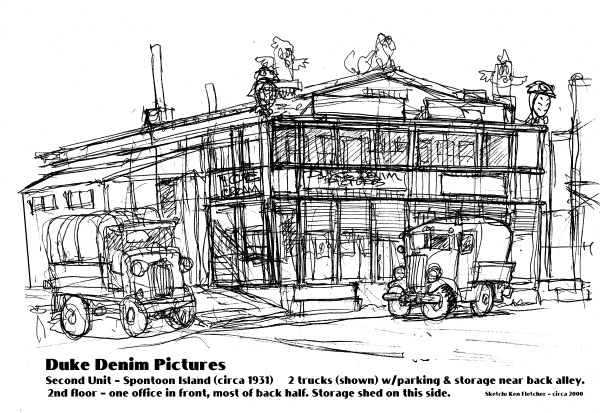 Duke Denim Motion Pictures - Second Unit office - Spontoon Islands
sketch by Ken Fletcher - Larger file
here
(969 KBytes)
Duke Denim's movie production company had a 'second unit', with offices & storage on
Spontoon Island in the 1920s & 30s. This was (mostly) on the second floor
of a commercial building in an urban area. The second unit would film scenes
from the Spontoon Archipelago for use in Denim's movies, or for sale
as 'stock' scenes to other movie companies. If there was an "on location"
film production, this would be Duke's technical headquarters. If filming
assignments were slack, the local manager would offer audio-visual
services, photo-film lab time, or rent out the use of the
company's two trucks, or rent warehouse space.
Other renters in the building included an ice-cream parlor & a drug store on the
main floor. A survey company, & a commercial photographer were also on the second floor.
Some Spontoon Island Archipelago movie history,
here
.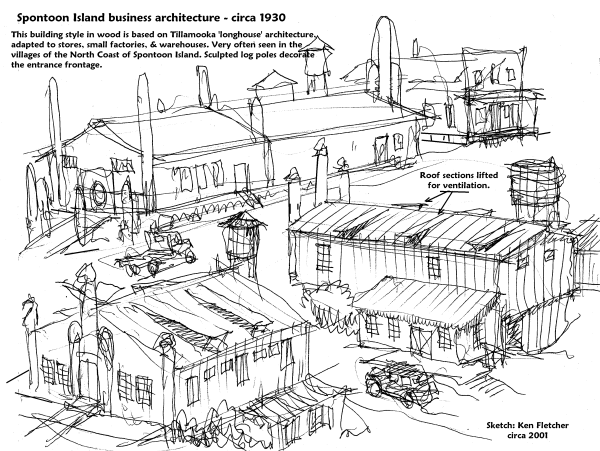 Businesses, in Tillamooka-style architecture, on Spontoon Island Atoll
Larger file
here
(1 MByte)
Based on the 'long house' forms of traditional housing on Tillamooka Island and other regions
of the NW coast of North America, this 1920s style for co-op housing and business buildings
is also seen in the Spontoon Archipelago, most often in the villages of the North Coast of Main
Island. They are usually built with heavy timber framing and wood sheathing, with most of the
structural wood imported from Tillamooka. The interiors can be open or subdivided into rooms.
Details include the use of painted or carved large decorative poles, usually at the corners or at a
central entrance.While the roofs in the Spontoon Islands sometimes are of corrugated steel, there are
many with the traditional large flat slabs for a roof covering. Many of the buildings will have leverage
to lift roof sections for ventilation, or follow the look with a low shed-style permanent dormers.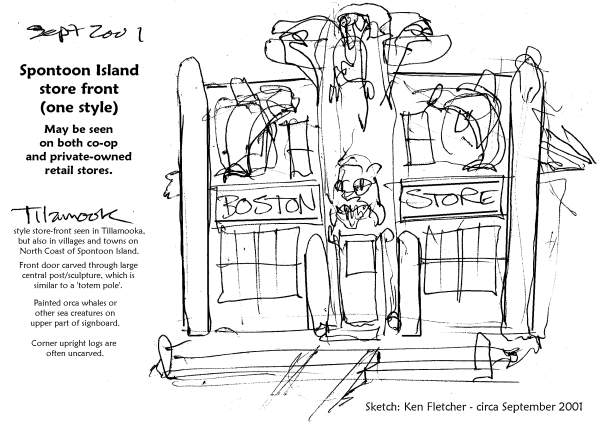 Tillamooka-style store front (one example)
as seen in Archipelago
Larger file
here
(486 KBytes)
This is a sketch of a small business building built in one of the modern (1920s) Tillamooka styles.
Traditional has been melded with the European style 'false front' buildings we think of for small
town buildings in the North American West. Usually wood frame construction, with wood from
Tillamooka. This one has a front with large plain poles at the corners, and an elaborate carved
& painted set of poles to frame the front door. Murals fill flat space, and sometimes they
advertise the business products. Details and roof are sometimes modified into a Polynesian style.
This building is built on a low concrete & stone platform, and may not have a cellar.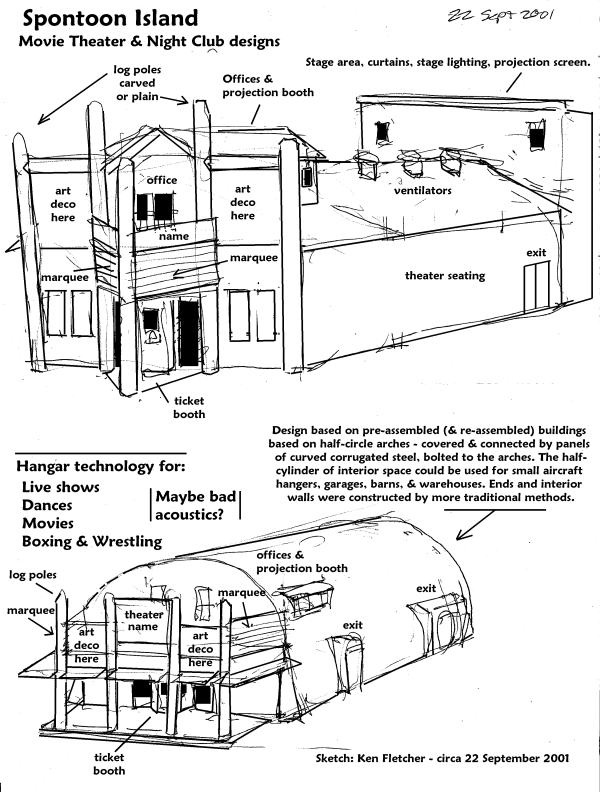 Movie Theater & Night Club designs
, as seen on Spontoon Island Atoll
Larger file
here
(1 MByte)
The interior audience space takes advantage of long structural wood timbers and trusses from
Tillamooka, or uses steel arches & trusses inspired by aircraft hangar and warehouse design. Vertical
poles are decorative accents in the interior and on the exterior. Metal sheeting & plaster may be
used in areas with a movie projector or film storage. These designs are typical of the mid 1920s
through the 1940s. In the Archipelago region, Spontoon Island has the only urban population to
support such elaborate entertainment architecture. In this northern region of the Pacific,
perhaps only Vostokiye Island, Hawaii, Kuo Han and Vanirge may also have enclosed theater
buildings (other than at some of the large resort hotels or legendary taverns).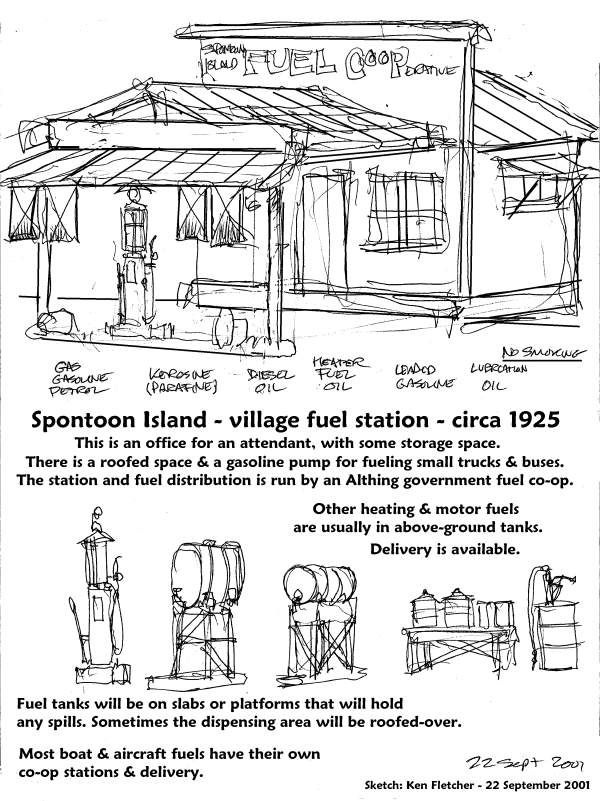 Co-operative Fuel station (for a small village)
, Spontoon Archipelago
Larger file
here
(1 MByte)
This is typical for fuel distribution in the Spontoon Island archipelago. This is more an office & storage
building. A smaller island (if it has a Spontoon style co-op) may only have one fuel depot like this,
at a central village.The Spontoon Island Atoll has a relatively large population, so it might be
that every neighborhood village might have a fuel station. A larger business or co-op
plantation might have its own fuel tanks and pumps.
Mechanics or repair co-ops will have their own garage,or shade-trees & tarps.