Spontoon Island
home - contact - credits - new - links -history - maps - art - story
comic strips - editorial - souvenirs - Yahoo forum
* Update 18 April 2013 - Baybee, the Blue Fox (mature) *

A History of Movies on the Islands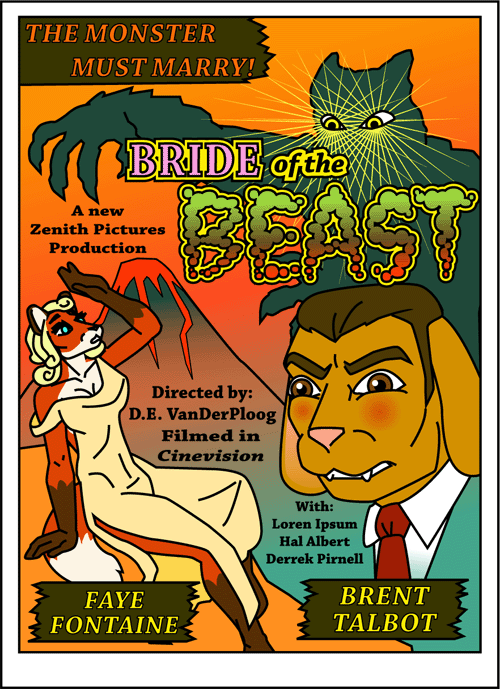 "Bride of the Beast" 1930s movie poster
http://www.furaffinity.net/user/warren/
warrenhutch@yahoo.com
14 June 2011

---
The Island Motion Picture Industry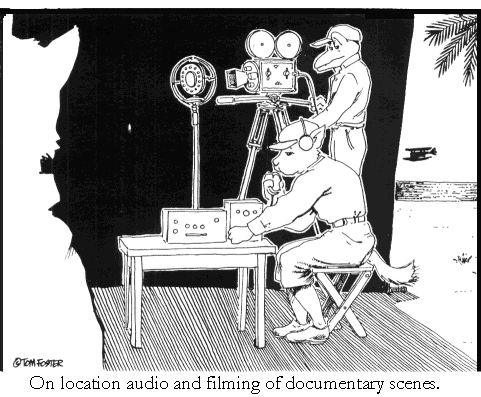 Early Moviemaking on Spontoon Island
by A. Kinoyev, movie critic to The Island Birdwatcher
Motion pictures on the Spontoon Island Archepelago began with newsreel footage of the Gunboat War of 1912. A feature film in 1915, Savages of Civilization, about the sad events of that episode, was not actually filmed on the islands. Documentaries were filmed by kino units from the Rain Coast Information Syndicates during the Great European War. The popularity of these films led to the 1920s fictionalized "documentaries": Shark God of Hula Island and Lei of the South Pacific are the most notorious of these silent jests.
These pseudo-documentaries were enormously popular, and led directly to the infamous "location shoot" of the 1925 silent film epic: God's Cannibals. Despite the filming's bad luck (and fights and tantrums among cast, crew, and producers), the parties on the yachts of the "expedition" became legends. Also to become legendary to the movie industry were the hundreds of enthusiastic and acting-savvy "native" extras.
In the late 1920s, several more feature films used Spontoon Island as a location. Winged Lady and Island Hops are typical of that new genre film, "seaplane hula adventure". Sound films came in with short musical hula features produced by the Spontoon Casino and the Spontoon Tourist Board. The first sound feature with Spontoon locations was Tiki Typhoon (1930) which included several hula musical scenes.
On location, 1925: God's Cannibals
(from a scrapbook in the collection of T. Foster, production artist)
An Assistant director looking for "native" extras
View of movie set on location: South Island
Cinematographer, S. Chapayev, setting up shot
2nd unit cinematographer poses for scrapbook
Films of the Hamster Bros.
a filmography by Stu Shiffman
"A Duke Denim Production"
notes by A. Kinoyev, critic
with illos by T. Foster & K. Fletcher

---
Movie Stars on the Islands

A Convention ~ and Other Things
by Mr. David R. Dorrycott
14 June 2011
A story of 1930s Hollywood film studio deals, and actresses under pressure,
Songmark Academy, and a sci-fi fan convention on Spontoon Island.
(For Mature readers, due to some adult situations.)
Part 1: Update 19 May 2010
Part 2: Update 2 June 2010
Part 3: Update 15 June 2010
Part 4: Update 25 June 2010
mature content
(concluding this story segment)

More stories with Charlene Van Pugpug working in serial movies
are now appearing at David R. Dorrycott's archive:
http://www.naorhy.com/
(a Mature rated website)
Check his "Stories" page under the archive: "Tales of Spontoon".
Lili Chanelle - film star
biographical sketch by Ken Pick

Sophia Bianco
biography by Stuart McCarthy
14 June 2011
From Stu Shiffman's collection of movie memorabilia:
Filming TRIONA OF THE JUNGLE
TRIONA public relations photo

"Frazzi" LaTour
On location in the Spontoons, filming Hollywood Paradise for Duke Denim
14 June 2011

---
* Now Playing & Coming Attractions *

From Simon Barber's clipping collection:
"Little Shirley Shrine: A Filmography"

"Wednesday & Kit": 1930s toons
Art & comments by "Sublimate"
June 14 2011: Animation stills & text added
Mature for cartoon nudity

* Cels from Animation *
Images and stories from the animated cartoons
you might see at a Spontoon Island motion picture show.
Cels from the collection of Ken Fletcher
* Update 18 April 2013 - Baybee, the Blue Fox (mature) *

Universal Spontoon Picture Corporation
Spontoonie Golden Age Cinema
a historical overview by Antonia T. Tiger

A Rain Island movie serial:
The Adventures of Rocket Rat
Screenplay by Walter D. Reimer
Series 1: "THE MINES OF THE MOON"
Chapter 1: "A CRY FOR HELP"
Uploaded 6 June 2009
Chapter 2: "MOON OF MYSTERY"
Uploaded 22 July 2009
Chapter 5: "CAVES OF DOOM"
(CONCLUSION)
Uploaded 30 April 2010

"At the Movies" by Richard Bartrop