Songmark Academy
Art References & Archive
commentary by Ken Fletcher, Spontoon Island publisher & editor
(with much thanks to Simon Barber, Diary Editor, from the website editor!)


"Rock Hunt" (Amelia, Miss Devinski, & Molly at Songmark Academy)
by Simon Barber (Larger image here)

A few images may be best suited for mature viewers: they will be marked (Mature).
Some images may imply adult situations.


---

General background information on Songmark Academy:


Songmark Aeronautical Boarding School
for Young Ladies (Songmark Academy)
"Internationally known as a finishing school for young women
who are determined to be self-sufficient adventuresses, or at the least,
knowledgeable aviatrixes prepared to navigate this modern world.
Their exasperated and confused well-to-do families may be
reassured by the sophisticated survival training provided.
New students are 19 years old or older, and board at
the school campus on Eastern Island. Some facilities
are leased from local businesses and institutions.
Founded in 1930 by 5 internationally notorious
women aviators."


(Quoted from the Spontoon Island webpage: Schools & Vocational Training)


---

(The setting of Songmark Academy
has been developed by
Simon Barber
in his art & writing beginning with
"Extracts from a Diary...."
and is his literary and artistic property.)
You should seek Simon's approval before using the characters or setting.
His addresses are on the 'Contact' page.


With Simon's permission, several of the students and their adventures
at Songmark Academy have appeared in stories by E. O. Costello,
David R. Dorrycott, Walter Reimer, and other contributors.


Simon Barber's stories of Songmark Academy begin with
"Extracts from a Diary"


Simon Barber's
Songmark Notes
has additional information.
Dormroom members: Class of 1934
Art added 29 November 2006





---

Character References & Model Sheets

Amelia & her 'Dorm' roommates
Simon Barber has OK'd this preliminary Model Sheet (G-rated) by Ken Fletcher
(Other approved model sheets may appear in the future)
(Mature image:) Roomates dump Maria out of bed (3 Feb 35)art by Kjartan
Impromptu dive off a dock (MO,A,H,MA) Kjartan
Rainy Season (Amelia, Helen (wet), Maria) FA
Toughened 3rd-years at the beach (Maria, Amelia, Molly, Helen)
(1937) Kjartan


Amelia Bourne-Phipps
Amelia Bourne-Phipps was a student at Songmark Academy in the mid-1930s.
excerpts from her diaries (compiled by Simon Barber) can be found on the "Story" webpage.

Amelia is a cat: resourceful, optimistic, lands on her feet.
She is English, from a family with a tradition of military service.

Amelia Bourne-Phipps and her Diary
Art by Fredrik Andersson
character by Simon Barber


Amelia in a summer dress art by Simon Barber
Amelia takes a water taxi Ken Fletcher

Simon Barber considers these portraits by Tom Foster as excellent likenesses:
Amelia in a fashionable 1930 hat Tom Foster
Amelia in Songmark Academy workday hat Tom Foster

Helen Ducros
Helen is a tiger: sure of herself.
She is the orphaned daughter of a millionaire oilfield fire-fighter,
who lived & worked out of Texas.
Helen critiques a movie Simon Barber
Listening to crystal radio sets in dorm (Amelia & Helen) Kjartan
(Mature Image)Beach fire (Helen & Potahic,Amelia & Tihan) Kjartan


Molly Procyk
Molly is a deer: wild, aggressive with an attitude; maybe brittle.
She is the daughter of a Chicago bootlegger family that has major gang connections.


Molly reads a pulp magazine in bed Kjartan
Molly at the pistol range Simon Barber
Molly trying to walk through Customs Simon Barber
(Mature image): Molly fur-dyed as a Spontoonie native, by Simon Barber
Molly venerates an aircraft part Simon Barber
Molly and Capt. Shiba Granite, her captor aboard the freighter, Three Moons. (September '35)
Separated from her Family, desperate to return to the Spontoon Islands (for her second year
at Songmark Academy), Molly chanced stowing away on this freighter. She was caught.
(Art by Kjartan - characters from the stories by Simon Barber & Reese Dorrycott)


* Molly, the Bride at the Church Door - Art by Kjartan *
(A painting commissioned by her captor, Captain Shiba Granite of the ship Three Moons)


Maria Inconnutia
Maria is bovine: powerful, political, voluptuous & attractive.
She is the neice of the current Italian dictator.

A sketch of Maria in a tailored Italian flying suit (Ken Fletcher)
"Upgrades" - Maria & Molly discuss Italian tankettes - by Simon Barber


Songmark Aeronautical Boarding School for Young Ladies
'Songmark Academy'

SNAPSHOTS FROM SONGMARK ACADEMY:
(from the albums of Simon Barber)
Keeping our modern daughters out of mischief
Academy students under Staff supervision
Songmark students assist community firefighters
Surfing contest goes on with assist of Lord Whitehead
Tunnel to Fence

(from the album of Ken Fletcher)
Miss Blande giving pistol intruction to a first term student
Miss Jayne Wildford, one of the instructors, in her free time (1932)
Miss Jayne Wildford, experienced Adventuress (circa 1930)

Illustrations

Artwork is copyright by the respective artists;
most characters shown are likely to be created by Simon Barber.

Abbreviations:
Artists: SB (Simon Barber), FA (Fredrik K.T. Andersson), KA (Kjartan Arnorrson),
KF (Ken Fletcher), TF (Tom Foster), SG (Steve Gallacci), OTG (O.T.Grey).
Characters: A (Amelia), H (Helen), MO (Molly), MA (Maria)

Amelia & one of her home-built Flea airplanes (1933?) SAGallacci
Amelia about to fly a Flea into her father's greenhouse (1934?) KF
Amelia travelling to the Spontoon Islands (September 1934) TF & KF
Amelia views local young men from a dorm window (9 Sept 34) KF
Survival palm leaves (A,MO,MA,H)(18 Sept 34)KF
Aircraft engine cleaning (A,MO,H,MA)(24 Sept 34)KF
'Chilli' at Mahanish's (MO, A & patrons)(12 Nov 34) KF
Martial Arts practice (MA, H)(22 Nov 34) KF
Prayer before church (2 native guys, A, H)(23 Nov 34) KF
Survival camping (Miss Wildeford, MA, H, A, MO)(Nov 34) KF
Troubleshoot on Tigermoth (MO, H, A, MA)(6 Nov 34) KF
To the concert (34)(Kjartan)
SponTari Guest House owners (Mr & Mrs Tanoaho) FA
Overgrown Triplane wreck (A, H)(21 Dec 34) Kjartan
Observing a project in the jungle (A,H) (30 Dec 34) Kjartan
At 'Hoopy Jaloopy' Bonfire (A,H)(31 Dec 34) Kjartan

Fur patterning (A, Moeli Hoele'toemi)(3 Jan 35) Kjartan
In small temple hut in the rain (A,H)(4 Jan 35) Kjartan
Hospital visit ('Aunt' Millini, A, H)(8 Jan 35) Kjartan
Camping together (A & Jirry Hoele'toemi)(11 Jan 35) KA
Jirry Hoele'toemi (1935) Fredrik K.T. Andersson
At home with Mrs. Hoele'toemi (A, Mrs H)(Jan 35) SB
Parachute training on cable (MA)(20 Jan 35) Kjartan
Molly first sees Lars dance (A, MO, Lars)(26 Jan 35) SB
Dormmates bounce Maria out of bed (A, MO, H, MA)(3 Feb 35) KA
Dorm sneak pyramid (A, H, MO)(9 Feb 35) Kjartan
A test flight seen from a watertaxi (H,A,MO,'Soppy')(10 Feb 35) SB
Dance Lessons (Lizard instructor, A, MA)(16 Feb 35) Kjartan
Missy K introduces Mr.Tabodo, her fiance (H,A,MO)(28 Feb 35) KA
At Mahanish's Bar (MO, A & Lars Nordstrom)(27 March 35) Simon Barber
Alongside the slaver ship (A)(27 March 35) Kjartan
Impromptu dive off a dock (MO,A,H,MA) Kjartan

At the fishing dock (A, Noenoke fisherman)(12 Apr 35) SB
On the fishing boat (A, Noenoke clan)(18 April 35) SB
Netting fish at sea (A,Noenoke clan)(18 Apr 35) SB
Soppy in her oilskins ('Soppy' & Tihan N.)(April 35) Kjartan
Fishing boat interior w/fishtrap(A, Mo, Tihan N.)(April 35) SB
Selling fish to the Royal Navy (MO, A)(23 Apr 35) Kjartan
Observing Acrobatic SeaFleas (A, fisherfolk)(25 Apr 35) SB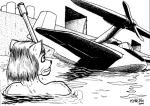 Swimming into the cavern (A)(28 April 35) Kjartan
Discovering the SeaFlea cavern (A)(28 Apr 35) SB
Soppy swims for her life (Soppy & Royal Navy)(28 Apr 35) KA
(Mature Image)Beach fire (H & Potahic,A & Tihan)(5 May 35) KA
Going to the Long-Rifle range (A, MO)(1935) SB
Beryl at her previous school in England (1935) SB
Beryl on arrival at Songmark (1935) SB
Dormroom Socialization (Missy K & Beryl) Simon Barber
Helen critiques a movie (13 May 1935)(H) SB
Listening to crystal radio sets (A,H)(16 May 35) Kjartan
Dockside mugger (mugger, A, Nuala Rochorska)(19 May 35) KA
Casing the Fire Crystal (MO, Beryl)(22 May 35) Simon Barber
Gowns from Countess Rachorska's shop (A,H,MA,MO) (24 May 35) SB
Nuala Rochorska poses (1935) SB
Prudence & Tahni (16 June 35) Simon Barber
(Mature image) Prudence's dorm , with Tahni (1935) Kjartan
Stopping in at the Double Lotus (A,H & patrons) Kjartan
Macao housedress (H, MO)(29 June 35) Simon Barber
Lars does a satirical dance (Lars & audience)(July 35) Simon Barber
Escape from 'The Beach', Krupmark Island (Lars & A) 3 Sept 35) sketch by SB
Guard dog pedigree (Beryl & Songmark student)(September 35) SB
A kiss and a surprise (Lars, A, & MO)(26 September 35) Kjartan
Amelia dines with 'Mr. Greene' at the Golden Crab restaurant (circa 1935) Kjartan
(Mature Image) The big bathtub (A & the 3 Natashas)(30 Oct 35) KA
Learning the ropes: Rock climbing practice (MO & A)(Fall 35) Simon Barber
Mm. Maxine's: Siamese-dyed fur (hairdresser & A)(14 Dec 35) SB

Weha'la'laha Games on Orpington Island (Wakkakama, A, & Judge)(9 Feb 36) SB
Custom dancing on a Lagoon Beach (Willow & Leslie watch
(courtesy of Mitch Marmel), A plays record, Lars & MO dance)(1936) SB
Beach dance (MO, Lars, A)(1936) SB

Amelia gets a "Hunting License" (Nuala Rochorska, Miss Stella, A)(March 36) SB
Amelia as 'Kim Ahn' (March 36) OTG
Mr. Lionel Leamington dancing with 'Kim Ahn' (23 March 36) Kjartan
Molly at bayonette practice (MO)(July 36) SB
Practical Navigation vs. Artistic Direction aboard ship
(Capt. Gary (courtesy Wm. VanNess) & Movie Director Studley II) SB
A Slip in a Swamp (MO) Simon Barber
As the Artist wanted it (seaside goddess monument with bowl) FA & SB
The system as actually built (seaside goddess monument with bowl) SB
Molly & Kansas Smith in a whipfight on Cranium Island (16 Aug 36) Kjartan
(Mature Image) Amelia windblown on Krupmark Island (A)(Aug 36) FA & SB
Amelia & the invalid Mr. Allworthy on Krupmark Island (circa 26 Aug 36) SB
The available constable's uniform at Allworthy's (A & 'Judy') (27 Aug 36) SB
The special gloves for Lord Alsworthy (A & 'Judy') (Aug 36) SB
A costumed outing at Ft. Bob (A, denizen, bodyguard) (Aug 36) SB
"Olympia" (Beryl & Eva Schiller)(Fall 36) SB
Beryl influences Molly's dreams (MO, Beryl, A)(1936) SB
(Mature situation) As seen from the lifeboat survival drill (A, MO, & Beryl) SB
(Mature image) Manual water-heater (MO & A)(November 36) SB
"Our editor Duce" (MA & Beryl)(November 36) SB
3rd-years room inspection--a souvenir of Lars (MO, Miss Devinski, A) SB
Italian poster for the "Parade of All Nations" (Beryl & MA)(Dec 36) SB
Jasbir Sind on Gull Island (Jasbir & friends) Kjartan

Extra 'Facilities' in Lady Allworthy's Macao hotel room -
(A, MO, Kahavarti Matraporshah, Soo Lin, Ting Lao)(8 Feb 37) Kjartan
'Lady Allworthy' on the yacht Scimitar (Mr. M'wede & A)(13 Feb 37) Kjartan
Simon Barber says, 

"Molly is sometimes a bit hard to live with. Amelia is a Saint sometimes.


Here's

 

a typical morning on Gate Guard ..." (at Songmark Academy)
(Probable & Pokable Postman, A, & MO with her *rifle*)(1937) SB

"Headache" - Molly is not trusted with the WW1 German anti-tank rifle
that she loves unless someone else holds the ammo (MO & A)(1937) SB
Molly's rock-climb coaching style (MO & A) (1937) Simon Barber

Magistrate Poynter and Amelia (Lady Allworthy) in consultation (1937) Kjartan
(Magistrate Poynter is a character by E.O.Costello)

Further Consultation: Magistrate Poynter & Amelia (Lady Allworthy). (1937) Kjartan

"Florence Farmington & Gilda getting Very friendly"
(circa 14 May 1937) Kjartan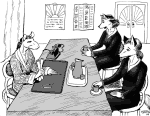 Blanche & Cindy Pennington sign their contracts
at the Kuo Han Embassy. (18 May, 1937) Kjartan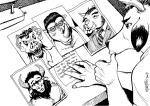 "Suitors" (clients' photos & Lars) at his desk (28 May 1937) Kjartan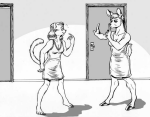 "Lars's Luck" (A & MO) Outside his bedroom (28 May 1937) Kjartan


"Private Room" -
art by Kjartan
Florence Farmington in a farewell embrace with Gilda (early July, 1937)

Beryl Parkesson
Beryl at her previous school in England (1935) SB
Beryl with Field Hockey gear at her English school (1935) SB
School 'chum' & Beryl sharing studies at her previous school (1935) SB
Beryl on arrival at Songmark (1935) SB
Everyone's favorite mousie has a deal for you (circa 36) SB
"Olympia" (Beryl & Eva Schiller)(Fall 36) SB
At the Temple of Continual Reward (circa September 36) Kjartan
(Beryl, Piet vanHoogstraaten, Alpha & Nancy Rote, with other worshippers in background)
Beryl gives a lecture on business success on Radio Lono (Spring 1937) SB
Beryl At the Speed Week Air Races (August 1946) SB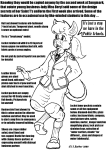 ** "High Fashion" by Simon Barber (Larger file here) **
"Fashion hints & tips, modelled by sweet Miss Parkesson.
Couture by 'Chez Maurice', 17 Rue des Etrons,
Quartier Criminal des Marseilles."

The Misfortunes of Adele
(A Songmark Student working for the Ni Family on Krupmark Island
as related in "Luck of the Dragon" by Walter Reimer on the Story page.)
Stretcher rescue drill (Beryl, Adele & Missy) SB
A job at a Casino!? (Shin (courtesy of Walter D. Reimer) & Adele)(Spring 36) SB
Adele's morning after (Adele)(36)SB
Adele meets a pilot at the Lucky Dragon (Adele & pilot)(Spring 36) SB
Wo Shin blackmails Adele with a photo (Wo Shin (courtesy W. Reimer) & Adele) OTG
Adele with fellow actors at the Lucky Dragon Casino, Krupmark Island
(Jimmy, Adele, & Shawn)(1936) OTG
Adele working on contract (Sally, Mei Ling, Unknown fem, Adele)(1936) SB
The "Red Dorm"
A Rude Awakening (Songmark guard dog & Wo Shin (courtesy of W. Reimer))(1936) SB
Delivering a Gift (Inspector Stagg & Wo Shin courtesy W. Reimer & EOCostello)
(Early January 1936) Simon Barber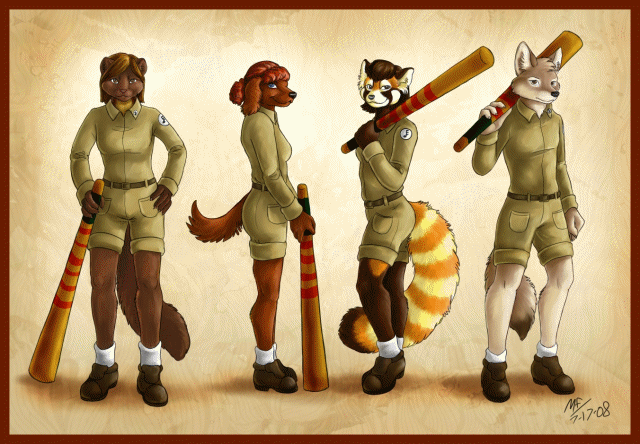 The "Red Dorm" of Songmark Academy, ready for a game with their Kilikiti bats
Tatiana Bryzov, Brigit Muvaney, Wo Shin, Libery Morgenstern
Art by "MoodyFerret" - http://us.vclart.net/vcl/Artists/MoodyFerret
http://www.furaffinity/user/moodyferret
Character Wo Shin by Walt Reimer, other characters by Simon Barber
Larger-sized version of this image.
Thanks to Walt Reimer for sharing.

"The Coral Curtain Mystery"
(The "Crusader Dorm")
Nancy Rote and her dorm-mates & mate-- Isabella Rodriquez & Alpha Zarahoff
(More images can be found via the "Crusader Dorm" art archive)
(with an art update 1 January 2009)

While Amelia's illustrated diaries will continue
to be uploaded in sequence on the 'Story' page of this website,
you can read farther ahead at Simon Barber's
'Spontoon Tales' VCL archive