Spontoon Island
home
-
contact
-
credits
-
news
-
links
-
history
-
maps
-
art
-
story
comic strips
-
editorial
-
souvenirs
-
Yahoo forum
First posted 22 September 2015
* Update 9 June 2016 *
** Update 27 July 2017 **
*** Update 7 July 2021 ***
Fireworks Stand
Local and imported fireworks
for Spontoon Island 1930s festive occasions
---
"Lay on ground; light fuse; retire quickly."


(Traditional safety phrase printed on labels for common civilian firecrackers.)

---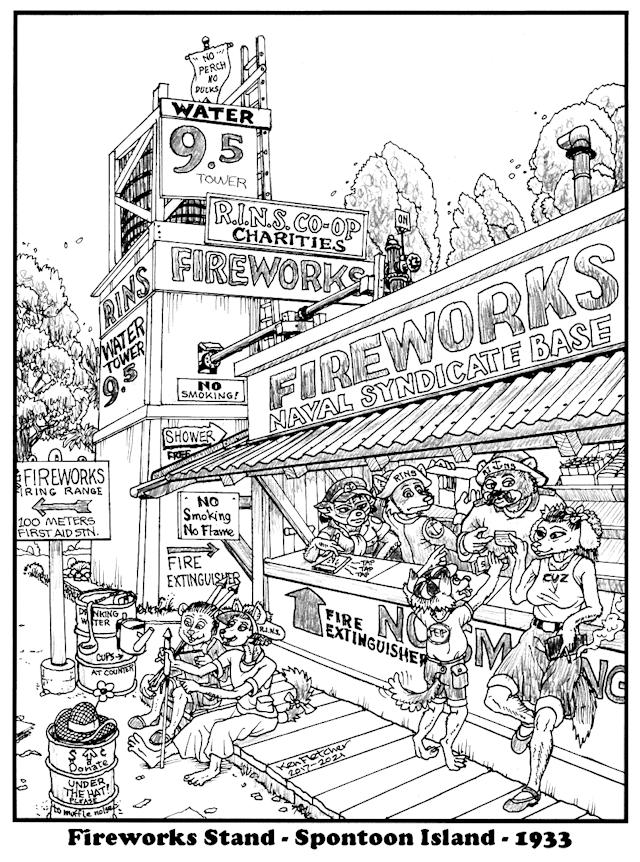 Fireworks Stand at Rain Island Naval Syndicate base, 1933
by Ken Fletcher - Larger size
here
(354 Kbytes)
"On Moon Island in the Spontoon Island Lagoon, this stand is fancier than
most. It is only open during fireworks seasons, at the edge of the Naval Base
of the R.I.N.S. (Rain Island Naval Syndicate). Beyond the moderate
operating costs,the income goes to charities around the Spontoon Lagoon,
and to some charities in the other islands of the Spontoon Archipelago.

"The staff are volunteers from the military forces of the RINS. Customers
are encouraged to walk over about 100 meters to a corner of the RINS
firing range, where they can set off their fireworks under supervision
and teaching by RINS & local volunteers. With the assistance of
a Priestess and her helpers (including a Kami or two), the sound
and flash are muffled enough, if you are outside a range of about
50 meters. It is said that if you happen to be in an aircraft flying
overhead (and dodging skyrockets), the noise up above
is very much louder than one would expect.

"The staff here are having a quiet day (disregarding the muffled noises
in the distance). They may be open for a minor holiday; maybe a
foreign one. Just before this moment, however, a possible customer
has disturbed their composure. Perhaps there has been a violation
of the unspoken customs of charity fireworks stands? Perhaps
Spontoon Island has limitations on which cousins can use which
fireworks? There is a noticed reason for disapproval, and
the staff are all thinking of the different options.
If really necessary, there is a Priestess one phone call
(and a short walk) away). However, they won't
be able to hear her arriving...."


---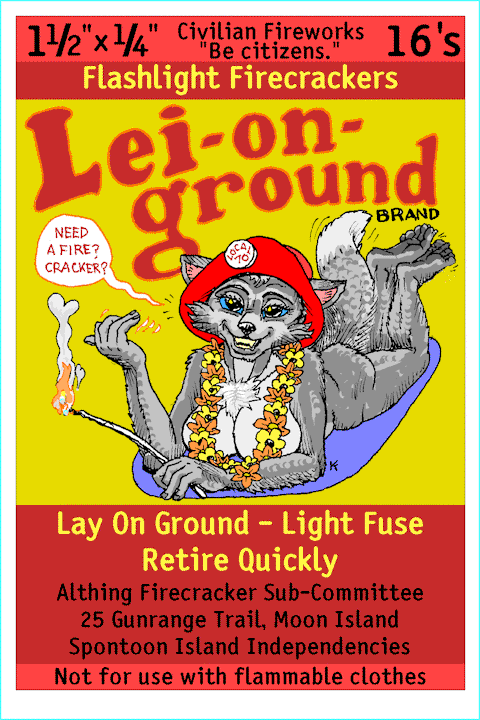 ***
"Lei-on-ground" firecracker pack label
- by Ken Fletcher ***
Larger size
here
- (89.5 Kbytes)
"A firecracker package label, "Lei-On-Ground" brand, from the
Spontoon Island Independencies, early 1930s, North Pacific
Ocean regional markets. This packaging may have been intended
more for the amused business traveler, or for the tourist trade,
or for international export. It is certain that local amateur
fireworks displays were also popular with adults during
celebrations, such as May Day, or Speed Week.
Yet now, at this time, it is difficult to figure if such agreeable
wolfy fireworks fans were merely a fictional fable...."
---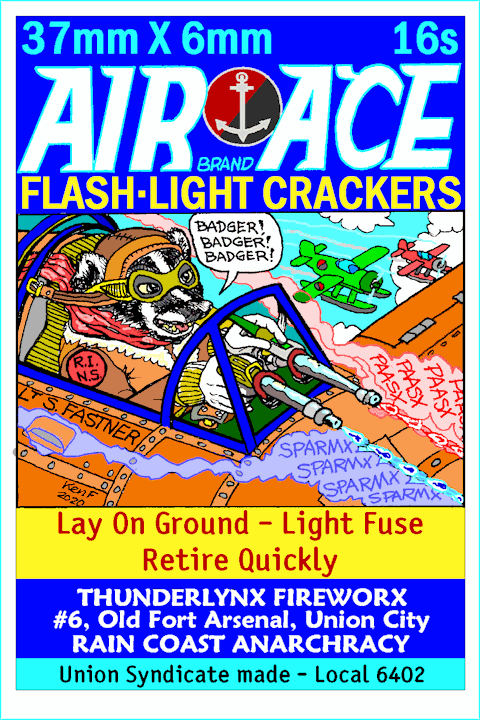 ***
"AIR ACE" firecracker pack label
- by Ken Fletcher ***
Larger file
here
(92.6 Kbites)
"Air Ace", a 1930s firecracker label from the Rain Island Naval
Syndicate (Rain Coast nations in the Spontoon Island setting).
The R.I.N.S. has an extensive airforce, including many
seaplanes. The pilot on the label may be from the elite
Graphic Design (Airbrush) Squadron of the Naval
Syndicate, which explains the unusual weapons
and airbrush references. Spontoon Island
produces and imports fireworks, and
several co-ops distribute fireworks
to the Pacific Island region."

("S. Fastner" is for Steve Fastner, who is not necessarily
a Badger aviator, but does sometimes use a
Badger airbrush. Steve is half of the
"Fastner & Larson" pro art team.)

http://www.fastnerandlarson.com/
---
Fireworks seasons
In the 1930s on Spontoon Island, there was a thriving regional trade
in importing and exporting fireworks. The local co-ops
distribute fireworks to the region of the Spontoon Archipelago
and to some of the other nations in the Pacific region.
There are also some small local fireworks factories.

Spontoon Island often has fireworks during local
celebrations: New Year's, May Day (Labor Day),
Proclamation Day (a Rain Island holiday), during
Speed Week (at limited times & locations), during Summer
and Winter Solstices, and at Hoopy Jaloopy.

On Spontoon Island there are some locations and times
that are intended to be fireworks-free, to lower
the stress on some of the local population.
This population includes local wildlife and plants,
and the priestesses who are the protectors
of local ecology and ambient sounds.
See your local school or militia organization
for times and locations for fireworks.

Rain Island has some holidays celebrated with fireworks.
Proclamation Day is the anniversary of the founding
of the Rain Coast Republic, 12 June, 1885.
This holiday is also celebrated on Spontoon Island,
in support of the Moon Island naval base and
shareholders of the Rain Island Naval Syndicate.


---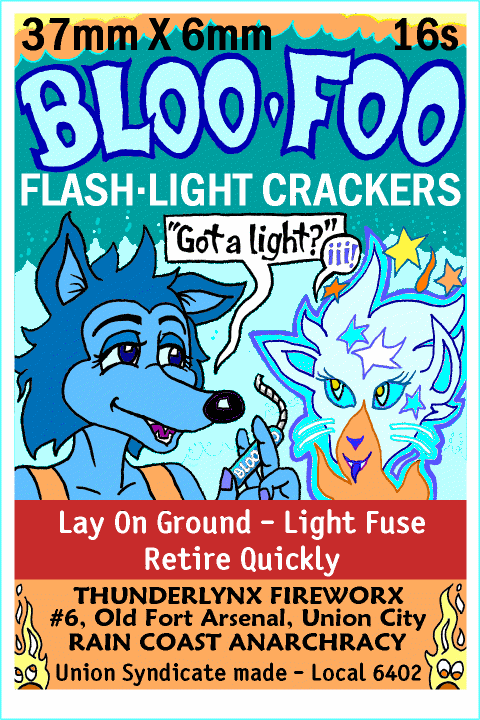 "Bloo-Foo" firecracker pack label
, circa 1933 - by Ken Fletcher
Smaller size
here
(151 KBytes)
Here's a label from an imported small firecracker pack
manufactured by a Rain Island industrial co-op syndicate.

"The BLOO-FOO label features an edgy animation character,
Baybee the Blue Fox, and an artist's interpretation
of 'Blueflicker', one of the named fox-fire kami
of the islands. Older Rain Islanders would
expect happy fireworks to be the result
of such a meeting. (Mz. BlueFox is not expected
to be a role-model in firecracker safety,
as seen in a couple of her public-service animations.)"


---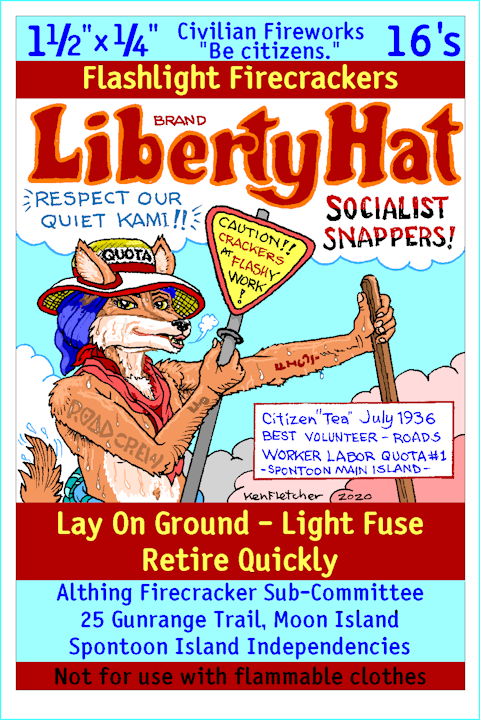 ***
"Liberty Hat" firecracker pack label
- by Ken Fletcher ***
Larger file
here
- ( 63.4 Kbytes)
"A label for a small pack of firecrackers from Spontoon Island, sometime
after July 1937. Spontoon Island is in a fantasy version of the North
Pacific Ocean, and is a regional commerce and political center for a
diverse archipelago of small island populations. Public works are
usually run by elected political and economic committees.
Labor on public works projects is repaid in money, exchanged favors, and
prestige. Physically intensive labor (such as road construction and repair)
is paid at a premium, but donated labor for projects (at token amounts
of pay) is very welcome, and quite often repaid in political favors and
prestige. Here we see a student at a local boarding academy (Nicknamed
"Tea" by her work crew comrades), a citizen of a foreign nation, who is
also a "scholastic-citizen" of Spontoon Island while she is attending the
Songmark Aeronautical Academy For Young Ladies. Her volunteer efforts
in helping repair roads as a citizen of her adopted island are rewarded
with her image on a 1937 print-run of locally-produced firecracker
labels. Her work efforts also earned her the prestige of wearing the
monthly 'production quota' hat. (She seems to appreciate the honors,
perhaps because her home country was more inclined to having
mandatory public works projects. She finds actual
volunteer projects to be very sincerely uplifting.)"

I believe that the image is based on a black & white photograph taken
that July by a work comrade (and companion) living at a Spontoonie
local village. A daring photo to be taken under such informal
circumstances: It might be misunderstood back home in the
People's Republic of New Haven! Resulting personal & political
self-critiques (with the companion, at a private viewing of the
developed photographs) were satisfactorily resolved after
intense dialectical analysis and co-operative
resolutionary action ("in bed").
---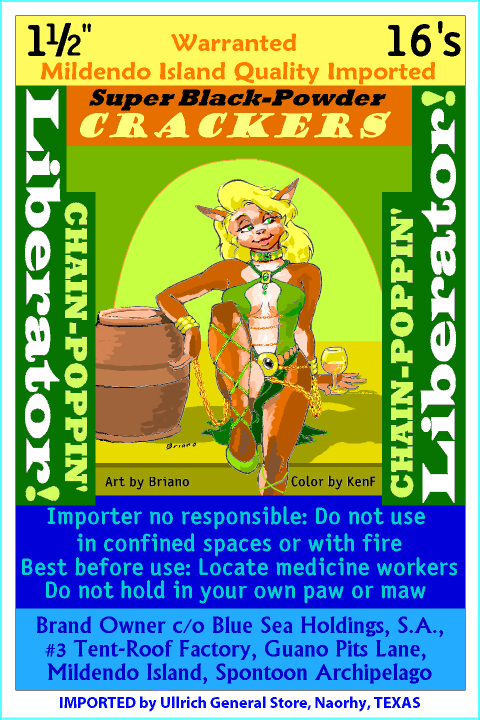 *
"Chain-Poppin LIBERATOR" firecracker pack label
(Circa 1939) *
Larger file
here
(256-color, 1.3 MBytes)
Smaller file
here
(16 million color, 450 KBytes)
Lower color-resolution (256) files
here
(338 KB) &
here
(151 KB)
Idea by Reese Dorrycott -
http://www.furaffinity.net/user/kenoscope/
Art by Briano (used with permission) - Color & text by Ken Fletcher
"Mildendo Island, in the Spontoon Archipelago, is more of a
'Buyer & Trader Beware' sort of marketplace. That includes
their very traditional & very scary fireworks factories.
They do have some astounding firecracker brands & labels.
This label may refer to current events in Kuo Han during 1939.
This is part of a batch special-ordered by (and exported to) a
distributor in Texas (a region of the United States)
via export co-ops and shipped from Spontoon Island."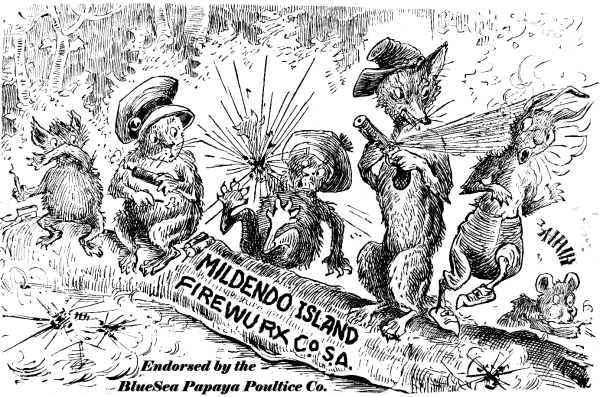 Mildendo Island fireworks promotion (circa 1920)
(Careless kids with fireworks)
** Concept & art (likely) by Palmer Cox (circa 1885?) **
Larger file here (931 KBytes)
Ad text modified by Ken Fletcher - original image in Public Domain.
The original *may* have been a reprint of a cartoon, on something like a postcard,
with advertising text added to the art, and distributed for free (or at very low cost?)
to potential retail dealers or customers. The original ad was for a first-aid salve.
The collectors may have displayed the cards on walls in homes or shops,
or saved them in albums or scrapbooks.
---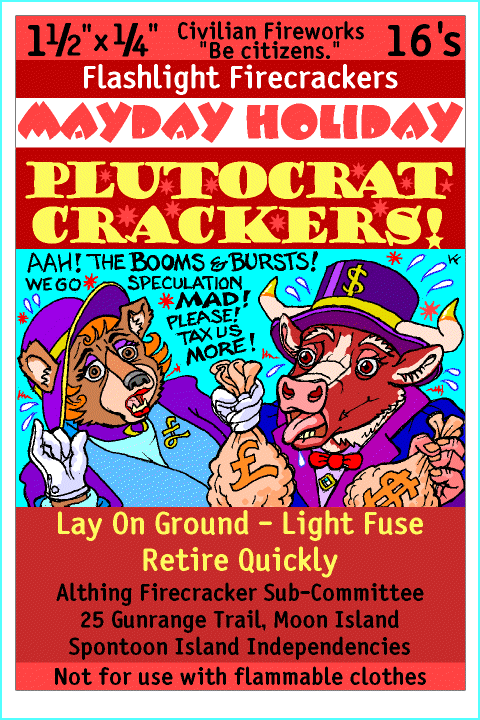 *
"Plutocrat Crackers!" firecracker pack label
, circa 1931 *
by Ken Fletcher
Smaller file
here
- (151 KBytes)
"Firecrackers from a local Spontoon co-op factory.
MayDay is one of the more political of the Spontoon Island
holidays. The causes of the world-wide Great Depression
were much discussed in the villages' democracy sub-committees.
This label may also display the Spontoonie sense of irony."


---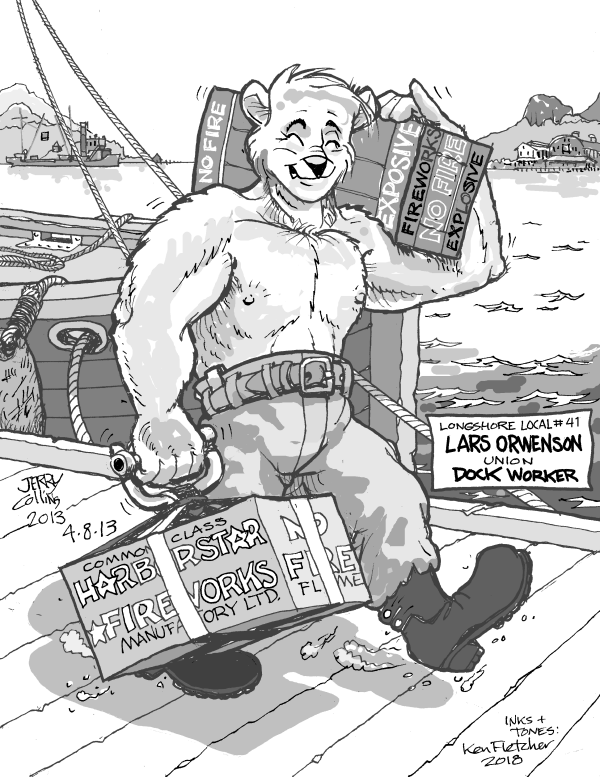 "Lars Orwenson - Dock Worker"
(Spontoon Island Lagoon)
by Jerry Collins - inks & tones by Ken Fletcher
Larger file
here
- (1.9 MBytes)
(Uploaded 21 February 2018)
---