Spontoon Island
home
-
contact
-
credits
-
news
-
links
-
history
-
maps
-
art
-
story
comic strips
-
editorial
-
souvenirs
-
Yahoo forum
First posted 22 September 2015
* Update 9 June 2016 *
** Update 27 July 2017 **
Fireworks Stand
Local and imported fireworks
for Spontoon Island 1930s festive occasions
---
"Lay on ground; light fuse; retire quickly."


(Traditional safety phrase printed on the labels for common civilian firecrackers.)

---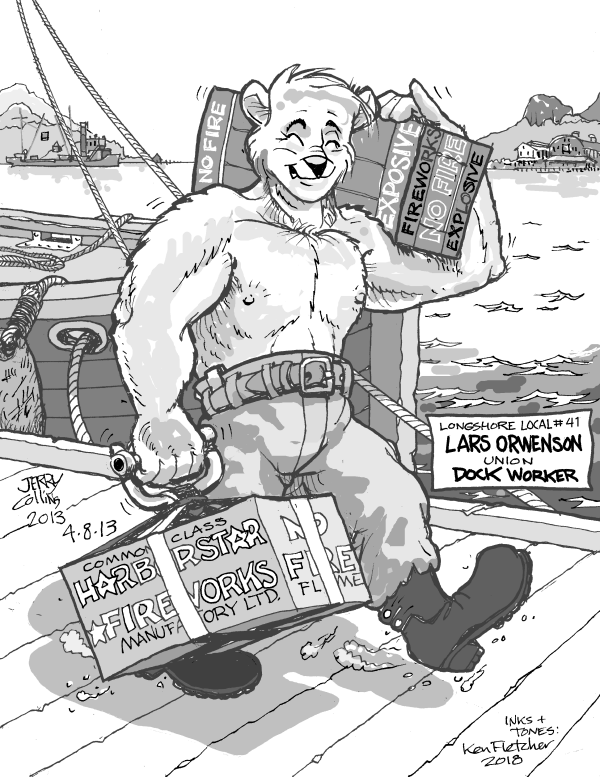 "Lars Orwenson - Dock Worker"
(Spontoon Island Lagoon)
by Jerry Collins - inks & tones by Ken Fletcher
Larger file
here
- (1.9 MBytes)
(Uploaded 21 February 2018)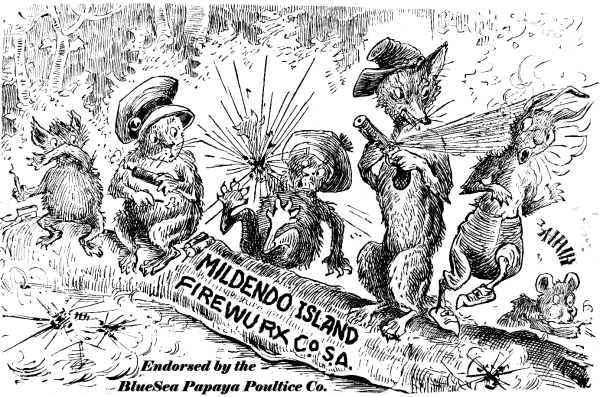 Mildendo Island fireworks promotion (circa 1920)
(Careless kids with fireworks)
** Concept & art (likely) by Palmer Cox (circa 1885?) **
Larger file
here
(931 KBytes)
Ad text modified by Ken Fletcher - original image in Public Domain
The season of fireworks stands is approaching:
In the 1930s on Spontoon Island, there was a thriving regional trade
in importing and exporting fireworks. The local co-ops
distribute fireworks to the region of the Spontoon Archipelago
and to some of the other nations in the Pacific region.
There are also some small local fireworks factories.

Spontoon Island often has fireworks during local
celebrations: New Year's, May Day (Labor Day),
Proclamation Day (a Rain Island holiday), during
Speed Week (at limited times & locations), during Summer
and Winter Solstices, and at Hoopy Jaloopy.

On Spontoon Island there are some locations and times
that are intended to be fireworks-free, to lower
the stress on some of the local population.
This population includes local wildlife and plants,
and the priestesses who are the protectors
of local ecology and ambient sounds.
See your local school or militia organization
for times and locations for fireworks.

Rain Island has some holidays celebrated with fireworks.
Proclamation Day is the anniversary of the founding
of the Rain Coast Republic, 12 June, 1885.
This holiday is also celebrated on Spontoon Island,
in support of the Moon Island naval base and
shareholders of the Rain Island Naval Syndicate.


---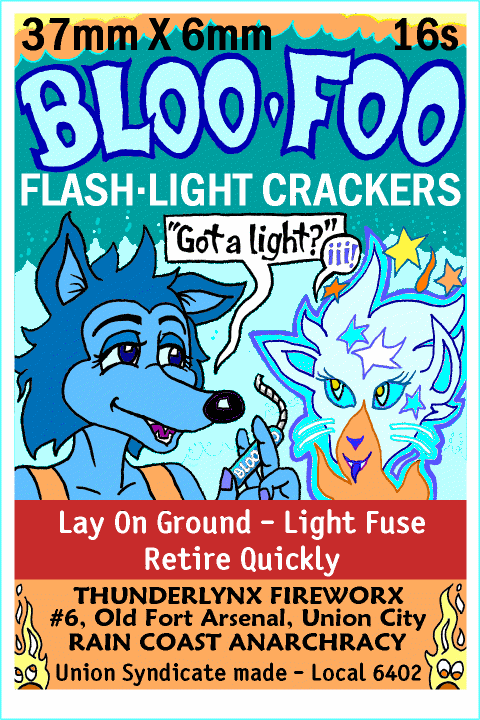 "Bloo-Foo" firecracker pack label
, circa 1933 - by Ken Fletcher
Smaller size
here
- (151 KBytes)
Here's a label from an imported small firecracker pack
manufactured by a Rain Island industrial co-op syndicate.

"The BLOO-FOO label features an edgy animation character,
Baybee the Blue Fox, and an artist's interpretation
of 'Blueflicker', one of the named fox-fire kami
of the islands. Older Rain Islanders would
expect happy fireworks to be the result
of such a meeting. (Mz. BlueFox is not expected
to be a role-model in firecracker safety,
as seen in a couple of her public-service animations.)"


---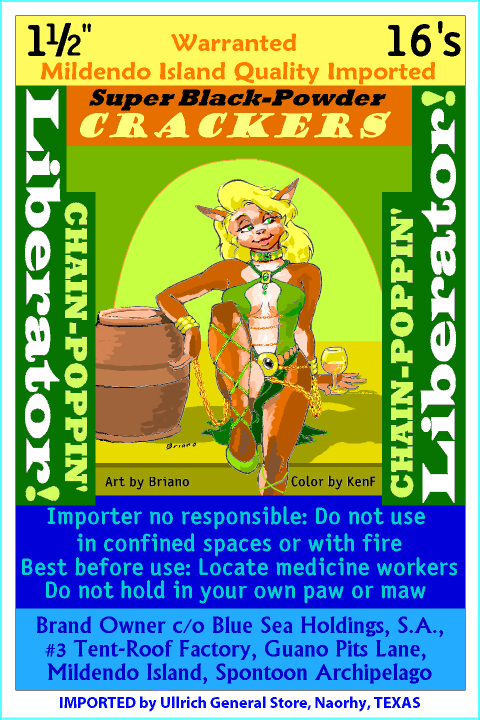 *
"Chain-Poppin LIBERATOR" firecracker pack label
(Circa 1939) *
Larger file
here
(256-color, 1.3 MBytes)
Smaller file
here
(16 million color, 450 KBytes)
Lower color-resolution (256) files
here
(338 KB) &
here
(151 KB)
Idea by Reese Dorrycott -
http://www.furaffinity.net/user/kenoscope/
Art by Briano (used with permission) - Color & text by Ken Fletcher
Mildendo Island, in the Spontoon Archipelago, is more of a
'Buyer & Trader Beware' sort of marketplace. That includes
their very traditional & very scary fireworks factories.
They do have some astounding firecracker brands & labels.
This label may refer to current events in Kuo Han during 1939.
This is part of a batch special-ordered by (and exported to) a
distributor in Texas (a region of the United States)
via export co-ops and shipped from Spontoon Island.


---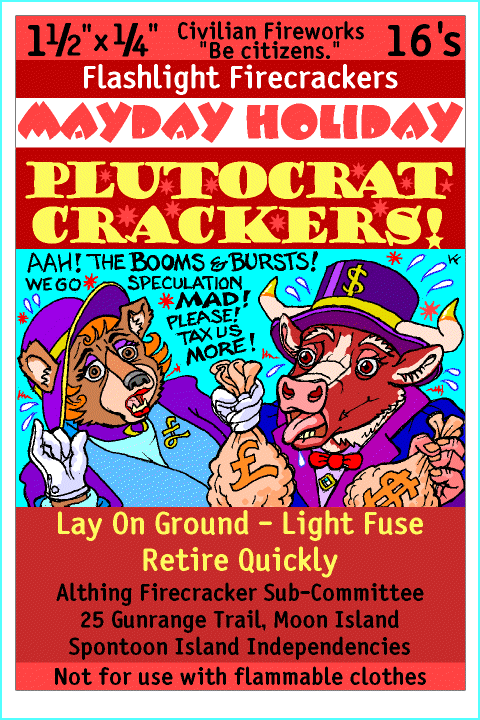 *
"Plutocrat Crackers!" firecracker pack label
, circa 1931 *
by Ken Fletcher
Smaller file
here
- (151 KBytes)
Firecrackers from a local Spontoon co-op factory.
MayDay is one of the more political of the Spontoon Island
holidays. The causes of the world-wide Great Depression
were much discussed in the villages' democracy sub-committees.
This label may also display the Spontoonie sense of irony.


---