May Day celebrations!
Festival greetings from the
Spontoon Islands!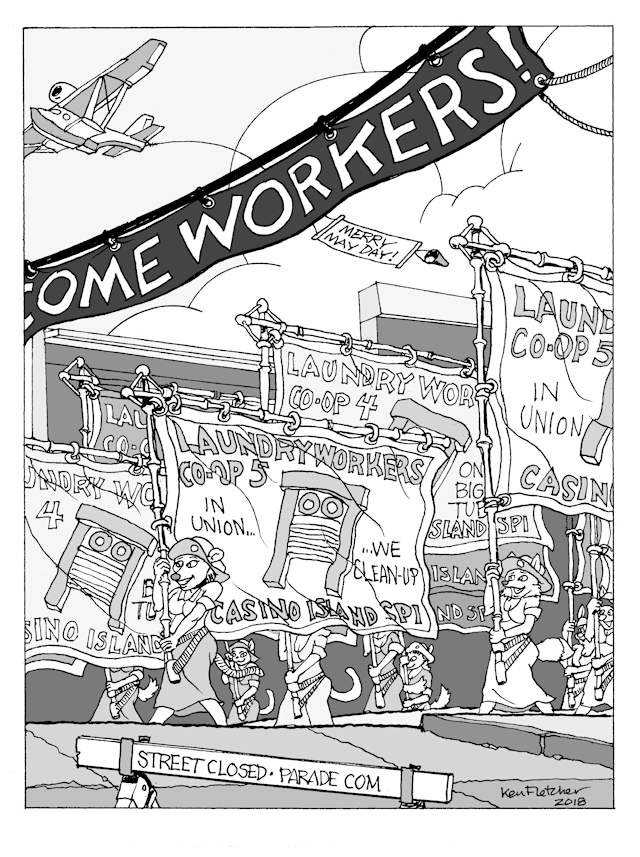 A May Day Parade, 1933, Spontoon Island: Laundry Workers Co-op Union
** Cartoon by Ken Fletcher (Larger file
here
- 307 KBytes) **
A scene from a Spontoon Island May Day parade, circa 1933.
Union hotel & resort workers parade on the urban Casino Island. The week after
May Day is the start of the summer tour-boat season, so some of the May Day events
are celebrating the pre-opening fix-up and clean-up of hospitality housing,
plus the arrival of seasonal workers from the other Spontoon Archipelago islands.

Spontoon Island has a May Day Spring festival and week-off for the
workers getting ready for the tourist season. The restaurants, hotels,
resorts, & seasonal shops have to be prepared by the first week in May,
when the cruise ships begin to arrive. Cleaning and last minute repairs
have to be done. Furniture & furnishings are brought out of storage.
Supplies are distributed from the co-op warehouses. New seasonal
workers from the more distant Spontoon Archipelago islands are
arriving at their seasonal 'long-houses' for orientation and training.
Preparing for the Tourist Season

May Day is a welcoming party in the Spontoon Atoll,
and also is the Spontoonie 'Labor Day'.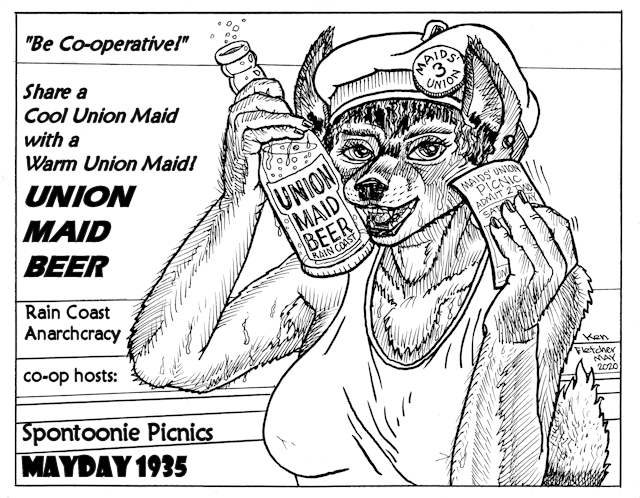 **
Co-op Picnic (Union Maid Beer ad)
(Larger file
here
- 324 KBytes) **
Cartoon by Ken Fletcher
"A promotion of the Spontoon Island 1935 May Day holiday picnics,
from the Union Maid Brewery of Sealth City, Rain Coast Anarchracy.
The brewery will subsidize some of the beverage service at
some of the neighborhood and union syndicate picnics.
There are other local syndicate soft-drink bottlers
and toddy breweries that will also contribute
refreshments and work to the picnics."
May Day Parades
Rivals (small fish processing co-ops, 1935 May Day parade)
(Larger file
here
- 135 KBytes) - cartoon by Ken Fletcher
(kids singing satirical songs about each others fishery products)
"Miliku, the good trickster, leads the Bad Luck Bird from the village."
Spontoon Island May Day festival 1932 (Larger file here - 305 Kbites)
Jerry Collins, concept & art - Inking Ken Fletcher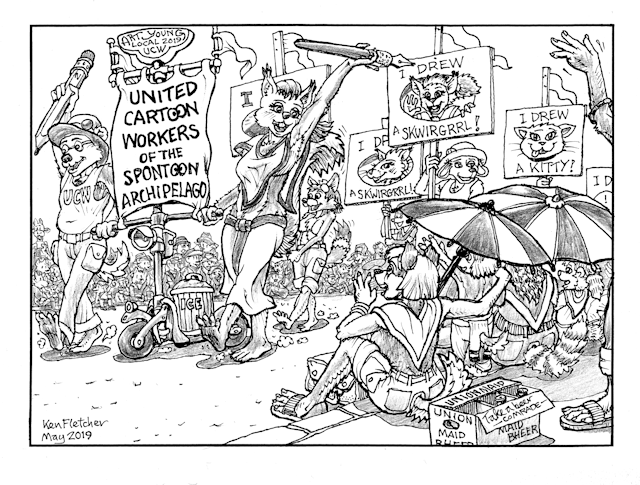 A marching unit in a 1935 May Day parade on Spontoon Island.
Cartoon by Ken Fletcher - (Larger file here- 463 KBites)
This is a unit of funny animal cartoonists who are in a 1930s union
on the island. These are most likely part-time cartoonists,
unless they are very active in mailing cartoons to publications
throughout the Pacific Ocean region and the wider world.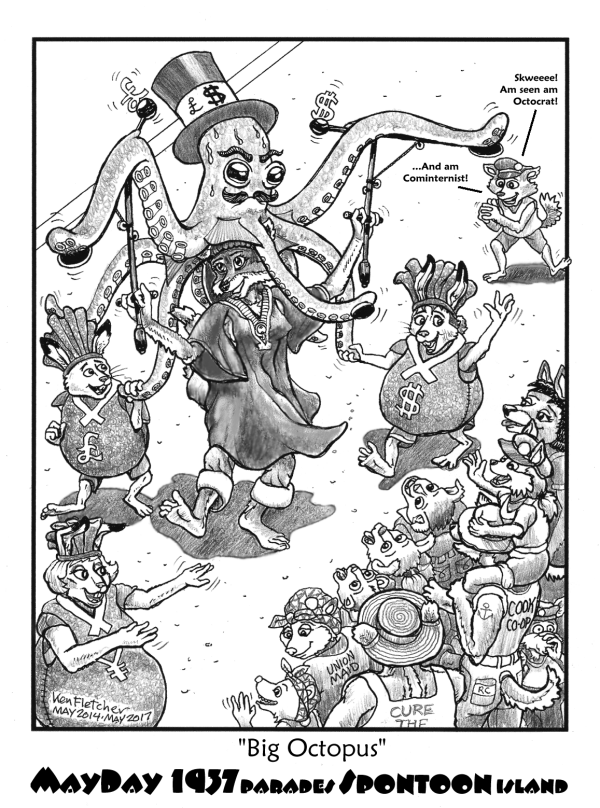 "The Big Octopus" (parade float)
- by Ken Fletcher - Larger file
here
(1 MByte)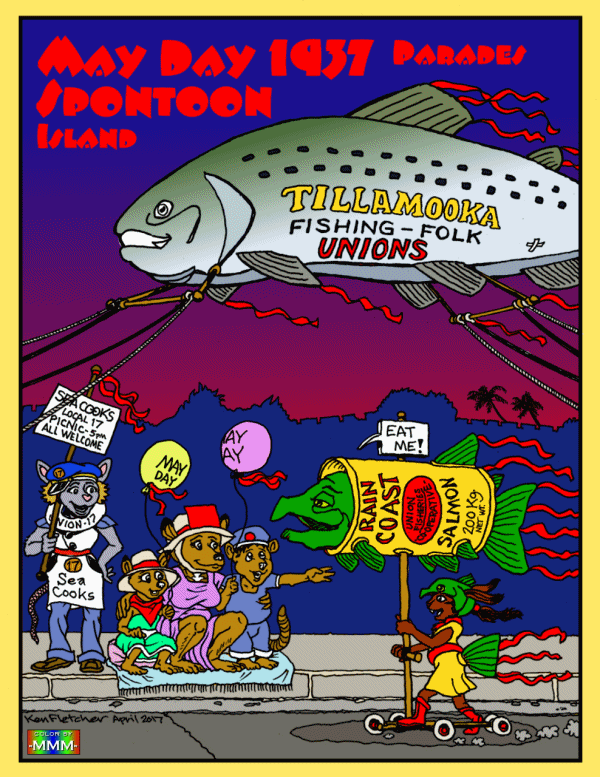 May Day Parade 1937: The Big Fish (Salmon Float)
Color version by MMMarmel.
* Ken Fletcher, inked lines. Larger file
here
(4.8 MBytes) *
http://www.furaffinity.net/user/marmelmm/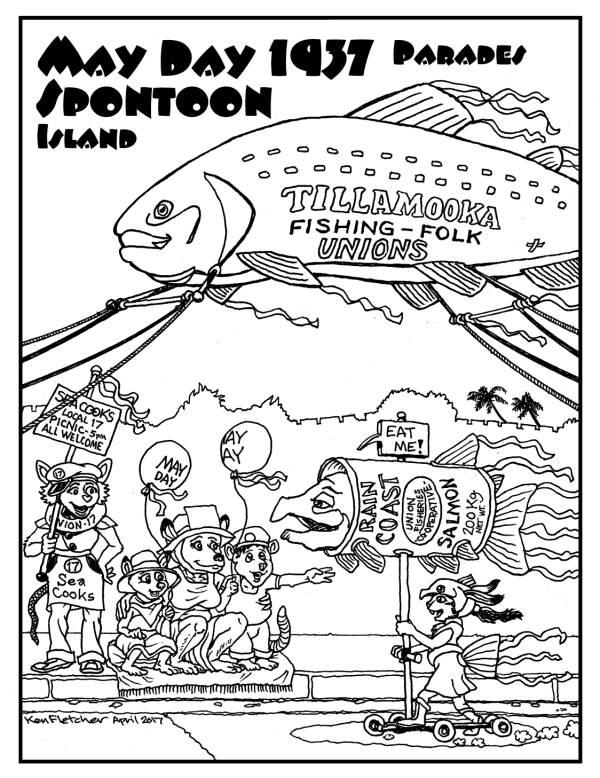 *
May Day Parade: 1937 - The Big Fish (Salmon Floats)
- by Ken Fletcher *
May Day webpage
here
. Larger file
here
(1 MByte)
There are several parades during May Day - Some parade groups travel from
island-to-island around the Spontoon Lagoon. This view may be on South Island.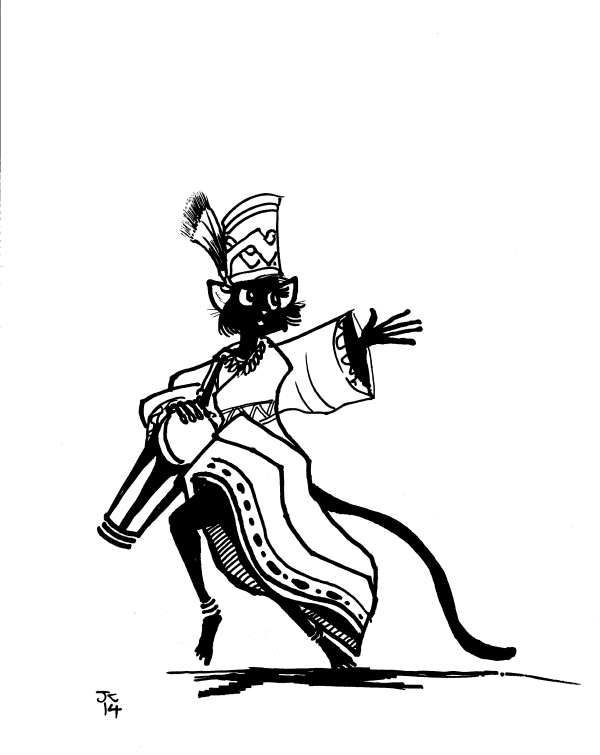 Dancer/Drummer:Drummer/Dancer
- by Jerry Collins
Larger file
here
(997 KBytes)
Uploaded 28 January 2015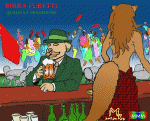 May Day parade
- by Mauricio Tavares;
color by M. Mitchell Marmel -
Larger color size version
May Day Picnics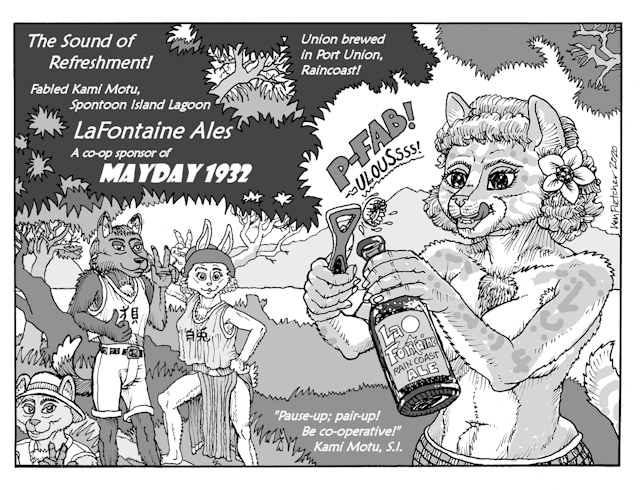 **
May Day Picnic - Kami Motu
(island) - ad for LaFontaine Ale (1932) **
(Larger file
here
- 371 KBytes) - Cartoon by Ken Fletcher
"We see 4 new friends, starting to open some (imported) bottles of the sponsor's ales,
and giving a local bar-signal for "2 beers; one for my partner".
One picnic pair may be of Japanese culture, or they may be doing a 1932 version
of 'cosplay'. If so, that is very time-binding, with a science-fiction flavor."
"A typical ad from one of the manufacturing syndicates sponsoring events at the
Spontoon Island May Day celebrations. This ad hints at possible public places to go
and events for participation. The ad would likely appear in souvenir program
books, and local magazines and newspapers. The sponsors provide supplies
and services used during events for the local Spontoonies, and for Summer-seasonal
workers from other islands, and even a few high-income tourists (arriving early
before the regular cruise-ship season)."

"This ad promotes the ale brewed by the sponsor, and shows one of the picnic areas
in the Spontoon Island Lagoon. "Kami Motu (island)" is small, charming, and
400 years ago became the focus of much bad Lovecraftian physical & spiritual trauma.
It was very much rehabilitated in the 1800s by an unusual local coalition,
and by 1932 has had a reputation for many years as a small island for
romantic picnics and overnight camping.
The motu's current Guardians make sure of that...."
Or so is the fable, endorsed by the tales of
LaFontaine Ales....
(Brewed in Union City, Rain Coast Independencies)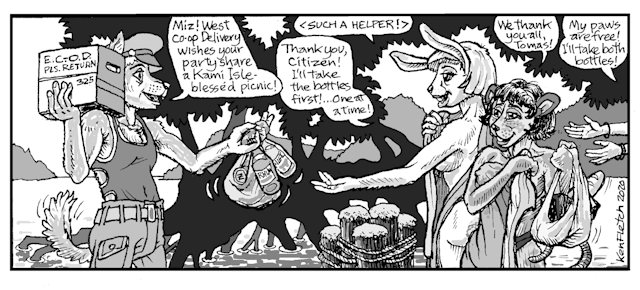 **
Picnic on Kami Motu (delivery)
(Larger file
here
- 242 KBytes) **
Cartoon by Ken Fletcher
"Picnic supplies are delivered to a party of tourists on Kami Motu, a small island in the
Spontoon Island Lagoon. (Circa 1935) Tomas, a Spontoon native from Main Island,
is delivering picnic meal supplies (for a private picnic camp) from his village's
co-op grocery. Supplies come via a small boat owned by a delivery co-op.
The food and delivery will be billed to the tourists via the management
of their Eastern Island resort. These tourists have worked with Tomas
before, and there is some cautious mutual trust. The tourists have been
observed and found to be able to listen to advice, and have been judged
to be well behaved. They were allowed to be told of the recent legends
of Kami Motu, and when they asked, they were given permission to camp
on the motu for an overnight picnic. Tomas has agreed to help with supplies
and transportation, and the tourists have met the motu's actual guardians
for this week. (Moon Priestesses, possibly. They have more experience working
with foreign-culture tourists.) (The guardians have shown the location of
their own camp, on the other side of the motu, which may be near
the shelter that has the telegraph connection to Meeting Island.)"

Kami Motu has been seen in some of the stories about the
Spontoon Lagoon, and is a featured location in a few of them.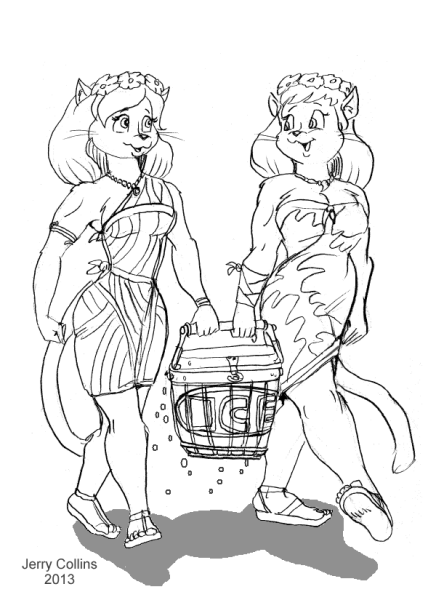 Ice Bucket to the Picnic
- by Jerry Collins
(Larger file
here
- 484 KBytes)
(Upload 1 May 2015)
May Day Dances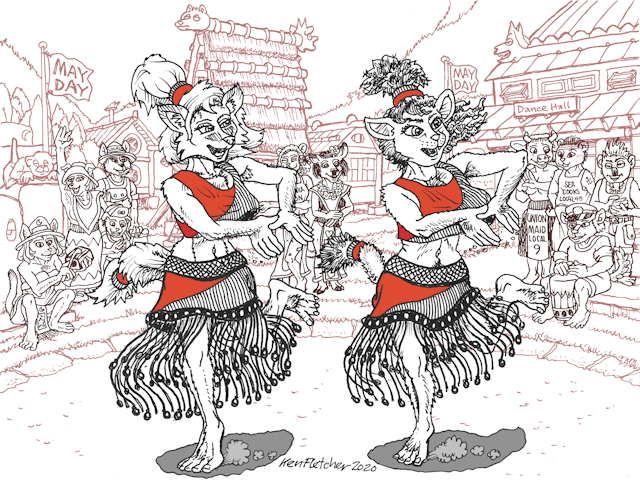 *
Dancers ("S.55" seaplane hula) in village - May Day 1931
*
By Ken Fletcher - Larger file
here
"Members of the Hula-Hula Union ("One Big Hula!") dance in a village
hula-circle during the Spontoon Island May Day in 1931. Public dances
are part of the community celebrations, along with other performances,
and also public picnics, parades, & parties.

"These two dancers are doing the "S.55", a hula inspired by one of
the seaplanes of an international aviation service that refuels at the
Spontoon Lagoon during long-distance Trans-Pacific flights. This is
a dance from the Rain Coast, an allied distant nation in North America,
as can be seen by their dance costumes, with the distinctive
red & black patterns on the skirts and loose blouses."

"Miz Kiki in her May Day colors (black & red) swimsuit."
Art & design by Chaotikat -
http://www.furaffinity.net/user/chaotikat/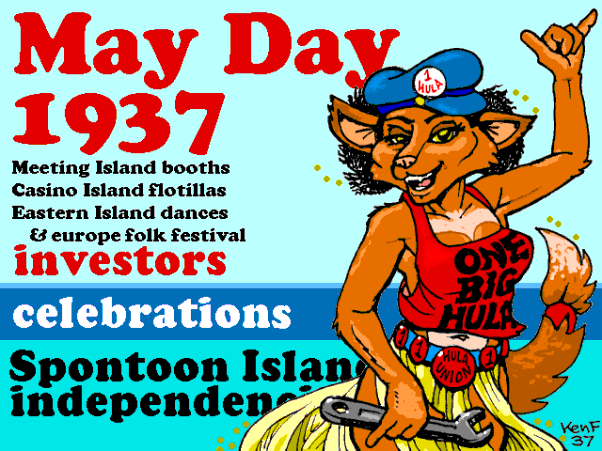 Hula Union poster 1937
by Ken Fletcher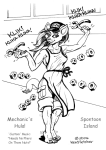 Mechanic's Hula
by Ken Fletcher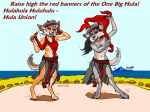 Mature image
"Red Banner" Hula
by Ken Fletcher
Anarcho-syndicalist frisky
hulahula
to celebrate the coming of Summer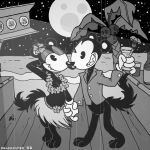 Weasels celebrate
(by Brainsister)
http://www.furaffinity.net/user/brainsister/
May Day Stories
"The Dance"
by Walter Reimer
The origin of an excellent May day dance, from 1918
to May Day, 1935 >
Adult Situations
<
"Huntress Hula"
by Walter Reimer
A Legend from Spontoon Island telling of
Vairea-daughter-Teva and the origin of May Day celebrations
"Banner of Flame"
by Walter Reimer
May Day, 1929, for a small town on Rain Island
"Red Wednesday"
by Walter Reimer
May Day, 1935, with the Ni family on Krumark Island
"May Day"
by E. O. Costello
May Day, 1937: Miss Baumgartner & Inspector Stagg
pay a visit to Dr. Meffit's walled garden
"Break Away" Part 1
by M. Mitchell Marmel
Rosie Baumgartner shares some May Days from 1937, 1938, & 1930
Illustrated with a
Mature
Artistic study by Seth Triggs (nudity).
"It Happens Every May Day"
by E. O. Costello
Kara Karoksdottir tells you of a typical May Day celebration with her family.
"The Meaning of MayDay"
by John Urie
May Day 1938 (with an illumination by Taral Wayne)
May Day Art Archive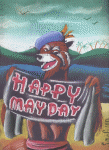 May Day greetings - by Stuart McCarthy
(larger image here - 1.8 MBytes)

http://duraluminwolf.deviantart.com/
http://www.furaffinity.net/user/duraluminwolf/
http://us.vclart.net/vcl/Artists/Duraluminwolf/

Union Maid beer poster 1937
by Ken Fletcher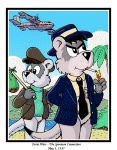 *
May 1, 1937
- Characters & art by M. Estrugo *
http://www.artiecoon.com/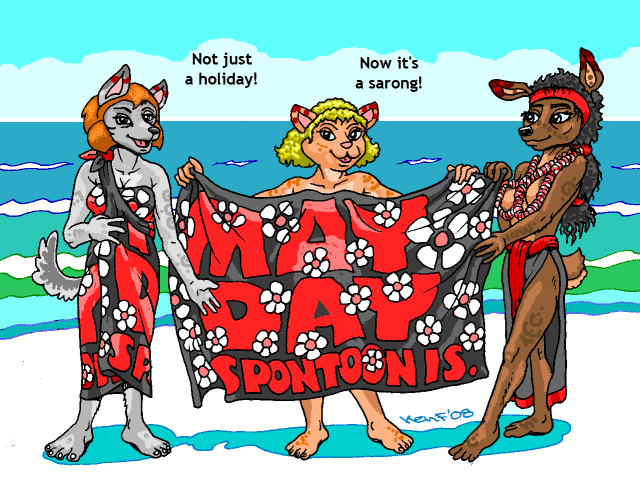 May Day Banner (by Ken Fletcher)

A souvenir of the recent MayDay holiday on Spontoon Island:
An enlarged label from a pack of firecrackers.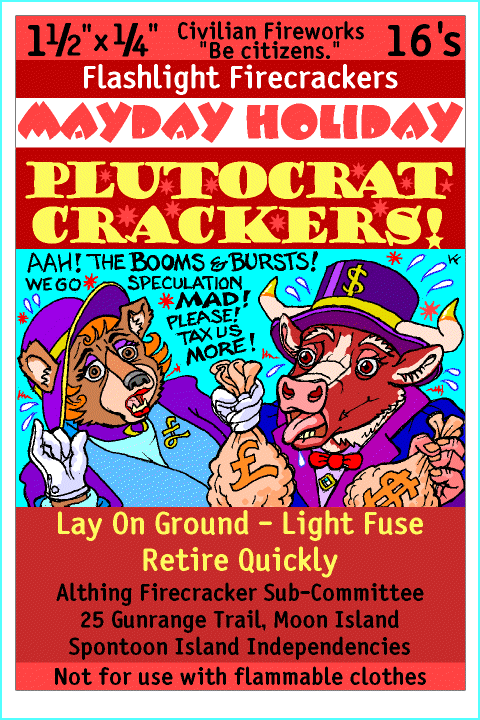 "Plutocrat Crackers!" firecracker pack label
, circa 1931
by Ken Fletcher
Smaller file
here
- (151 KBytes)
Firecrackers from a local Spontoon co-op factory.
MayDay is one of the more political of the Spontoon Island
holidays. The causes of the world-wide Great Depression
were much discussed in the villages' democracy sub-committees.
This label may also display the Spontoonie sense of irony.
(Uploaded 16 June 2016)