The Schneider Trophy
by R.J. Bartrop
(special correspondent to the
Island Birdwatcher
)
The Coupe d'Aviation Maritime Jacques Schneider, also known as the Schneider Trophy, or the Schneider Cup (despite the trophy's total lack of resemblance to anything even vaguely cup- shaped) was founded by Jacques Schneider in 1912 to promote seaplane development. The race took place over a 150 mile course (expanded to 212 miles in 1921), and the aeronautical club that won three times in the course of five years would win permanent possesion of the trophy, as well as a prize of 70,000 Francs. Each aero club was allowed three entries, plus three alternates, and the race would be held in the country that won the previous race.
Now, rather than retell the entire history of the race, the cup finally ended up in British hands in 1931 when they ran unopposed, as the French and Italian entries were not ready in time. The Italian entry, the v-24 powered Macchi-Castoldi MC.72, was eventually used to set a speed record for propeller driven seaplanes (440 mph) that still stands to this day.
In the Spontoon universe, they managed to get it ready in time and win the 1931 Schneider, and again in 1933. For 1934, with the only other entry being a modified GeeBee sponsored by the Spontoon Island Racing Association (SIRA), a third and final victory seemed a certainty. However, the Italian team lost two of their entries in a hangar fire, and the third retired from the race when an oil line ruptured, leaving the Spontoon entry to take the trophy, and Spontoon Island would be the site of the next race.
Realizing the potential boost for tourism, a few enterprising Spontoonians worked hard to impress FIA officials with Spontoon Island's suitability for not only the upcoming race, but as a permanent site for the competition. They sweetenned the deal with a larger prize, and all-expense paid trips to Spontoon for members of the relevant sanctioning bodies. Swayed by the natural beauty of the island, the enthusiasm of SIRA members, and more than a few Pineapple Krakatoas, the FIA revised the rules for the Schneider Trophy, and Spontoon became it's permanent home, becoming the centrepiece if the SIRA's Speed Week, held in the last week of August.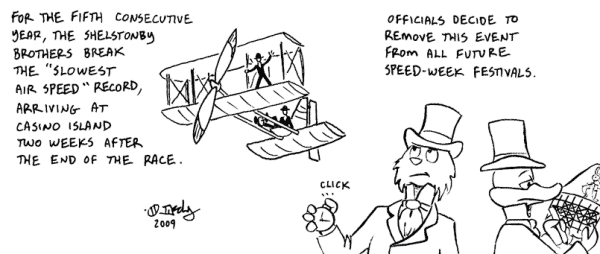 The Slow Race by JWKennedy (larger version here)
http://docphlogiston.tripod.com/