Spontoon Island
home - contact - credits - new - links - history - maps - art - story
comic strips - editorial - souvenirs - Yahoo forum
* Upload Jerry Collins & Ken Fletcher art - 30 March 2021 *
aircraft bases
art & reference archive for aircraft-related contributions
of a 1920's through 1945 flavor, that could easily
find a place to land on the Spontoon Islands
[including pulp-story & dieselpunk aircraft]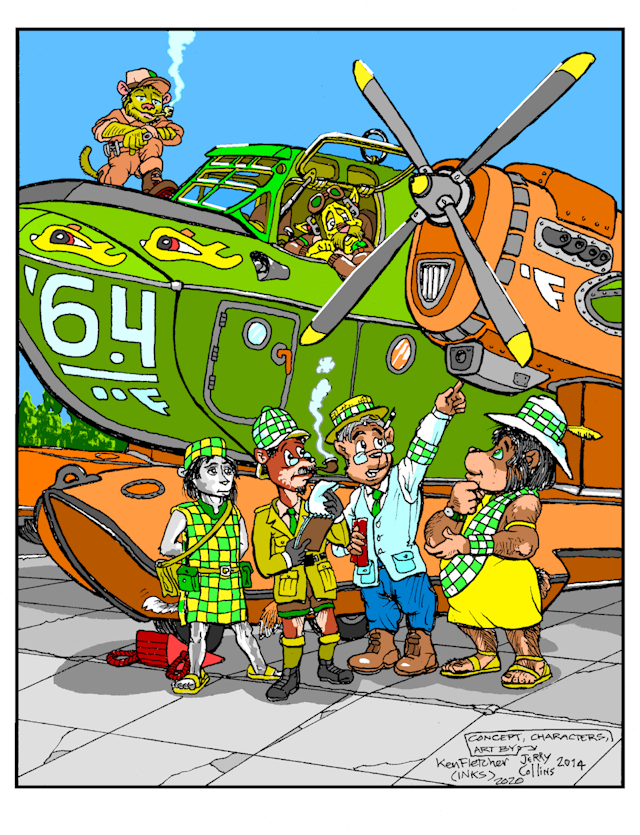 Speed Week: Racing Aircraft Inspectors
Concept, characters, art by Jerry Collins- Inking & color by Ken Fletcher
(Larger file here - 234 KBites) Upload 30 March 2021

Racing officials inspect a competing floatplane. Speed Week 1935,
on the Spontoon Island Lagoon. The aircraft and the crew are checked
on their understanding of the air-race rules, and their compliance with
technical standards. The 4 inspectors in the foreground are wearing
the checky-marked accessories of technical inspectors. The one on the left
is an apprentice with the green-&-yellow check of the race-course field judges.
One tech judge is pointing out the installationof a Veeblefitzer & Courtney
oil pump on one of the two engines of this racing floatplane.


---
---
* Aircraft Tenders *
18 June 2015
Update ship view 31 March 2016
Art by Jerry Collins


Ships that perform supply, repair, & ferry services
for navy & civilian aircraft, including floatplanes,
flying boats, blimps & rigid airships.

---
---
*** Visiting Aircraft ***
(opens to new webpage)
Update of aircraft by Yuri Milovidov 20 November 2017
More images & text of Visiting aircraft
With art by Yury Milovidov, A. E. Karnes, Daniel Salgues,
Markku Immonen, lnago, Roy D. Pounds II, Arthur Filloy,
Kjartan, Aleutian Wolf, & Christolithos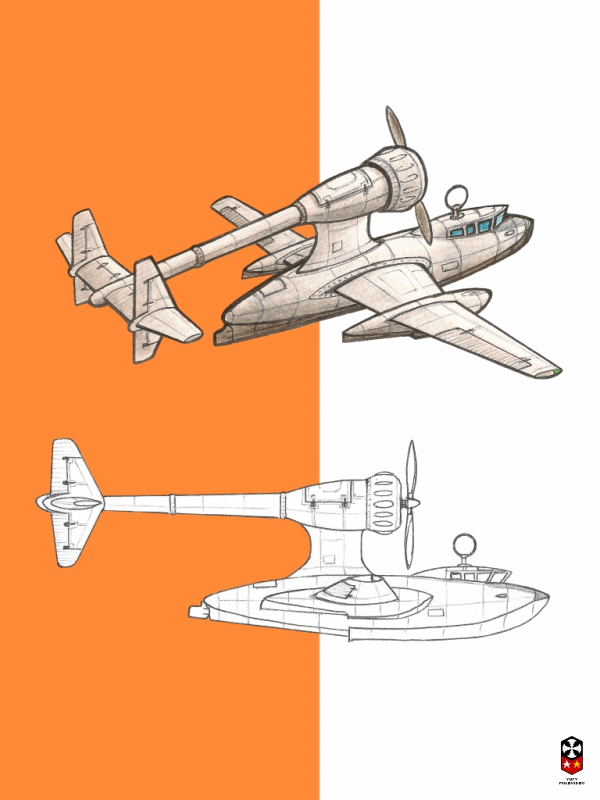 A Starsky Aircraft Corporation mail flying boat, 'Maia'
A fictional aircraft by Yury Milovidov (from the world of the Atlantic Republic)
Larger file here (2.2 MBytes) - https://yurymilovidov.deviantart.com/

From Yury Milovidov's description on DeviantArt archive:
"The Starsky 'Maia' is a late 1920's - early 1930's style flying boat drawn for the Dieselpunk
AU (alternate universe) known as Atlantic Republic. All-metal wings (a novelty feature for
that era) were supposed to be corrosion resistant, which was the idea behind moving them
down to the waterline, eliminating the pylons for stabilizing floats to reduce drag and
thus increase the aircraft speed. The hatch to a small cargo hold is located behind
the engine pylon. Some extra mail (or even a passenger or two) can be placed in
the cockpit behind the pilot."
---
---
"'By the way, have you picked out your plane?' her father inquired.
"'Yes, indeed! It's a Bellanca--they call it Model J 300. Just built for
ocean flights! Oh, Daddy, it has everything to make it perfect!
A capacity for carrying one hundred and five additional gallons
of gasoline, besides the regular supply in the tanks of one hundred
and eighty gallons! And a Wright three-hundred-horsepower
engine, and a tachometer, and a magnetic compass--...."
(Mister Carlton & Linda -

Linda Carlton's Ocean Flight

-
by Edith Cavell
,1931
- page 73)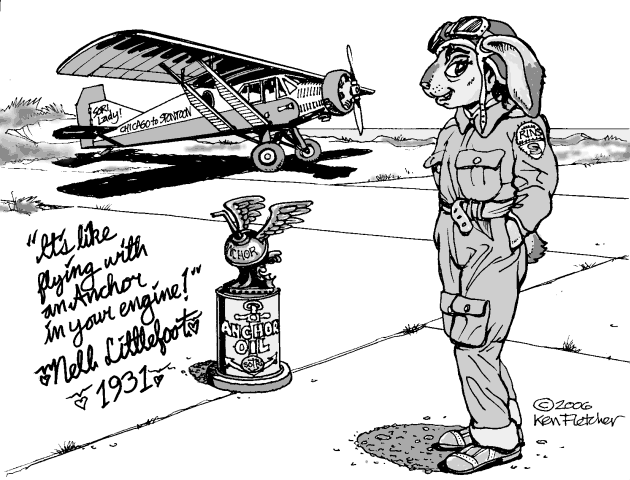 Long-distance flight over the Pacific Ocean to Spontoon Island.
Bellanca J-300 Monoplane 1931 (Ken Fletcher)
"Miss Nell Littlefoot and her Bellanca aircraft 'SORI Lady!' at the end of the Eastern Island runway,
just after completing her long-distance flight (Chicago to Spontoon Island) in 1931. Her navigator
was in later pictures, when they were able to wake him up.
Nell is overcome with awe, admiring her award from the Standard of Rhode Island company,
with their exercise of industrial-aesthetic, the "Oil Over The Waves" Oil Dispenser Trophy.
Her mood became more cheerful when she found out the 2-gallon oil can base was stuffed
full of 20-dollar gold certificates.
This inscription on her autographed photo was only used for a short time."

---
In the Spontoon Archipelago:
Versions of historical aircraft
(opens to new webpage)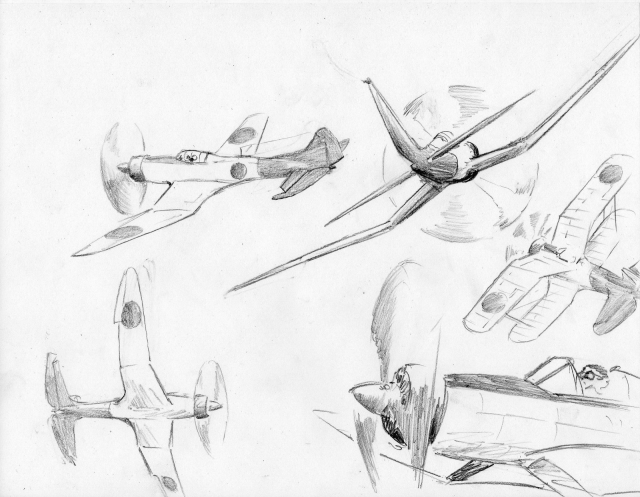 ***** "Chasing Miazaki" by A. E. Karnes *****
Larger file here (1.2 MBytes) - http://paxaeternum.deviantart.com/
"Peacetime gunless A5M that never was."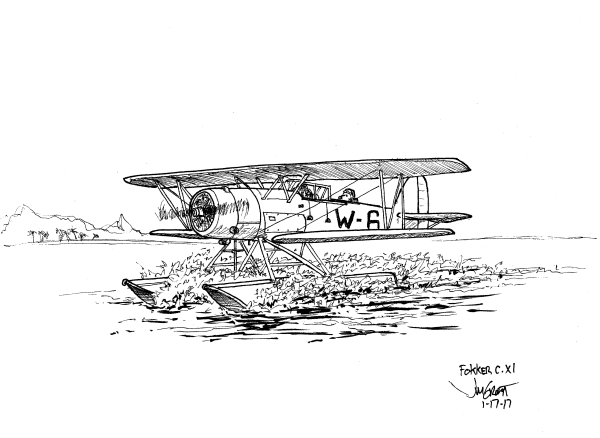 Fokker C.XI-W reconnaissance floatplane (used by the Netherlands Navy).
**** As seen in the Spontoon Archipelago circa 1935 - by Jim Groat ****
Larger files here (457 KBytes) & here (713 KBytes)
http://www.furaffinity.net/user/rabbi-tom/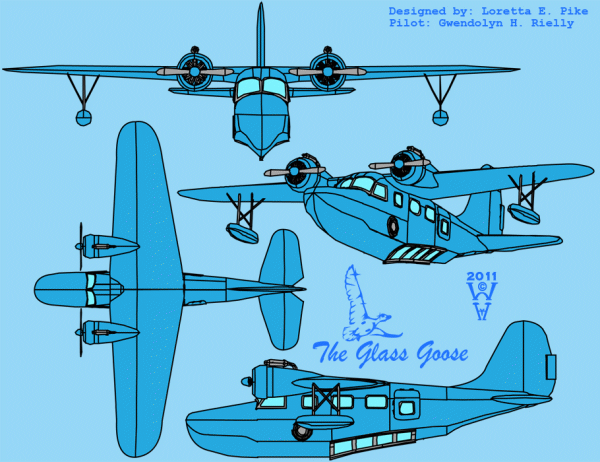 * "The Glass Goose" - privately owned Grumman Goose flying boat *
"4 views by Loretta E. Pike" - Larger files here (624 KBytes) and here (1.8 MBytes)
From the pulp magazine story: "The Gaze: The Glass Goose"
written & illustrated by Warren Hutch - warrenhutch@yahoo.com
Update 28 January 2015
---
---
In the Spontoon Archipelago:
Created aircraft (original designs)
(opens to new webpage)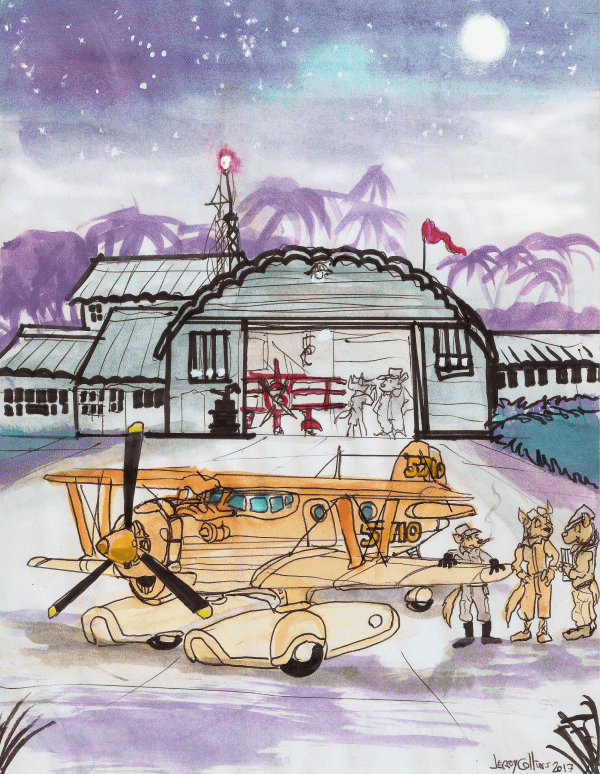 "2:00 am Run" - by Jerry Collins
Larger file here (3.1 MBytes)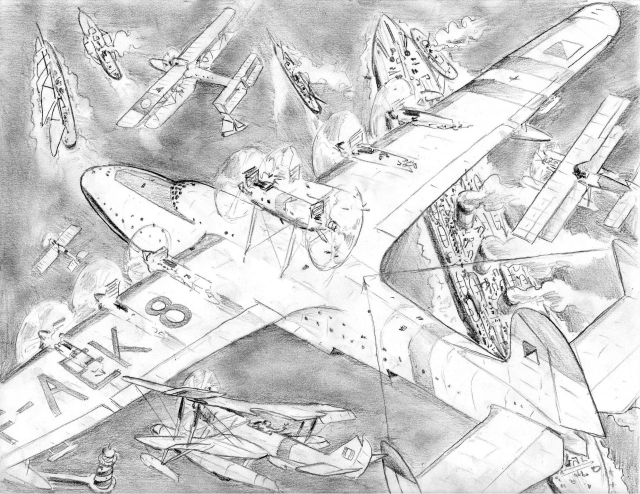 ***** "Chasing Miyazaki III" - by A. E. Karnes *****
Larger file here (1.2 MBytes) - http://paxaeternum.deviantart.com/
***** "A different kind of flying ship" *****


* The "Mary Anne" Seaplane (circa 1934) - by Jerry Collins *
Larger files here (449 KBytes) and here (701 KBytes)
An Emergency/Rescue Biplane Floatplane used by
one of the island nations in the Nimitz Sea region.
Upload 19 October 2015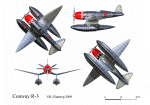 Plan views of the Conway R-3 floatplane - R.J. Bartrop
http://rjbartrop.artspots.com - very large image here (1.3 MBytes)
More images of the R-3 on the Speed Week page.
Updates October & December 2014

---
---
New Section:
** AIRSHIPS **
Balloons, blimps, dirigibles - as sometimes seen
in the skies over the Spontoon Island Archipelago
12 February 2015
Art by Simon Barber, Jerry Collins, & SAGallacci added
** 9 June 2016 - Art by Jerry Collins added **

---
---
Aviation background
In the Spontoon Archipelago:
Seaplane bases
Map of main seaplane terminals in the Spontoon Lagoon
for scheduled passenger & freight flights, including customs sheds.

East dock of the Casino Island Seaplane Terminal.
(This is the smaller regional terminal.)

Aircraft Research
Moon Island wind tunnel (Art by Simon Barber)
Borrowing the wind tunnel to do some industrial research.
Secret Engineering? (Scott Thomas)
---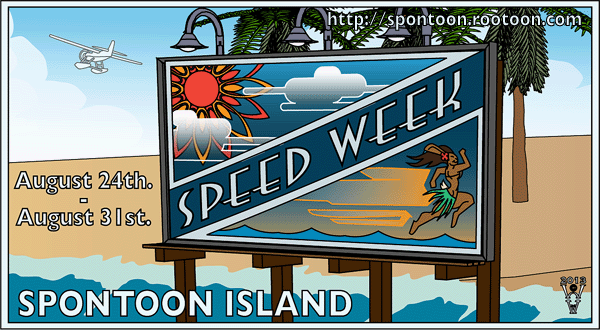 Speed Week billboard on beach - by Warren Hutch
http://www.furaffinity.net/user/warren/ - warrenhutch@yahoo.com

Speed Week Links Here!
** - including aircraft racing - **
More aircraft at the air races!
"Speed Week" in the Spontoon Archipelago & other racing aircraft
Update 24-31 August 2016
See Beryl's modified Spitfire at the 1946 trophy races....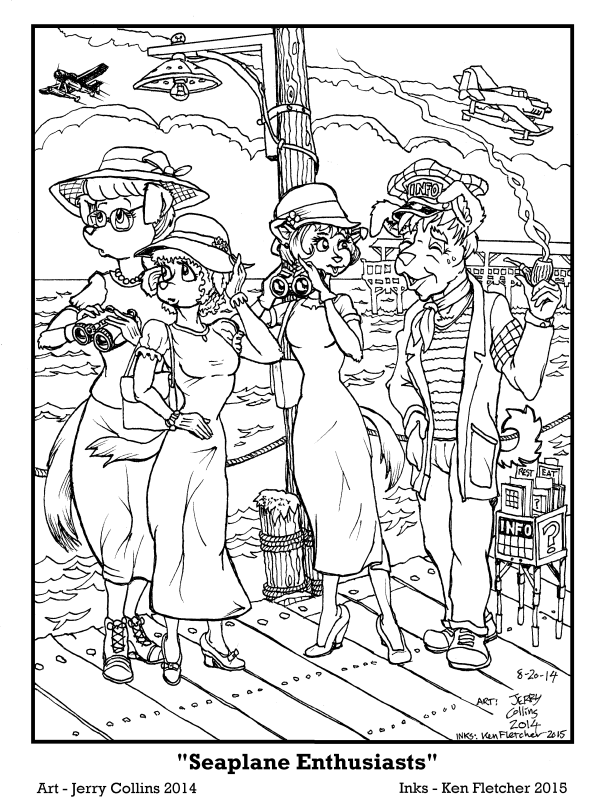 * "Seaplane Enthusiasts" by Jerry Collins - inks by Ken Fletcher *
A family of tourists watches seaplane time trials in the Spontoon Lagoon
during Speed Week - With commentary by a Racing Committee Guide.
Larger file here (2 MBytes)
Upload 29 April 2015

---
Aircraft basics
Features a "Beginner's Guide to Airplanes" by M. Mitchell Marmel

Aircraft References: Photos & Art
A sampling of real aircraft from the 1930s & early 40s.
Why Seaplanes?
Comments on 1930s air transport
by Ken Fletcher
(Upload 8 September 2008)
Aircraft identification and decoration
"Nose Art"
Update 5 October 2009: Nose art by Stuart McCarthy

---
Mechanics
Someone's got to keep everything running....
(opens to a separate webpage)
Uploaded 24 December 2008: (collecting old & new contributions)
Update 19 March 2010

---
Flight crews
"...'It makes you feel quite superior to a seat-of-the-pants pilot like me.
But I'll take an airplane, a road map on my knee, a couple of
temperature gauges and a magnetic compass on my dash,
and I'll fly where I'm going when I want to.'...."
(Skid Payton's piloting principles, in Unreported by William O'Sullivan,
Five-Novels Monthly, May 1941)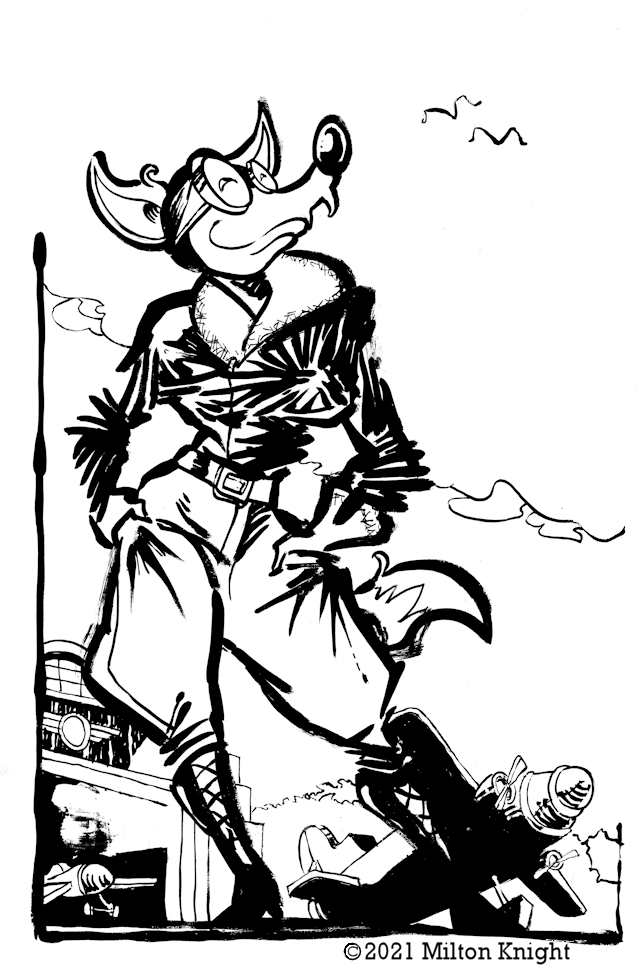 An aviatrix visits Spontoon Island in the 1930s!
(Possibly a view of the Eastern Island airfield?)
Courtesy of the artist, Milton Knight.
https://miltonknightsitemenu.blogspot.com/
https://www.patreon.com/miltonknight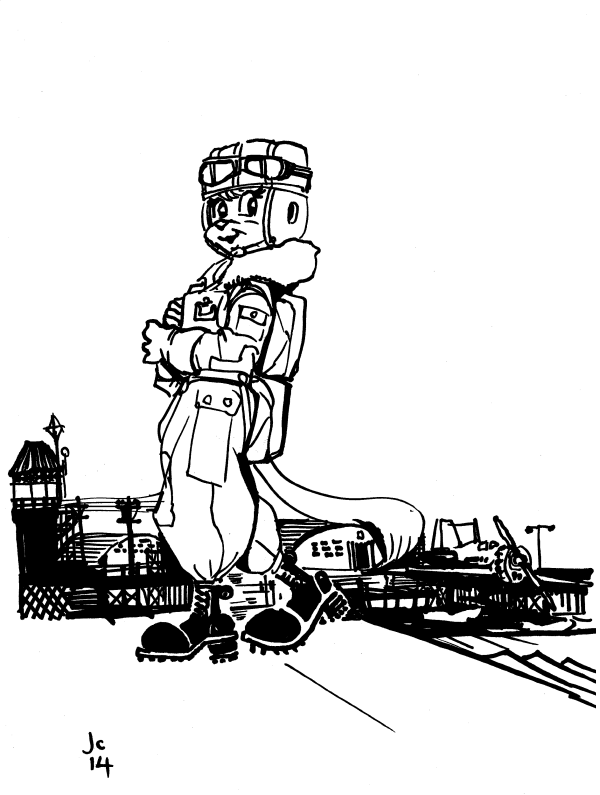 Aircraft Crew at Seaplane Base - by Jerry Collins
Larger file here - (1003 KBytes)

Drucker Airlines crew uniform (circa 1939) (Stuart McCarthy)
Drucker Airlines stewardess uniform (circa 1941)
(Stuart McCarthy)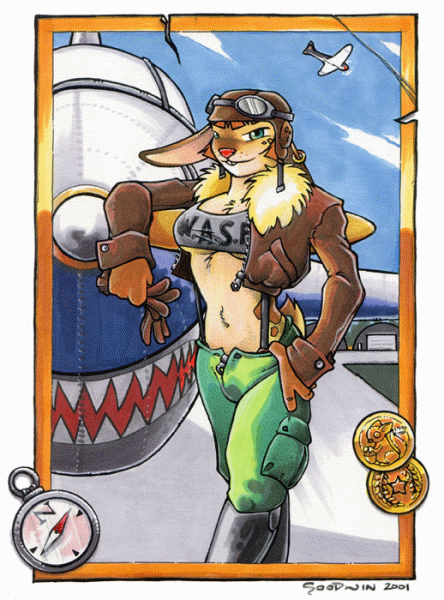 "Aviatrix" by Chris Goodwin
http://www.furaffinity.net/user/chrisgoodwin/
(larger file here - 1 MBytes)