Spontoon Island
home - contact - credits - new - links - history - maps - art - story
comic strips - editorial - souvenirs - Yahoo forum
Reformat 7 April 2011
* Update 21 August 2014 *
** Update 16 October 2014 **
*** Update 12 January 2015 ***
**** Art moved here 18 February 2016 ****
***** Art moved here 24 April 2017 *****

aircraft
original designs
of a 1920's through 1945 flavor,
[including pulp-story & dieselpunk]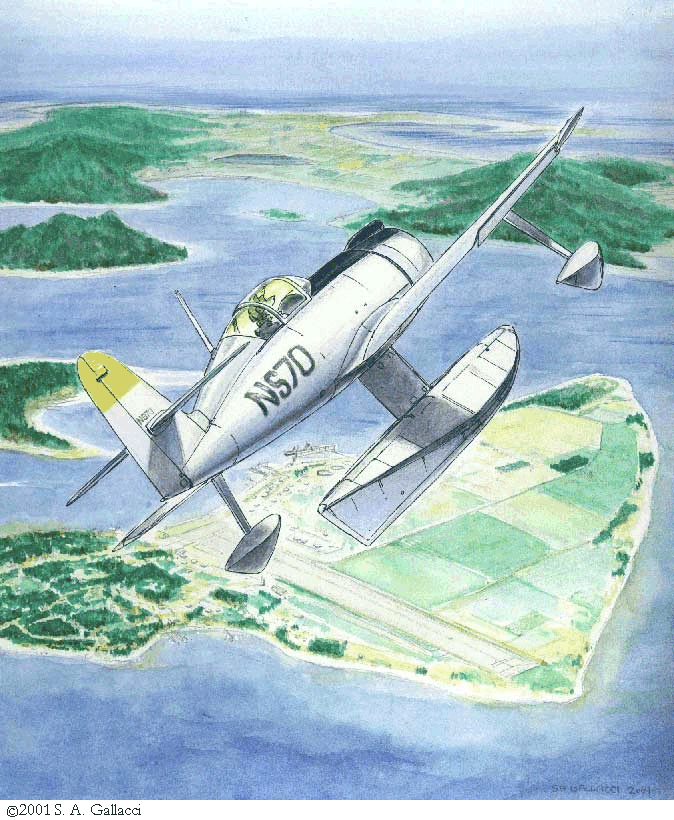 Fighter Floatplane of the RINS (Rain Island Naval Syndicate) over Eastern Island
by S.A. Gallacci - http://www.furaffinity.net/user/stevegallacci/
In the Spontoon Archipelago:
Created aircraft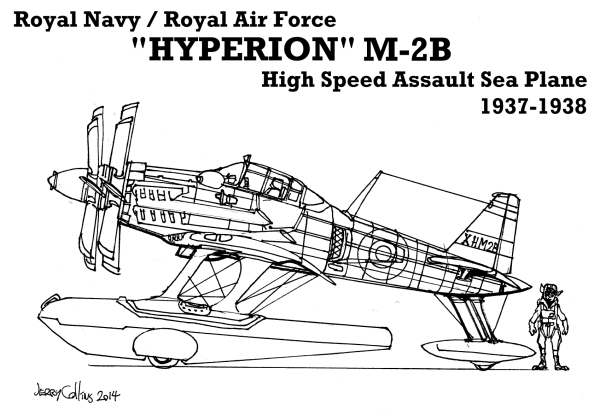 Royal Navy / Royal Air Force "HYPERION" M-2B
High Speed Assault Aircraft (Floatplane configuration)
by Jerry Collins (Larger files here (433 KBytes) & here (1.9 MBytes)
Uploaded 10 February 2016 - Moved to this page 24 April 2017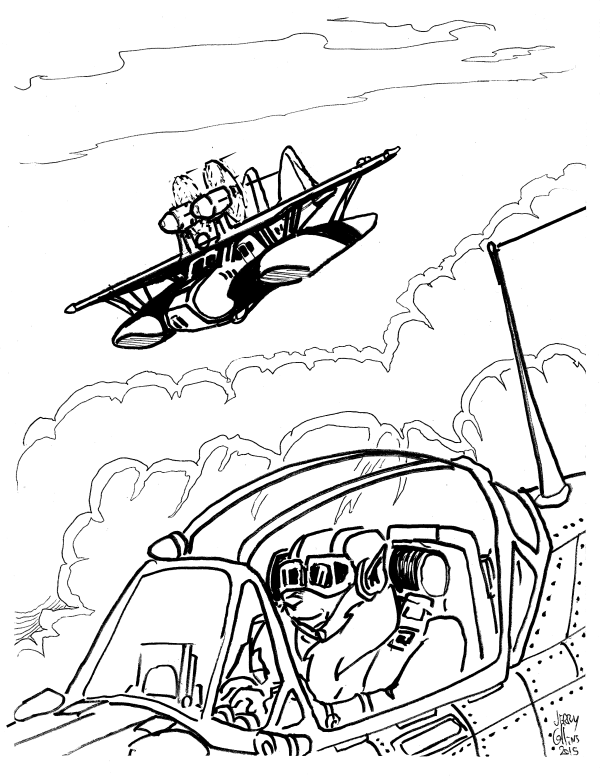 **** "Allies on Patrol" - Ink sketch by Jerry Collins ****
Larger file here - (929 KBytes)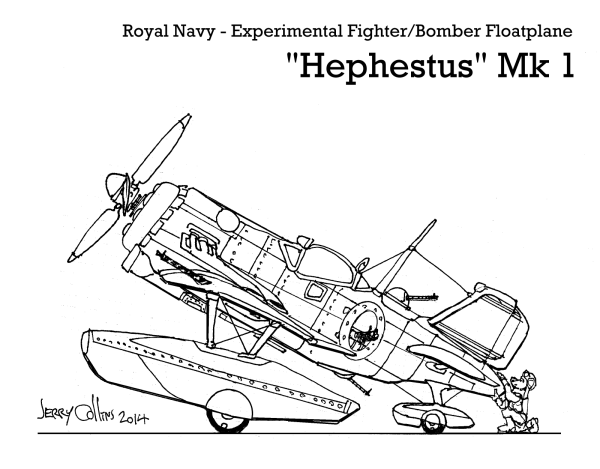 **** "Hephestus" Mk. 1 (Royal Navy - Experimental Fighter/Bomber Floatplane) ****
by Jerry Collins - Larger files here (451 KBytes) & here (1.9 MBytes)
Update 30 September 2015 - moved to this page 18 February 2016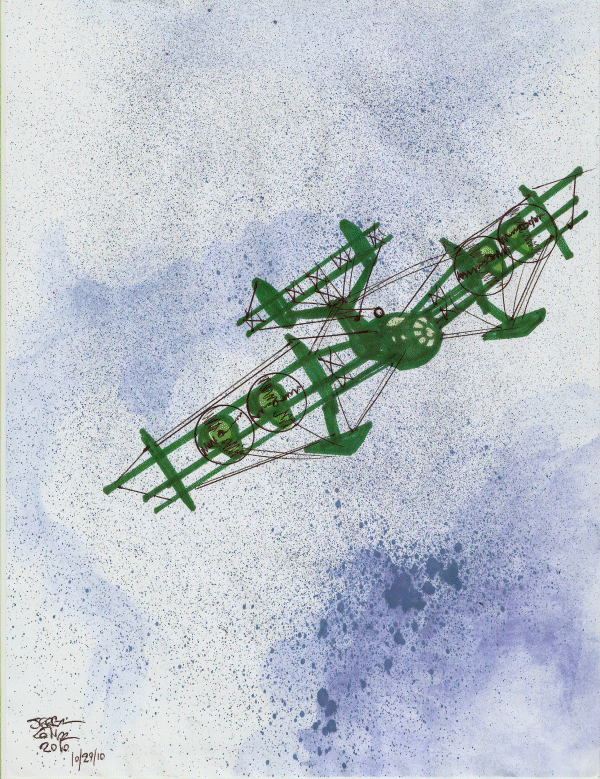 Long-distance Pacific Island Exploration Flight - by Jerry Collins
Larger file here - (2.2 MBytes)
Update 12 January 2015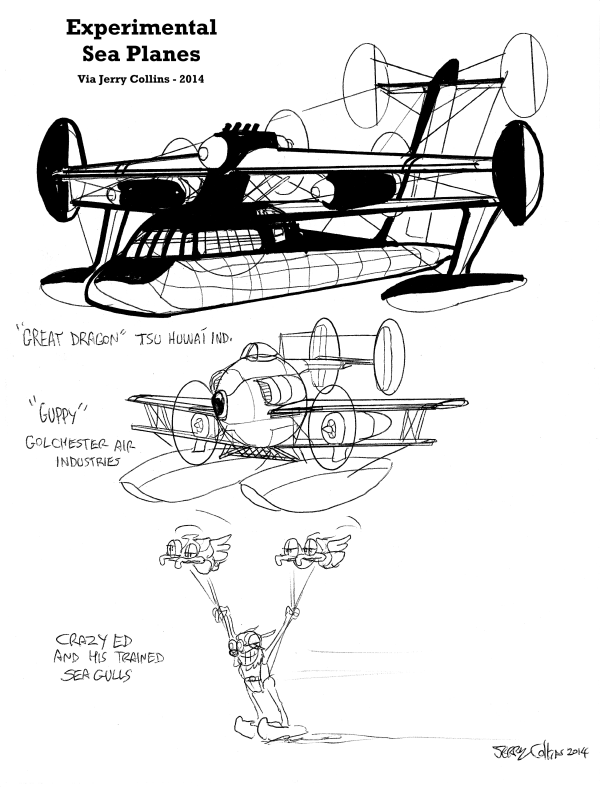 Experimental Sea Planes - by Jerry Collins
Posted 12 January 2015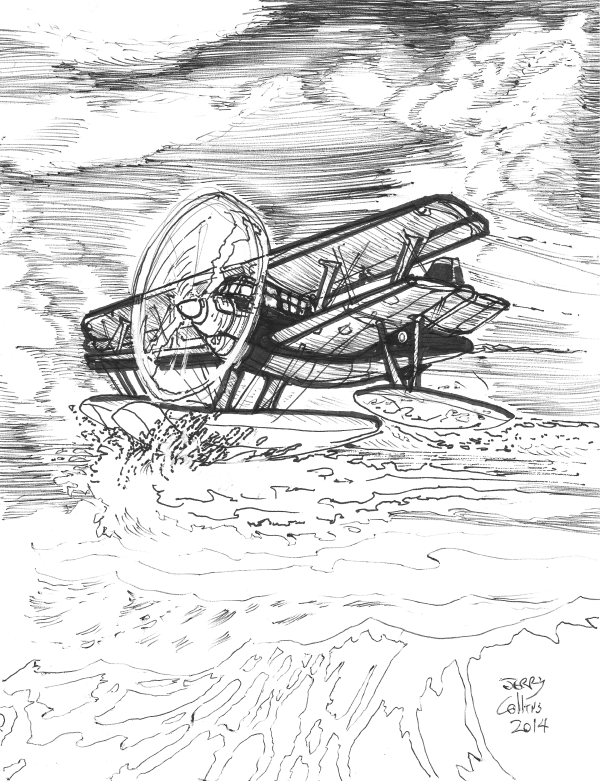 Take-off - by Jerry Collins
(Larger file here - 1.9 MBytes)
Update 16 October 2014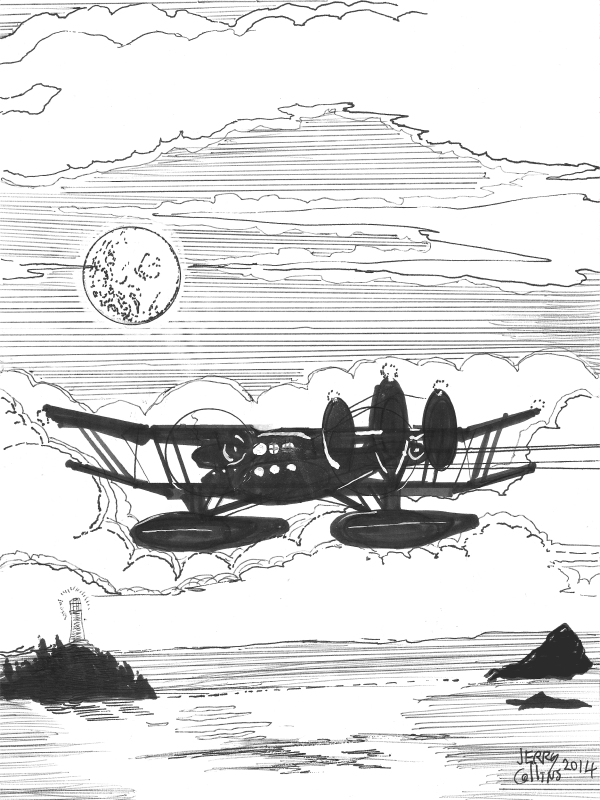 Floatplane in the Moonlight, with lighthouse - by Jerry Collins
(Larger file here - 1.9 MBytes)
Update 16 October 2014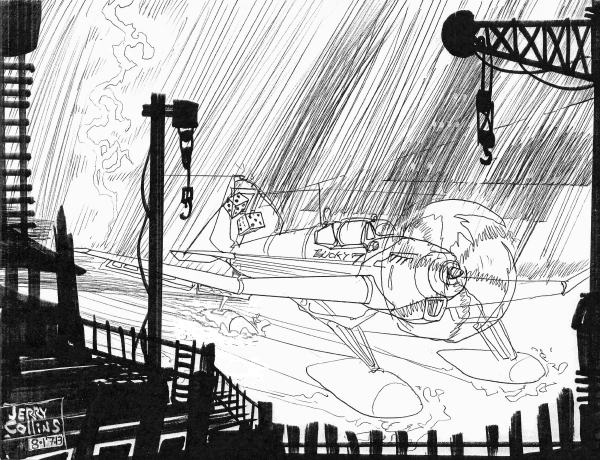 "Lucky 7" floatplane racer - by Jerry Collins - (Larger file here - 816 KBytes)
(Taxiing into base during a thunderstorm, before the rain.)
Update 21 August 2014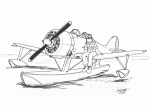 Floatplane (late 1930s) US Navy design - by Jim Groat
(Larger file here - 1.3 MBytes) http://www.furaffinity.net/user/rabbi-tom/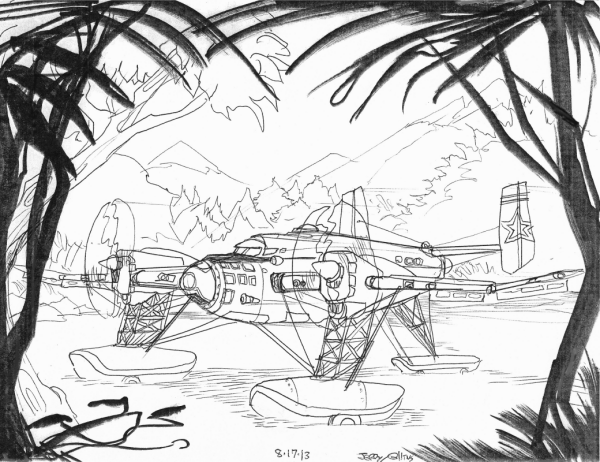 Two-engine patrol floatplane from Soviet Russia
Ink sketch by Jerry Collins - (Larger file here - 813 KBytes)
In a sheltered bay of a Pacific island - circa 1932
Update 19 February 2014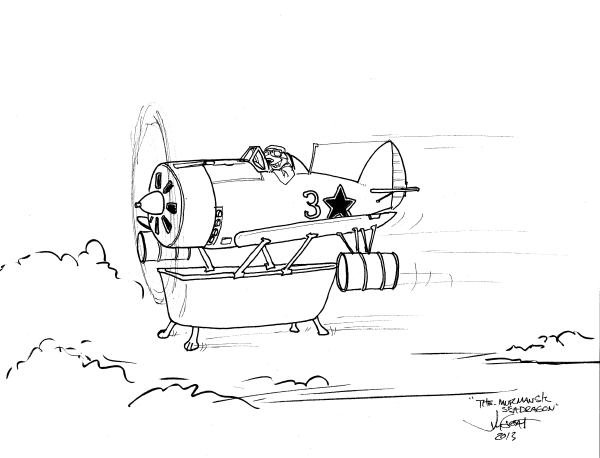 "The Murmansk SeaDragon" (a Russian wartime improvisation) - by Jim Groat
(Larger file here - 746 KBytes) http://www.furaffinity.net/user/rabbi-tom/
Update 16 October 2014


"James (Lucky Jim) O'Hara - cargo pilot" - by Jerry Collins
(Larger file here - 1 MByte)
Update 15 January 2014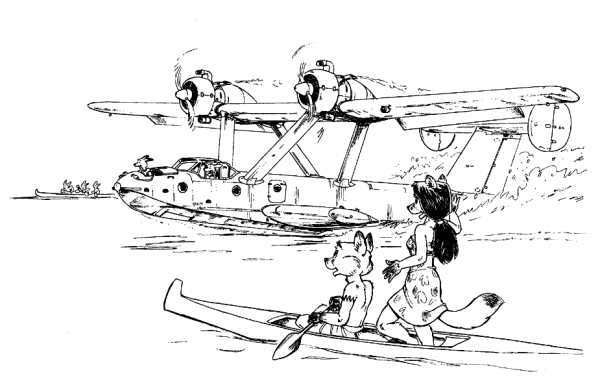 "Spontoon scene" by S. A. Gallacci (larger file here - 541 Kbytes)
http://www.furaffinity.net/user/stevegallacci/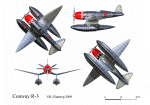 Plan views of the Conway R-3 floatplane - R.J. Bartrop
http://rjbartrop.artspots.com - very large image here (1.3 MBytes)
More images of the R-3 on the Speed Week page.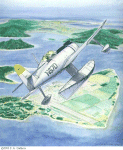 Naval Syndicate floatplane over Spontoon Island (SA Gallacci)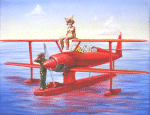 "Mechanical Problems" by S. A. Gallacci - (medium file here - 445 KBytes)
Trishia McMillan (on float) & Lentilla Aksnel (on wing) and their Warbus "Seasnake",
perhaps on a break during their visit to the Spontoon Islands and Archipelago in the late-1930s.
(Large file here - 2.3 MBytes)
"Seasnake" floatplane historical summary (SA Gallacci)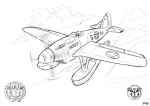 KV-9 floatplane

A brief history of Kypriakos & Volstead
(Art- Fredrick K.T. Andersson & Salmagundi
History & design- W.D. Reimer)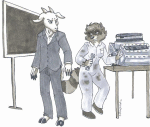 Stavros Kypriakos & Sally Volstead - (Larger file here - 330 KBytes)
Rain Island aero-engineers - airframe design & engine design
Art by Salmagundi - http://www.furaffinity.net/user/salmagundi/

"Bloop!": Racing floatplane tune-up (Roy D Pounds II)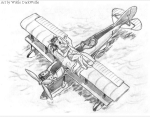 Sunbather on floatplane (Wolfie DarkWolfie)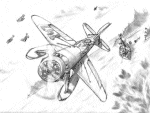 "Quick Look" - a sketch by Wolfie DarkWolfie
"Supply Drop" Unloading a seaplane (Jeff Jacklin)
Talbot-Leland "Sea-Gorgon" type B floatplane (Taral Wayne)
Plan of Talbot-Leland "Sea-Gorgon" type B by Taral Wayne
More images of the "Sea Gorgon" floatplane
Website: http://taralwayne.deviantart.com/
Carreidas 90-1A "Chilkoot" sketch (Taral Wayne)
30 passengers - circa 1941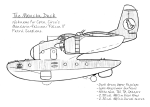 A revised page about Captn. Circe's
Mandrin-Falconni II "Manchu Duck" (Taral Wayne)
"Sky" Shark's 'Barracuda' (Stuart McCarthy)
"SilverAngel" Swedish floatplane (Freddy Andersson)
(from his Silver Angel comic strip -- drawing inked by Ken Fletcher)
Foxbat 5 patrol/torpedo floatplane (Fiji 1931) (Ken Fletcher)

P-10 "Bird Dog" Rain Island 1933 (Ken Fletcher)
Strelski 3003T Patrol Torpedo (Ken Fletcher)
Southwing SW 37-P fighter floatplane (Ken Fletcher)
Southwing SW 40-P fighter floatplane (Ken Fletcher)
"Aloha": passenger flying boat at night (Roy D Pounds II)
Tillamooka floatplane racer "Mystery Ship" (Simon Barber)
Turbine envy (Simon Leo Barber)
RINS "Sea Flea" interceptor 1935 (Simon Leo Barber)
Nootka Sea-Master (circa 1945?) sketch (Taral Wayne)
Supermarine SP-D301 "Super Orca" 1945 (Taral Wayne)
Northair-6 "Super Sea-Hog" flying boat (Taral Wayne)
Osprey flying boat page (Ken Fletcher & Ken Singshow)

The "Vulture One" amphibious flying boat (M. Mitchell Marmel)
http://www.furaffinity.net/user/marmelmm/
AP-97 "Colossus" Flying Wing (Stuart McCarthy)
Handley-page Aerostat, RAF 1919 (Simon Leo Barber)
NX-W2, secret seaplane sketch (Mitch Beiro)
Kasaba 888 Cityplane USA flying boat circa 1940 (Mitch Beiro)
Floatplane pilots take a break in a lagoon (Ken Fletcher)
Hans Niessen's "Norvegicus" flying boat (Craig Hilton)
A '3-point' landing in Spontoon's Lagoon (Marc Schirmeister)
Professor Wencil & his Flying Boat (J.P. Morgan)
(larger resolution sepia-tone image here)(Line-art version)
http://jpmorgan.deviantart.com/
The "Spirit of Yucaipa" racing seaplane (Marc Schirmeister)
zooming monoplane (toony) (Ken Fletcher)

Aircraft Research
Moon Island wind tunnel (Art by Simon Barber)
Borrowing the wind tunnel to do some industrial research.
Secret Engineering? (Scott Thomas)


Aircraft basics
Features a "Beginner's Guide to Airplanes" by M. Mitchell Marmel
Aircraft References: Photos & Art
A sampling of real aircraft from the 1930s & early 40s.
Why Seaplanes?
Comments on 1930s air transport
by Ken Fletcher
(Upload 8 September 2008)