Spontoon Island
home - contact - credits - new - links - history - maps - art - story
comic strips - editorial - souvenirs - Yahoo forum
Upload: 28 December 2010
Update: 8 August 2013
Update: 20 April 2013
* Update 10 July 2014 *
** Update 12 January 2015 **

Rain Island Military Syndicates
BY WALTER D. REIMER
& other contributors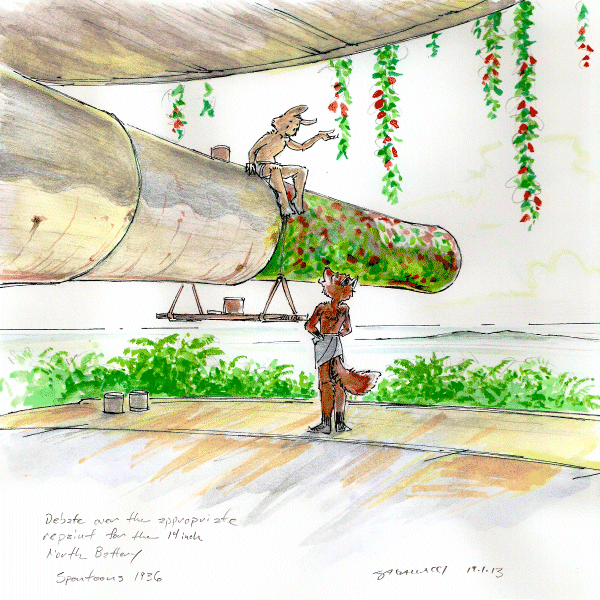 Coastal artillery - watercolor sketch by S.A.Gallacci
"Debate over the appropriate repaint of the 14-inch North Battery - Spontoons 1936"
Larger files here - (1 MByte) and here - (4.1 MBytes)
Reposted 20 April 2014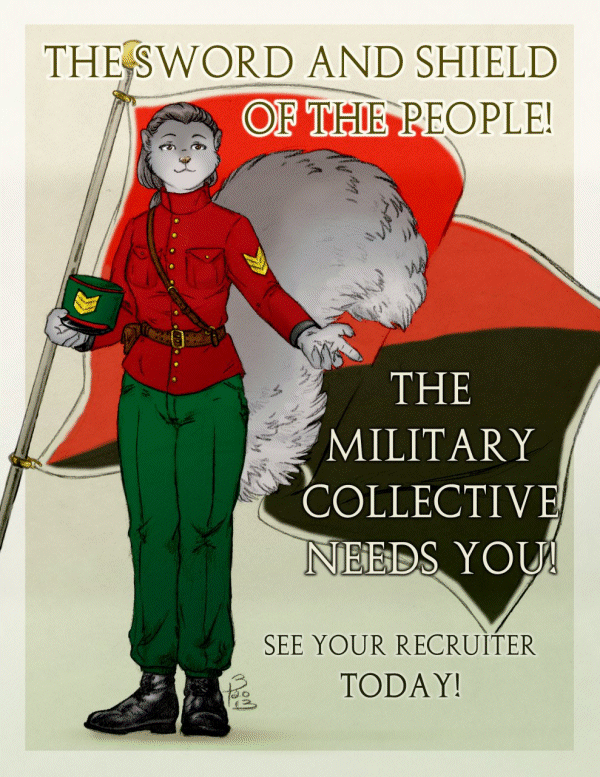 Recruiting poster - 1938 - Rain Island Military Collective
Art by 'The Tied Tigress' - (Larger file here - 3.6 MBytes)
http://www.furaffinity.net/user/thetiedtigress/

"On this day, June 12, 1885, a group of determined and practical men stood on the steps
of the Provincial Assembly building in Seathl, the capital of Canada's Rain Coast Province.

"The Northwest Rebellion was over, but its underlying causes were still a sore point,
as was the economic pressure the east was bringing to bear on the west.

"With this in mind, the Assembly voted to secede, to take the Rain Coast Province
(roughly analogous to our Vancouver Island and a much larger archipelago)
out of the Dominion of Canada and the British Empire.
Thirty-five years later, the Rain Coast Republic reorganized itself into
the Rain Island Anarchcracy, along anarcho-syndicalist lines.

"On this, the 128th anniversary of that fateful day, I post the above recruiting poster
from my collection. It's from 1938 and shows Rain Island
Army Union Sergeant Anne Norquist, who was selected
for the poster by an open vote of the entire Army."
(Historian W. R. Reimer, 2013)

---
"...Isn't she as cute as a button?! But she's also line infantry,
and could likely break you in half like a frozen dog...."
(Anonymous modern-day historian commenting on a 1938 Rain Island
recruiting poster featuring Army Union Sergeant, Anne Norquist)

---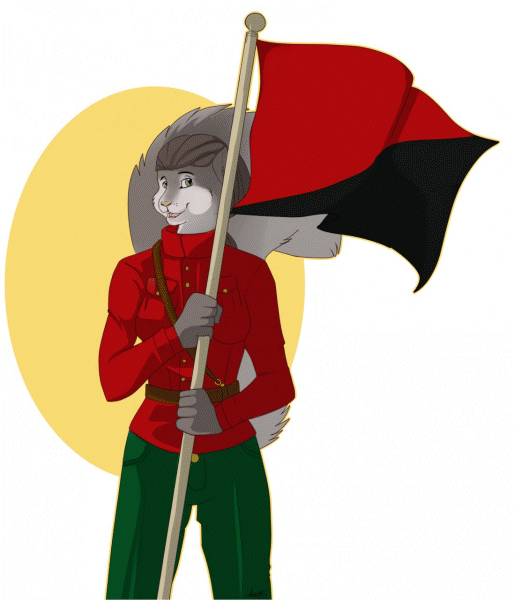 ** Sgt.Anne Norquist - Army Union of the Rain Island Military Collective **
(An alternate image, not used in the 1938 recruiting poster.) (Larger file here - 2.1 MBytes)
Art by Aimee-Lesley-Sim - Character by Walter Reimer
http://www.furaffinity.net/user/aimee-lesley-sim

---
Some history:
The Gunboat Wars

& the 'Pirate Raids' of 1912
Reports, Commentary & Stories by various Authors,
including raid tales by Walt Reimer & a trial transcript from Eric Costello
Upload 11 March 2009
"The Battle of Blefuscu Atoll"
---
Rain Island Naval Syndicate

Rain Island Naval Syndicate
Base on Moon Island
(Spontoon Island Lagoon)
(bird's-eye view--cartography by Ken Fletcher)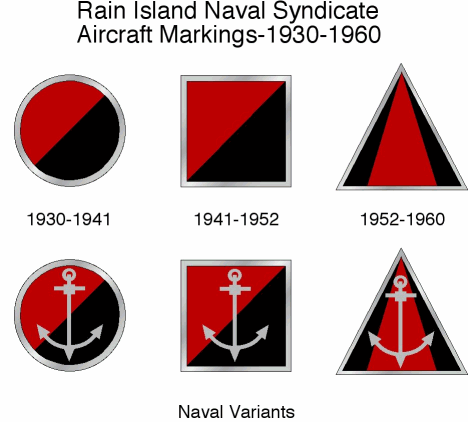 Roundel art by M. M. Marmel
"SEAHAWK"
BY WALTER D. REIMER

The adventures of Ensign Halli Amura, RINS
(Parts of this story will deal with


Mature relationships

)
(completed story)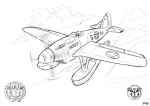 KV-9 floatplane
A brief history of Kypriakos & Volstead
(Art-
Fredrick K.T. Andersson
; history & design- W.D. Reimer)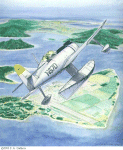 Naval Syndicate floatplane
over Spontoon Island
(SA Gallacci)
---
EQUALIZER
By Walter D. Reimer, Mitch Marmel, & Eric Costello

June 2009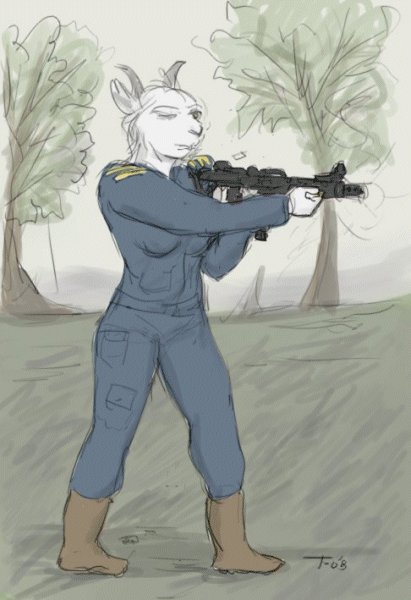 "This is Captain Brightwater Smith, bighorn ewe, and commander of
the Rain Island Naval Syndicate's Landing Forces. She is test-firing
their newest weapon, the Mastny MT-1 submachine gun."
Character & weapon design by Walter D. Reimer.
Art by Seth C. Triggs - http://www.bibp.com/

* (Captain Brightwater Smith, off-duty, *
on the "Art Studies" page - which also contains mature images.)
(Link Added 10 July 2014)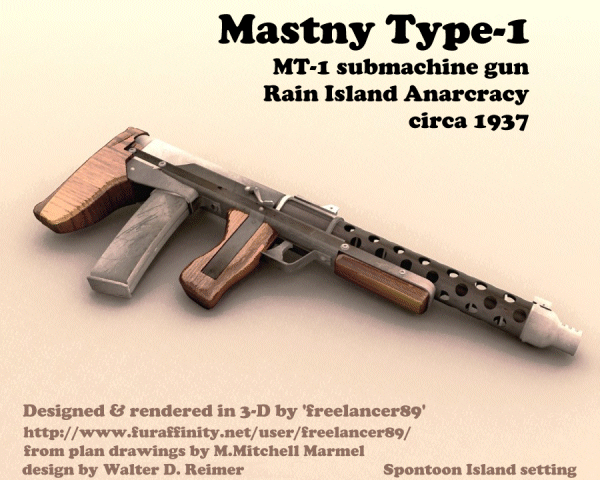 MT-1 submachinegun - image by freelancer89 http://www.furaffinity.net/user/freelancer89/
From Walt Reimer - "The weapon's chambered for 9mm (pistol round, but slightly more powder),
30 round magazine. At 2 feet 4 inches long and a loaded weight of 9 pounds, it's good for most
anthros. The ejector port is on the top of the gun, with an adjustable deflector to keep the
spent cartridges from flying in your face. The muzzle compensator comes off to fit a suppressor
for covert Rain Island Army Union missions or Naval Syndicate boarding actions."
from the story "The Equalizer" by Reimer, Marmel, & Costello
Larger image file is linked here.


---

Follow stories of Rain Coast citizens serving in their military organizations:
Tales from Rain Island


stories by Walter D. Reimer



---
MISSION OF THE

RAVEN
BY WALTER D. REIMER
A story of a warship of the Rain Island Naval Syndicate
(completed story)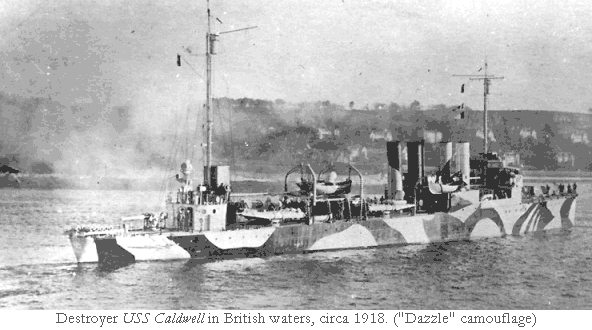 Similar to destroyer
RINS Vulture
Modified from a public domain image from the
Online Library of Selected Images
Department of the Navy, Naval Historical Center, Photographic Section
http://www.history.navy.mil/branches/org11-2.htm
---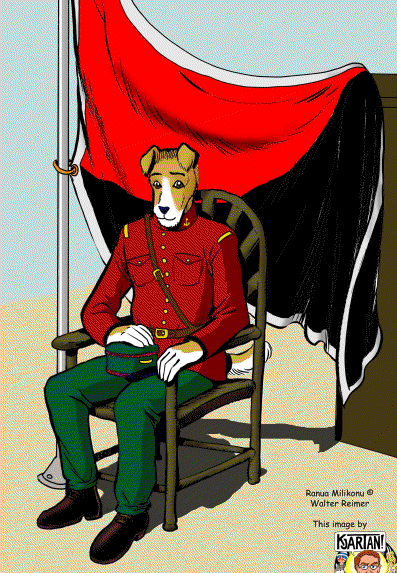 Ranua Milikonu
RINS graduation portrait
(art by Kjartan)
character by Walter Reimer from "The Woodcarver's Son"

THE WOODCARVER'S SON
BY WALTER D. REIMER

A young Spontoonie guide, Ranua Milikonu,
becomes a junior officer in the Rain Island Naval Syndicate
(completed story)
Sub Rosa
BY WALTER D. REIMER

The family and career of Ranua Milikonu, Naval Syndicate officer, cryptographer,
& military intelligence operative.
Epilog: Update 1 February 2008
(ending this episode)


Also read more stories at "Tales of Rain Island" by Walter D. Reimer